As we creep into spring with three viable vaccines and appointments increasingly available, it seems clear that we are teetering on the precipice of the world opening up again in relatively short order. Movie theaters are back at reduced capacity as of today, with the promise of more entertainment venues to come and even outdoor concerts on the horizon! 
It feels like there really is a chance that things might start to look like pre-pandemic life in the city around here a lot sooner than some of us may have thought a few weeks ago, and that is reason enough to feel hopeful for the future—even as it probably dredges up a variety of other emotions. As a person who writes a monthly cultural events column and assumed this gig would dry up a year ago, I can't stress enough how impressed I've been throughout this long lockdown by how much cultural fodder has been available every month to help us pass this difficult and painful time in our collective experience. It is truly a testament to human resilience, and the relentless need to create and share one another's experiences through art and film and music and literature, even in the face of unprecedented global tragedy. 
For this cold March, we've continued to highlight mostly outdoor or socially distant activities (which abound!) because that's where we're at right now, but I am so looking forward to the months to come, when I can once again scour this great city's vast array of museums, performance spaces, and concert halls to bring you a curated list of fabulous in-person events to take advantage of. Until then, stay warm and stay safe! 
1. Plan a weekend trip to Storm King
It's been over a year since I've been to a museum or gallery, and it's starting to really wear thin. This year Storm King remained open through the winter (weekends only), meaning that your best bet for avoiding the inevitable springtime crowds come April is to plan a trip this month. Anyone with access to a car can get a fix of Alexander Calder, Andy Goldsworth, Maya Lin, and Marc di Suvero from the safety of the Hudson Valley open air. Storm King is open on Saturdays and Sundays from 10am- 5:30pm, now through March 21. 
2. Lorraine O'Grady, March 5
On the other hand, those with vaccinations or who are otherwise comfortable experiencing art indoors have a treat in store this month in the form of Lorraine O'Grady: Both/And, a new exhibition that opened today at the Brooklyn Museum. This is the first retrospective of O'Grady's long and significant career creating work that boldly explores racism, sexism, and institutional inequities, and all of the artist's major projects will be on display alongside a highly-anticipated new body of work now through July 18. 
3. WandaVision finale, March 5 
If you're one of the throngs of people who are totally hooked on WandaVision, the Marvel Studios series currently airing on Disney+, you already know that the much-anticipated finale is coming out today. Tired of your home theater setup? Consider joining an outdoor watch party at Parklife, which will be playing episode nine on the big screen this evening starting at 6:30. Added bonus: you can take a night off from cooking (and dishes) and enjoy a delicious Mexican-inspired dinner instead. 
4. Coming 2 America, March 5
I'm generally disappointed in reboots of pop culture mainstays from my childhood, and in a normal year I'd probably view the release of a sequel to 1988's Coming to America with skepticism, but after 12 months of lockdown all I can say is bring on Prince Akeem! Coming 2 America premieres today on Amazon Prime, and it reunites Eddie Murphy, Arsenio Hall on a nostalgia filled journey from the fictional Zamunda back to Queens, where hijinks (and a visit with the unforgettable characters in the barbershop) invariably ensue. Sure, reviews are mixed so far, but the bar for a fun night is pretty low these days, and I'll definitely watch this.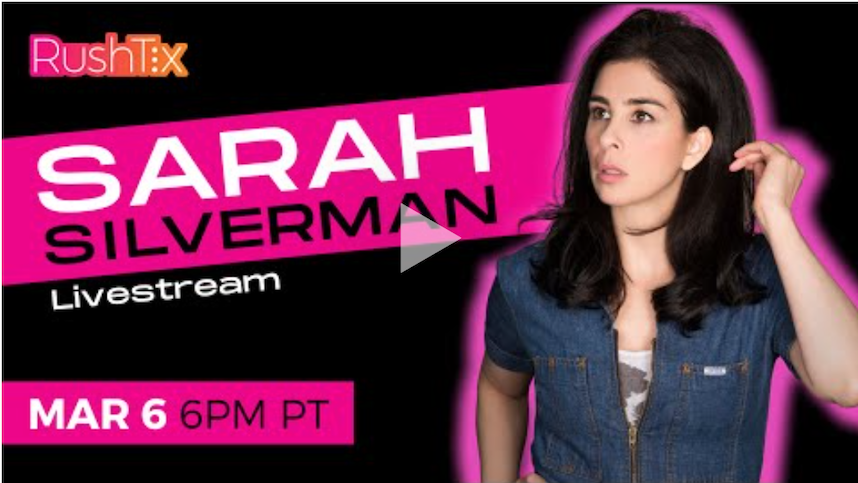 5. Sarah Silverman, March 6 
On Saturday, March 6, Sarah Silverman is hosting a livestream interactive comedy show performed in front of a live audience in LA (actual laughter at a comedy show is something I definitely took for granted in pre-pandemic times). The untraditional format will include Silverman's responses to fan mail and a Q&A with attendees. Tickets are $20.
6. Klara and the Sun, March 11
Back when I used to read books (sigh), Kazuo Ishiguro's searing, dystopian Never Let Me Go is one that I tore through and still think about all the time. The novelist's first book since he won the Nobel Prize in 2017, Klara and the Sun, is about a humanlike robot designed to be a child's friend, and promises an equally astute and empathetic perspective on humanity's eternal tension with "progress." Ishiguro will be appearing in conversationn with Rumaan Alam on March 11 at 6pm to read from and discuss his latest work, which NPR deemed "a masterpiece about life, love, and mortality." Tickets to this event, which is co-sponsored by 92Y and Greenlight Bookstore, start at $15.  
7. Genius: Aretha,
March 21
On March 21, NatGeo will finally air the premiere of Genius: Aretha, a four-night, eight-part limited series about the life and times of the one and only Aretha Franklin, who died in 2018. Although the project was delayed a few times due to the Covid pandemic, the timing is fortuitous as the entire series will be made available for streaming on Hulu on Franklin's birthday, March 25. Cynthia Erivo has the lead role as the Queen of Soul, and the series promises an in-depth examination of the incredible career of one of America's most talented vocalists, her lasting cultural impact and commitment to civil rights activism, and, of course, those unforgettable songs.  
8. The Father
, March 26 
Full disclosure: The Father, a film based on Florian Zeller's prize-winning French play about the impact of dementia on the relationship between a father and daughter, sounds like a tear-jerker of the highest order and I have no idea whether I'll be in any state to watch it this month. That said, Sir Anthony Hopkins and Olivia Coleman in the starring roles is as good an inducement as any to get out the box of Kleenex. The movie is already out in theaters and has been receiving rave reviews, but it will be available to stream on Amazon Prime starting March 26 for those of us who prefer to do our ugly crying in private. 
9. How to Not Kill Your Houseplant, March 29 
Inspired by stories of Brooklynites growing fruit in small, dark apartments during the pandemic, I bought a Meyer lemon tree and a grow light in December, and did hours worth of internet research to ensure gardening success. A cluster of white blossoms that appeared a few weeks later felt like a good omen, but when all of the leaves suddenly dropped off a few weeks after that I was decidedly less confident in my green thumb. Good thing that Brooklyn Botanic Garden is hosting an online class called How to Not Kill Your Houseplant on March 29, and please keep your fingers crossed that this guy can hang on until then. If you're lucky enough to have some outdoor space at your disposal, there's a Container Gardening for Rooftops, Terraces, and Balconies happening on March 16 as well. 
10. Yayoi Kusama tickets on sale March 16
OK, so this is really an April event, but given how quickly previous exhibits of Japanese artist Yayoi Kusama's works have sold out in this town, I thought I'd alert you now that tickets to Cosmic Nature, a new show at New York Botanical Garden, go on sale to the general public on March 16. The installations include an infinity mirrored room and an "obliteration greenhouse," as well as monumental floral sculptures that will transform the NYBG's landscape, so it sounds like it's worth signing up for. 
SOURCE: Brooklyn Based – Read entire story here.