Looking for the best pizza in NYC? I've got you covered.
I recently read an article stating that the best pizza is in…Los Angeles? I then fainted, my soul left my body, and it floated over to the West Coast to check on this slanderous claim. And after determining that this was merely a quarterly reigniting of the classic NYC/LA feud, my soul returned to my body and I went to get a slice of pizza. New York pizza. The Best Pizza.
Sure, LA may have perfect avocados, sunny weather, and a winning basketball team (maybe this is your year, Knicks???), but New York. Has. Pizza. 
We also have Pizza Rat, but that's a whole other story for another day. 
Anyway! The best thing about New York City pizza is that we have so much of it, but given the vast and varied options out there, it can be difficult to narrow down which joints are worth your time. As a New Yorker who would never waste your time with anything less than the best New York City pizza, I present to you: The 25 places for best pizza in New York.
This list spans boroughs to bring you NYC pizza ranging from crispy thin-crust Neapolitan pies to pillowy Sicilian slices, and everything in between.
Whether you're looking for candlelit NYC date night ideas or a place to pick up a pie on the way to a beautiful day in the park, we've got you covered.
We've organized the list of best NY pizza by borough and have included whether they offer vegetarian, vegan, and/or gluten-free options as well.
Carry on, pizza seekers! The best pizza in NYC awaits you. Also, if you're just looking for a slice some of these NYC pizza spots only do the entire pie (some offer slices), to see more options for a quick grab-and-go meal, check out our guide to the best pizza slice in NYC!
About the Guest Author
Sarah Beling is a playwright, New Yorker, and passionate food enthusiast who is always looking for her next meal. You can find her in an NYC park, enjoying a chopped cheese sandwich and reading about NYC's best new places to eat. 
Best New York Pizza
ADRIENNE'S PIZZABAR
54 Stone St, Manhattan
An underrated downtown gem and great pick for best New York pizza is Adrienne's. This spot sits tucked away in the Financial District on historic Stone Street in Manhattan.
Specializing in both crispy 12" round pizzas and hearty, bakery-style tray sheet pizza, Adrienne's offers a wide variety of toppings and their signature fresh, homemade mozzarella. 
Grab a few friends for a summer evening stroll around Battery Park and the South Street Seaport, and then head over to Adrienne's to sit outside on their cobblestone patio with some Peroni's and a sheet tray pan pie topped with 'roni perfection. 
Note: Adrienne's does offer some vegetarian options.
CORNER SLICE
600 11th Ave at 45th St, Manhattan
On your quest to find the Best NY pizza, Midtown can be a challenge. There are, frankly, a lot of sub-par dollar slice joints that take advantage of the neighborhood's central location – but if you are willing to venture out a few blocks westward to 11th Avenue, a delightful, crispy-yet-chewy Sicilian-style slice awaits you. 
Located in the Gotham West Market food hall, Corner Slice offers perfectly baked pies (and of course, slices) with an ideal topping-to-sauce-to-cheese ratio, and a crispy and flavor-dense crust interspersed with air pockets that make eating more than a few slices an achievable feat.
A Margherita and an ice-cold Abita Root Beer make a particularly good slice and soda combo order. 
Make your way over to Corner Slice ahead of a tour of The Intrepid Museum (47th street and 11th Ave.) or a visit to Hudson Yards (34th street and 10th Ave.). It'll be worth the steps!
Note: Corner Slice offers both vegetarian and gluten-free options.
BLEECKER STREET PIZZA
69 Seventh Avenue, Manhattan
Located in the heart of the West Village for almost twenty years, Bleecker Street Pizza is a longtime favorite of NYU students, visitors, and hard-to-please New Yorkers alike making it one of the best pizza in NYC spots for over two decades.
An unassuming exterior leads to a bustling shop where generously sized, freshly-baked pies are churned out by the minute (it's often busy inside, and best to know what you want to order before you enter the fray!). 
You can't go wrong with a classic cheese pie – Bleecker Street boasts one with an especially umami-filled and savory sauce directly infused with imported Parmesan Reggiano cheese. 
Snag a slice before you spend an afternoon in Washington Square Park, or an entire pie at the end of your twenty-first birthday…not that I'm speaking from experience or anything. 
Note: Bleecker Street pizza offers vegetarian options.
For more pizza, check out our guide to the best pizza in Manhattan!
FUMO
2791 Broadway (Upper West Side), Manhattan & 1600 Amsterdam Ave, Harlem
With two uptown locations on the Upper West Side and Harlem, FUMO is a consistently tasty and reliable date night or catch-up spot with a cozy, intimate ambiance and elevated fare making it a popular pick for best New York pizza. 
Neapolitan-style pies with toppings ranging from classic to innovative (a particular standout is the Bianche Buffalo pie with spicy Louisiana-style chicken, Blue Cheese, and Mozzarella) are perfectly paired with fresh al-dente pasta, a creative cocktail list, and extensive wine and beer selection.
There is truly something for everyone here, and FUMO is an ideal place to order a little bit of everything and share with the table. 
An easy walk from Central Park on the UWS, and Riverbank State Park in Harlem, end your day with a relaxing, tasty meal featuring some of the best pizza in New York.
Note: FUMO offers vegan, vegetarian, and gluten-free options. 
SCARR'S PIZZA
22 Orchard Street, Manhattan
If you head to the Scarr's Pizza website, you are greeted with a delightful, early-aughts-style website background of spinning pizza slices. If you head to Scarr's Pizza on the Lower East Side, you will be greeted with delightful, perfectly crisp slices and pies in wood-paneled, 70s-style booths complete with classic glass chandeliers, mugs of beer, and red plastic trays.
It's transformative pizza time-travel, and all you have to do is take the F train to experience some of the best pizza in NYC that the city has to offer. 
Order a Hotboi Original Pie (Beef, Pepperoni, and Jalapenos topped with Mike's Extra-Hot Honey) to complete your funky Scarr's experience. 
Note: Scarr's Pizza offers vegan and vegetarian options. PS if you're vegan, check out our guide to the best vegan restaurants in NYC for more options!
SPEEDY ROMEO 
63 Clinton Street, Manhattan &  376 Classon Ave., Brooklyn
Another Lower East Side (and Brooklyn!) standout, Speedy Romeo offers wood-fried pies with premium ingredients housed in a friendly, casual atmosphere and another choice and pick for the best pizza in NYC.
Speedy Romeo is home to 12 inch round pies that are fired up to bubbly, ever-so-slightly charred excellence and feature innovative combinations like pineapple, speck, grilled scallions, and Béchamel sauce.
Add in a signature Caesar salad that is topped with an almost unholy amount of shaved Parmesan Reggiano and you have yourself an inventive yet unpretentious meal. 
Speedy Romeo also features accessible catering packages – a great option for your housewarming/birthday/engagement/family reunion/regular-old party needs!
Note: Speedy Romeo offers vegetarian options.
FRESCO'S PIZZERIA
804 W 187th St, Manhattan
Discovering and sharing a secret NYC gem is a joyous experience – nothing will make you feel more like a tried-and-true New Yorker than recommending a place to your family and friends that they'd never previously heard of and now cannot stop raving about and a personal, favorite pick for best pizza in NYC.
Fresco's, nestled toward the top of Manhattan in Washington Heights, is my recommendation for a truly divine local pizza experience. Offering classic New York pies and slices but crafted with a care and precision that makes for an elevated tasting experience, Fresco's is a neighborhood hotspot that is perfect for takeout and delivery. 
One of the best ways to enjoy Fresco's is to grab a slice (The Vodka slice is particularly excellent, with a creamy-yet-light blend of vodka sauce and fresh mozzarella) and head west on 187th to Chittenden Ave., a secret nook overlooking the Hudson River and the George Washington Bridge. Enjoy your pizza at sunset and savor a truly singular New York meal. 
Note: Fresco's offers vegetarian options. 
TWO BOOTS
42 Avenue A & 101 7th Ave, Manhattan and 284 5th Ave & 558 Driggs Ave, Brooklyn
Born out of NYC in 1987 by two independent filmmakers, Two Boots is unique in that its pizza has a distinctly Cajun, New Orleans-inspired flavor!
A fun trivia fact about this best pizza in New York spot: the two boots referenced in Two Boots are the geographical shapes of Italy and Louisiana. 
In keeping with their artistic roots, Two Boots names their pies after musicians, film and TV characters, and celebrities, ranging from CBGB to Divine. 
I personally recommend The Newman (insert Seinfeld impression here), which is a white pizza topped with sopressata and sweet Italian sausage. 
An additional treat is their selection of garlic knot sliders, which I think may be one of the best ways to eat Chicken Parm. Try it and report back! 
Note: Two Boots offers significant vegan, vegetarian, and gluten-free options. 
EMMY SQUARED
83 1st Avenue & 1426 3rd Ave., Manhattan and 364 Grand Street, Brooklyn 
Yes, yes, I know what you're thinking – it looks like Emmy Squared is everywhere! And you're right, after a massively successful few years they've expanded significantly to locations from Nashville to Detroit to D.C. – but they got their start right here as a top spot for best pizza in New York!
Famed for a Detroit-style pizza – a riff on Sicilian style, with a square pie and an even crispier crust surrounded by crunchy cheese (known as "frico"), Emmy Squared quickly won the hearts and taste buds of cynical New Yorkers. 
Emmy Squared engineers their pies to create a perfect storm of flavor and texture, with signature pies The Emmy (banana peppers, red onion ranch, side sauce) and Colony2 (a version of their hit pie at Emmy, topped with Ezzo pepperoni, pickled jalapenos, and honey).
And while we know you came here to find the best NYC pizza, we'd be remiss not to mention Emmy Squared's award-winning burger (behold the power of a pretzel bun!). 
It can be tough to secure a reservation during prime dinner hours, so check them out for lunch or order takeout if you are short on time!
Note: Emmy Squared offers vegetarian and gluten-free options. 
BONO TRATTORIA
3658 Broadway, Manhattan
Situated on Broadway amongst a strip of excellent restaurants in Hamilton Heights, this Neapolitan pizzeria offers a sunny, friendly place to meet friends and family for pizza after a day exploring Riverside Park, The Alexander Hamilton House, or City College. 
Bono features a wide variety of crispy pies, including standouts like L'Americano (tomato sauce, guanciale, onion, mozzarella, peperoncino, kale, and burnt honey) and Verde (zucchini, mushrooms, artichokes, black olives and mozzarella).
There are also homemade pastas and hearty entrees like steak and salmon to round out the selection in addition to being a best NYC pizza spot! 
Note: Bono offers vegetarian options. 
JOHN'S
278 Bleecker St, Manhattan
There's no other way to put it – John's is legendary. Founded in 1929 by Giovanni "John" Sasso, John's is known for a quality recipe that's delighted New Yorkers for over ninety years with their coal oven brick fired pizza.
John's is a frequent celebrity hangout, and you may spot a famous name or two etched into the walls or see a celeb nonchalantly grabbing a pie from this best New York pizza spot.
But the true testament to the quality of John's is the loyalty of New Yorkers, who fervently cite it as some of the best pizza in New York. Maybe it's the proprietary taste of their sauce, maybe it's their very New York attitude of declaring "no slices" and no reservations, but we keep lining up, and we always come away full and happy. 
Note: John's offers vegetarian options. John's used to be cash only but now accepts debit and credit cards as well as Apple and Google Pay. 
SAN MATTEO PIZZA ESPRESSO BAR
1739 2nd Avenue, Manhattan
We here in NYC waited a very long time for the 2nd Avenue subway to be completed. After nearly a century, it seems like there is no time like the present to try out the shiny new Q line and head to San Matteo Pizza Espresso Bar, located smack dab between the 86th and 96th Street stops. 
Once there, you're transported directly to Italy, complete with pizza recipes from the Amalfi coast, select wines from the Campania region, and of course, authentic espresso to cap off your meal. 
Make sure to try the signature San Matteo pie (Asparagus cream, fresh burrata, and sweet Italian sausage) with a side of Melanzane Funghetto (pan-fried eggplant and tomato sauce), but any of their Neopolitan style pizzas from their wood-burning oven will do, which is why this made it to the best NY pizza.
Note: San Matteo offers vegetarian options. 
MAMA'S  PIZZERIA (AND MAMA'S TOO)
Mama's: 941 Amsterdam Ave, Manhattan & Mama's Too: 2750 Broadway, Manhattan
It's a good thing Mama's has two locations within walking distance of each other, because they are both frequently packed! And for good reason – Mama's has perfected both classic pie combos and inventive slice specials like the Bufalina (house-made buffalo sauce, guajilo/ancho chili powder, gorgonzola cream aioli and fresh chopped scallion).
Mama's Too has also recently collaborated with Shake Shack to add some limited edition sandwiches into the mix — be sure to check out their Instagram account for specials and announcements. 
Both Mama's locations are on the Upper West Side, and an easy walk over to Riverside and Central Parks to enjoy pizza in the sunshine.
Beware, though – the last time I tried to enjoy a slice of Mama's Too pizza in Riverside Park, I was somewhat pursued by squirrels who wanted my slice. Like true New Yorkers, they have great taste and know who has the best pizza in NYC too.
Note: Mama's and Mama's Too have vegetarian and gluten-free options. 
THE UPTOWN GARRISON
821 W 181st St, Manhattan
Just off the 181st Street A train, The Uptown Garrison is a charming restaurant and cocktail bar that makes an excellent date spot and offers some of the best pizza in NYC.
Soft, romantic lighting and great playlists wash over the crispy, Neapolitan-style pizzas featuring spicy, savory combos like The Broccoli Pizza (wood roasted broccoli, chili puree, garlic, mozzarella, caciocavallo, parmesan, and lemon) and Prosciutto Burrata (arugula, prosciutto, lemon, burrata, parmesan). 
The Uptown Garrison also offers an exciting cocktail selection and seasonal wine and beer options to pair with your 'za. Take your date on a romantic sunset walk or bike ride up the Hudson greenway and celebrate your good chemistry at Uptown Garrison over some of the best pizza uptown, and NYC, has to offer. 
Note: The Uptown Garrison offers vegetarian and gluten-free options. 
PATSY'S PIZZERIA
Multiple locations, original in Harlem: 2287 1st Ave. 
Patsy's has become a phenomenon, with locations across several boroughs and into Westchester, but the original still stands in East Harlem on 117th Street and 1st Ave, with a distinctive green exterior and what looks close to the 1933 original interior.
Known for its impossibly crispy-yet-tender pies, order the Original Coal Oven pizza and never look back and are a top pick among many for the best pizza in NYC. Except for when you order another pie.
Other favorite options include The Polpette (meatball, onion, tomato sauce, grated mozzarella) and the Patsy's Alla Vodka (creamy vodka sauce, grated mozzarella (no tomato sauce)). 
Note: Patsy's offers vegetarian options. 
CHEESY PIZZA
 2640 Broadway, Manhattan
Like any other true New York stalwart, Cheesy Pizza is hilariously direct. They have pizza. It has cheese. It is cheesy. But don't be fooled by the fairly generic name and unassuming exterior – the family-owned Cheesy Pizza has a fantastic New York slice, including well-made versions of classics like Baked Ziti pizza and the tasty Mediterranean pie (Spinach, feta, mozzarella) and one of my personal picks for best NY pizza.
As a bonus, Cheesy Pizza offers a quality selection of gyros and falafel pitas that frankly make an excellent second course or leftover take home after you enjoy your very delicious (cheesy) pizza.
Note: Cheesy Pizza offers vegetarian and gluten-free options. 
KORONET PIZZA
2848 Broadway, 4087 Broadway, & 1110 Lexington Ave, Manhattan & Harlem
Sometimes your mission is not only to find the best pizza, but also the best pizza for your buck. Look no further than Koronet pizza, which serves up tasty and impossibly large slices and is one of the best New York pizza spots.
And when I say impossibly large, I mean, they are the size of your forearm. One friend, a lifelong gruff New Yorker, was astonished at the sheer magnitude of the slice. For reference, one slice is essentially three slices, so it very easily becomes possible to justify eating 3 (9?) slices in one sitting. Not that I speak from experience. 
Topping highlights include the Arrabiata pizza (mushrooms, black olives, hot cherry peppers) and Carbonara (bacon, ham, fresh garlic, cheese).
Note: Koronet offers vegetarian options.
L&B SPUMONI GARDENS
2725 86th St, Brooklyn
L&B Spumoni Gardens is a true New York pizza destination. Located in the Gravesend neighborhood of Brooklyn, L&B attracts visitors from near and far for their world-famous Sicilian slices and extremely old-school ambiance (they've been in business since the 1930s!) and are one of the most famous spots for pizza in Brooklyn!
Grab your friends, order a large classic Sicilian pie, a few Ludovico salads (Chopped Romaine, Tomatoes, Red Onion, Black Olives, Fruit & Cheese – Olive Oil Vinaigrette Dressing) and be transported. 
Make sure to note that L&B Spumoni Gardens does not take reservations, so time your trip with room to wait or plan to eat an early lunch/dinner, late lunch/dinner.
Note: L&B Spumoni Gardens offers vegetarian options. 
TOTONNO'S CONEY ISLAND
1524 Neptune Ave, Brooklyn – TEMPORARILY CLOSED
Another Brooklyn destination spot, Totonno's is one of the oldest family-run pizza joints in New York, dating back to 1921. Known for incredibly crisp and savory Neapolitan-style pies, Totonno's is a perfect stop after day exploring the best things to do in Coney Island from the boardwalk to the New York Aquarium and other interesting hidden gems in Coney Island worth exploring!
For those who have trouble picking a pie, Totonno's boasts a Margherita/Bianca combination that will keep everyone happy. Or just order multiple pies, they are one of the best pizza in NYC spots after all!
Note: Totonno's offers vegetarian options. Totonno's is only open Thursday through Sunday, so plan accordingly. 
TABLE 87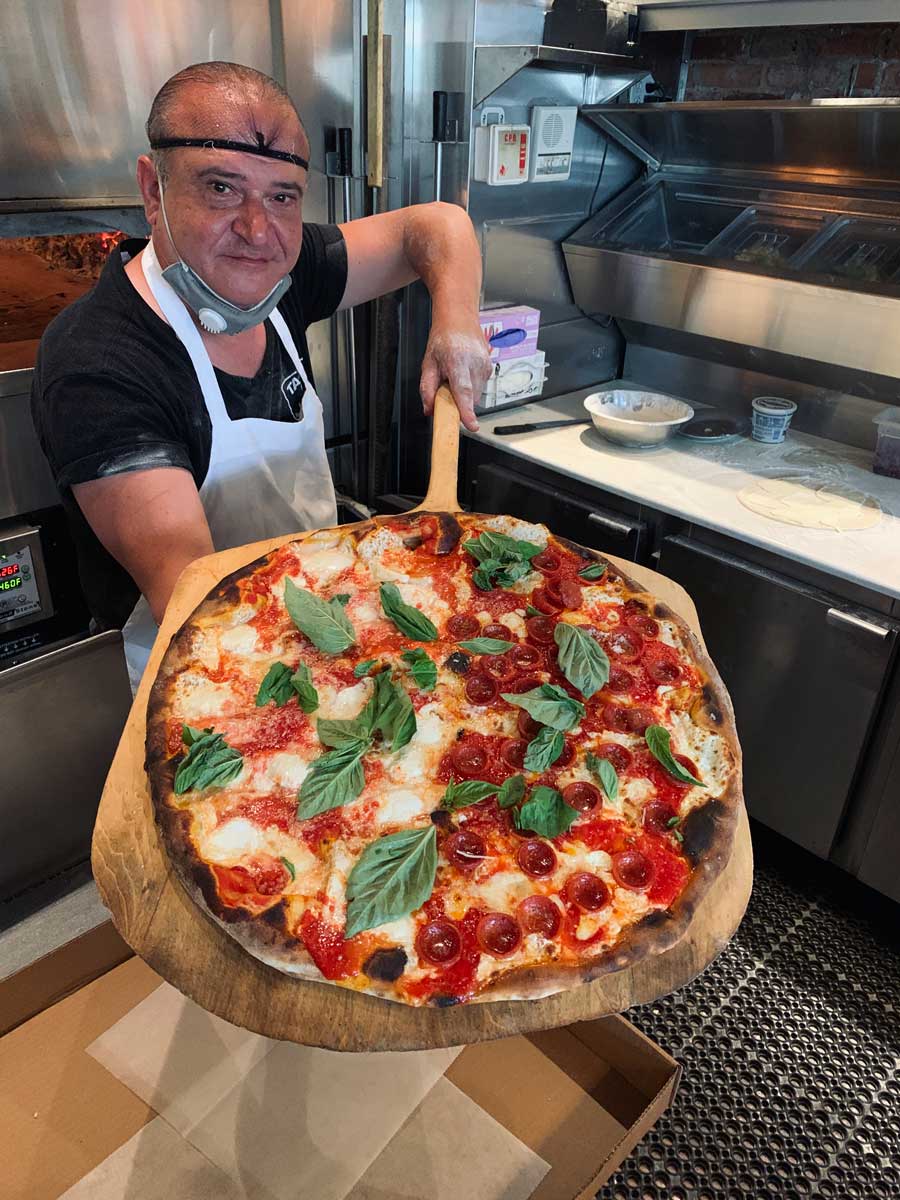 Brooklyn Heights, Gowanus, Industry City
With three locations in different neighborhoods of Brooklyn, this will be one of the easiest NYC pizza restaurants to add to your pizza-eating extravaganza. For one of the best places for pizza in NYC, you'll want to head to a classic coal oven spot like Table 87.
Since opening up in 2012, Table 87 is the first pizzeria in Brooklyn to offer coal oven pizza by the slice too. So perfect for grab and go if you're in a rush.
If you're interested in dining in, there are a few options to choose from at their Brooklyn Heights and Gowanus locations. First, off they offer both square and regular style Margherita pies, a 12" sausage and peppers pie, a 12" prosciutto and baby arugula pie, and last but not least, a Burrata Margherita pie, which is creamy burrata cheese, San Marzano tomatoes and fresh basil.
They also have some delicious appetizers like the calamari and burrata you can add on while checking out some of the best pizza in NYC from Table 87.
In the summer months, Table 87 in Gowanus also does outdoor movies using a projector on the Smith & 9th Street subway platform above! 
Also, if you're a fan of SharkTank, the owner of Table 87 sold his idea for the coal oven pizza experience at home with their frozen pizzas you can buy at the store and bake at home! It's not quite the same, but it's the next best thing if you aren't near one of their locations, although we encourage you to have the full coal oven experience here in person.
GRIMALDI'S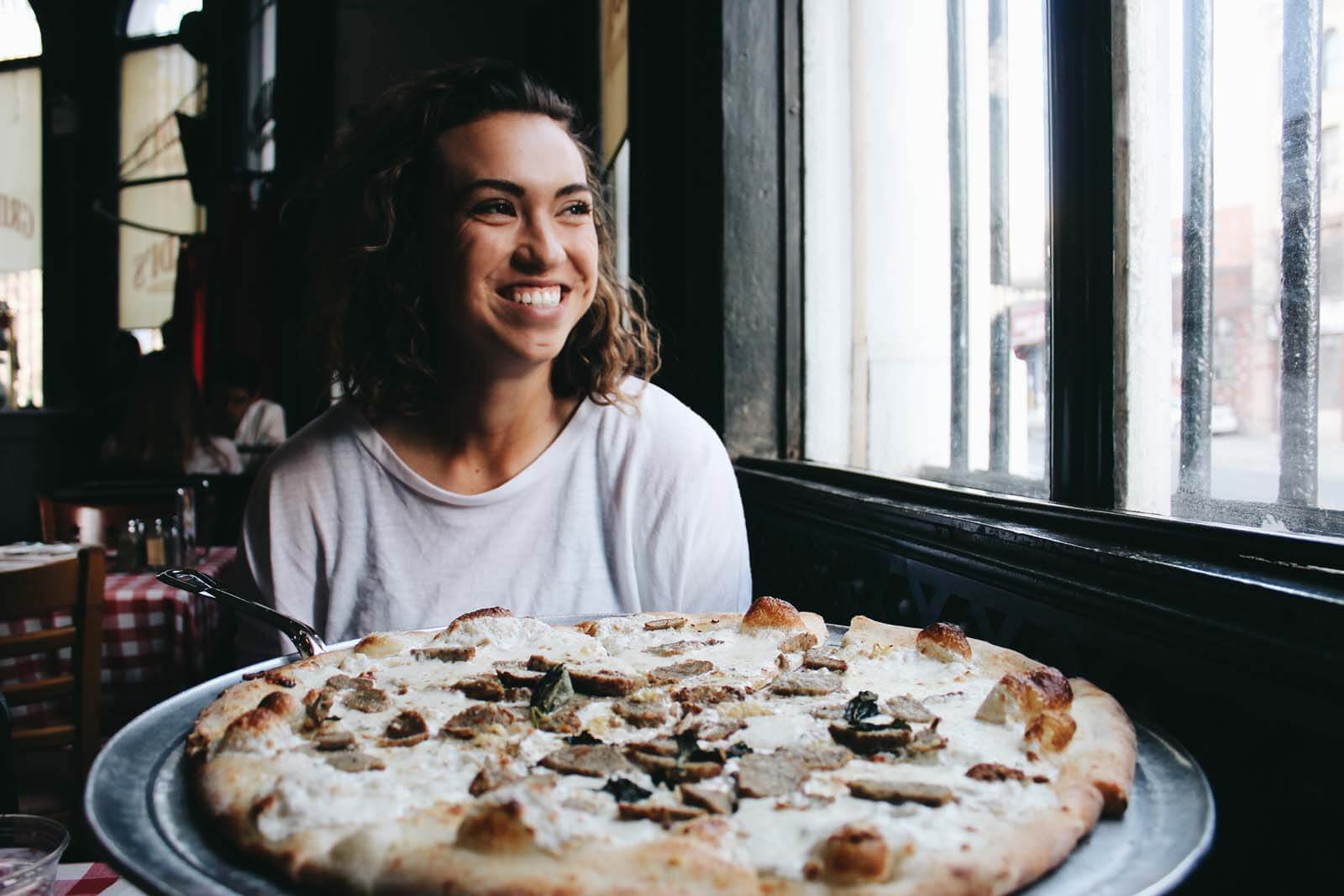 1 Front St, Brooklyn
One thing that feels great after eating a hearty meal is getting in a nice walk afterwards! One excellent way to accomplish this is by walking across the Brooklyn Bridge and after eating at Grimaldi's for their coal-fired pizzas made with a secret dough recipe, not only one of the most famous and places for best pizza in NYC, but one of the best of DUMBO pizza too.
Customize your pie with classic toppings like fresh sliced Roma tomatoes and spicy chicken sausage, or keep on theme by dining on a Brooklyn Bridge specialty pie (oven roasted red peppers, creamy ricotta cheese, and hand pinched italian sausage)
Take your slice on the road and enjoy it sitting by Brooklyn Bridge Park or taking the NYC Ferry to your next adventure!
Note: Grimaldi's features vegetarian options and gluten-friendly (not entirely free!) options. 
JOE'S PIZZA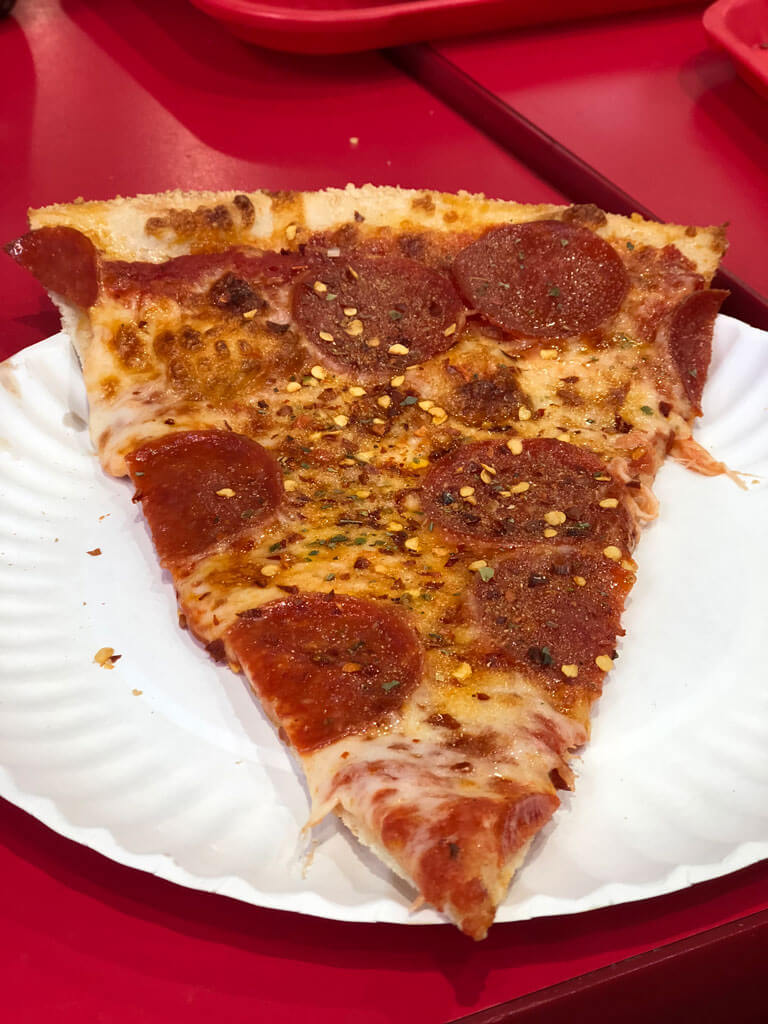 Multiple locations in Manhattan & Brooklyn, original: 7 Carmine Street NY
A true NYC institution, Joe's pizza has been in business since 1975, with the philosophy that simple, no-gimmicks pizza is the best pizza in New York.
Joe's frequently makes best-of and top-ranked pizza lists, being named both "Best Pizza in New York" by New York Magazine and one of the 25 "Best Pizzas on Earth" by GQ Magazine. 
Confident that their pizza is the best in NYC and on Earth, Joe's menu is simple and to the point – they offer plain cheese, fresh mozzarella, and Sicilian square pies and slices with toppings as an add-on. Pair your slice with a classic soda and take in the taste of a pizza that knows exactly what it is – uncomplicated, crispy, savory, and composed of truly quality ingredients.
Note: Joe's offers vegetarian options.
FULL MOON PIZZA
600 East 187th Street, Bronx
The Bronx's Arthur Avenue is home to some of the best pizza in NYC and the city's best Italian cuisine. Full Moon Pizza is known across boroughs as home to some of the city's finest classic slices.
In addition to regular slices and pie, don't miss out on pillowy Focaccia pizza and specialty pies like the Capricciosa (ham, mushroom, artichoke and tomato) and Grilled Veggie. 
For a full-day adventure, head to the New York Botanical Garden (2900 Southern Blvd, Bronx, NY 10458) to check out the latest sculptural and horticultural exhibits before making your way to Arthur Avenue for classic New York pizza and (if you have room!) cannolis.
Note: Full Moon Pizza offers vegetarian options. 
EMILIO'S OF MORRIS PARK
1051 Morris Park Ave, Bronx 
Marked by a cheerful tomato mural on its facade, Emilio's serves up classic Italian fare in the heart of the Bronx including some of the best New York pizza.
Emilio's specializes in custom, build-your-own pies that let you customize everything from your toppings (fresh Ricotta!) to your crust (Napolitan and Margherita style carb-free crusts included!)
In addition to traditional pizza toppings, Emilio's boasts Bronx flavors like its Chopped-Cheese-esque Cheeseburger pie (Prime Choice ground beef, special sauce, pickles, onions, and melted American cheese). 
Spend a spring afternoon at nearby NYC landmark The Bronx Zoo (2300 Southern Blvd, Bronx, NY 10460) and then head over to Emilio's for a truly delightful day. 
Note: Emilio's offers vegetarian and gluten-free options. 
DI FARA
1424 Avenue J, Brooklyn
If you look to Barstool to help you choose the best pizza in NYC, look no further. Di Fara was given one of the top scores ever by Barstool's Dave Portnoy, a 9.4/10. And if that's not enough to get you to try Di Fara, keep reading.
Also considered one of the spots for the best pizza in Brooklyn, Di Fara opened up in 1965 in the neighborhood of Midwood. It's also well known for its high cost and even higher wait time.
Sometimes you can expect to wait over an hour to get your food, but that's the price we pay for getting to taste some of the best pizza in New York – and if you made the journey all the way out to Midwood, it's about the journey anyway.
Here you can get both by the slice and entire pies at Di Fara, featuring quality ingredients. They offer regular pies, square pies, white pies, and then some specialty pies.
One is the Classic Pie, which is much more than just sauce and cheese. It actually includes sausage, pepper, mushroom, and onion. Then the Chaos Pie, which includes sausage, meatballs, tomatoes, wild onions, and fresh garlic.
So if you're looking for a true New York slice and don't mind spending the time or money, get to Di Fara! It's legendary and always highly recommended on foodie guides!
NAPOLI PIZZA AND PASTA
33-02 35th Ave, Queens
Known as one of NYC's culinary hotspots, Astoria is home to Napoli Pizza and Pasta, one of the prime places to find the best pizza in NYC. Founded in 2010, Napoli serves crispy traditional pies and fun combos like the Bolognese (Mozzarella cheese, meatballs, and tomato sauce) and Upside Down pizza. 
Napoli is also known for its seafood specialities, with a well-liked Fried Calamari and Shrimp Parmigiana to complement your fare.
Just a stone's throw from the Museum of the Moving Image (36-01 35th Ave, Queens, NY 11106), spend a day learning about the history of film and television and cap your day off with a meal at Napoli. 
Note: Napoli offers vegetarian options. 
DINO'S PIZZA AND PASTA
30-01 Broadway, Queens
Originally opened under the name Angelo's in 1958, Dino's holds the title of Astoria's very first Italian pizza joint and one of the best New York pizza spots in Queens.
Still family-run and operated by Antonio and Maddalena Carusone's grandchildren, Dino's offers traditional homestyle pies as well as nods to Astoria's vibrant Greek culture with the Stuffed Spinach pie (sautéed spinach, ricotta & mozzarella cheese) and Chicken Caesar pizza (grilled chicken with mixed lettuce, croutons & parmigiana cheese). 
Dino's doesn't use microwaves or any frozen food, and their dishes are prepared fresh each day – check them out after an afternoon spent browsing at the Astoria Bookshop (31-29 31st St, Astoria, NY 11106) for a perfect summer day. 
Note: Dino's offers vegetarian options. 
Lucali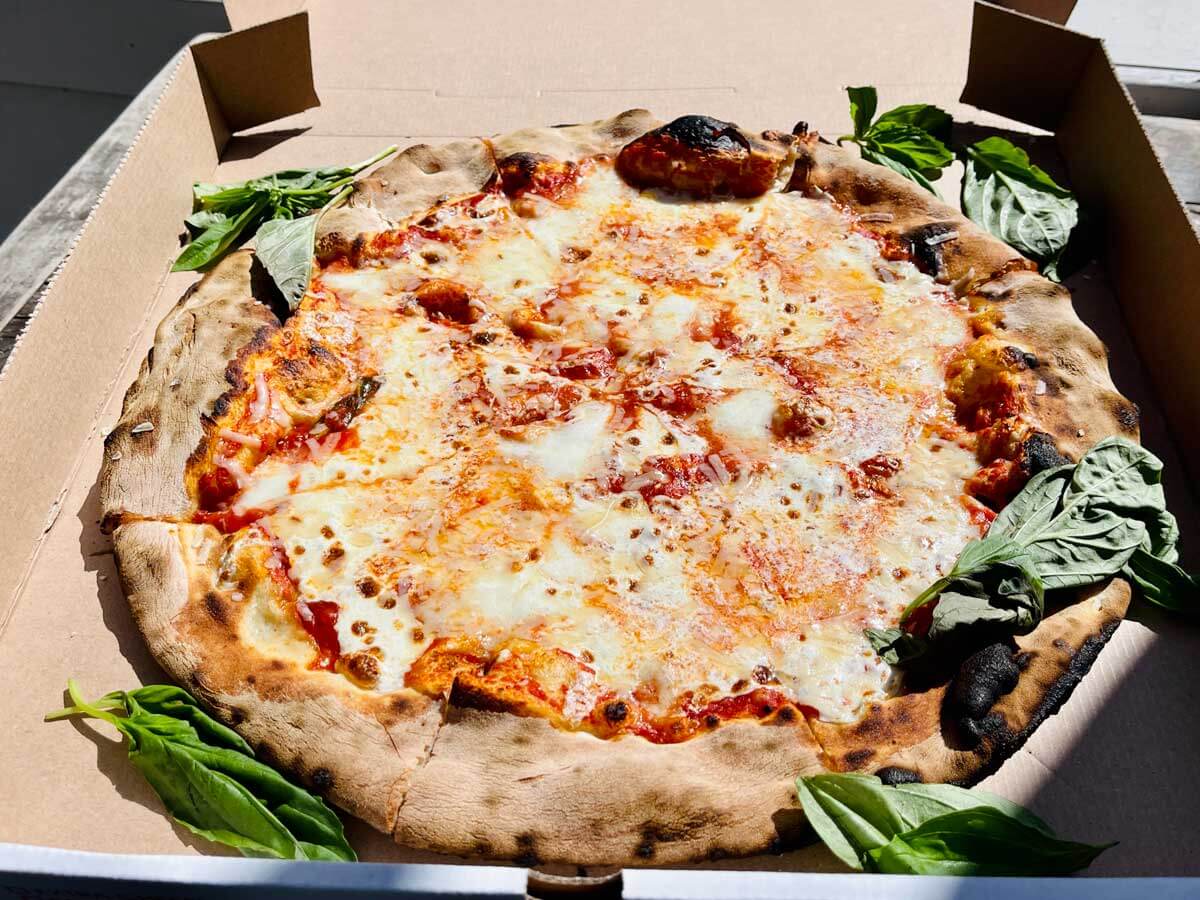 575 Henry Street, Brooklyn
Lucali was rated #1 in all of New York City and featured on the Netflix series, Ugly Delicious with celebrity chef David Chang, so it's a no brainer we added it to this guide to the best pizza in NYC.
Their menu is really short and sweet. They keep it simple by offering large pizzas and both small and large calzones. Each of these savory pies are perfectly baked in a wood-and-gas-fired oven.
Get a plain pie or build your own with a few toppings, just keep in mind each additional topping is an extra charge.
Lucali is a popular date night spot and it's a lot fancier than your typical New York pizza spot on a corner somewhere. They do not take reservations and the wait is typically pretty long, sometimes with a line down the residential block. But have patience! It is well worth it.
This spot has been featured in a number of big-name news outlets like New York Times, Vimeo, Vogue, New York Eater, and so many more including being a hotspot for celebrity sightings like Beyonce.
Just down the street in Carroll Gardens, Mark Iacono brought us another pizza delight here in Brooklyn with his slice shop, Baby Luc's (387 Court St) swing by for one of their specialty Sicilian squares. Just note, they don't open until 2 PM so it's more of a late lunch or quick dinner spot.
Lucali is definitely a stop to make along your journey to try all the best pizza places in Brooklyn. Check out the best things to do in Carroll Gardens for more ideas.
Tip: Lucali is only open for dinner, people get in line as early as 3:30 pm to get their name in for 5 pm seating. If you're that dedicated, you may want to do the same! Or you can order a pie to go and eat at a park nearby, this is one of the best restaurants in Carroll Gardens so a little planning and patience is required!
---
Enjoyed this guide to the best pizza in NYC? Or maybe your favorite pick for best pizza in New York is missing, let us know in the comments below!
Before you go, check out all these amazing pizza quotes to come up with the best witty caption for your next visit to one of these spots for best NY pizza!