Looking for the best fall farms and pumpkin patches near NYC? We've got you covered, from pumpkin farms near NYC with pick your own or just for shopping to fun fall hayrides, corn mazes, and other activities worth checking out not to mention APPLE CIDER DONUTS! Plus we tell you how to get there, some of which are easy to get to using the trains including the Long Island Railroad and NJ Transit!
When does autumn officially begin? Some say it's when boots reappear after the summer heat recedes. Others are adamant that the true signs of fall's arrival are leaves that suddenly look like fire and squirrels darting across the bike lane. The more…boring among us, shall we say, might say fall's beginnings are dependant on calendars, orbits, and a tilted Earth.
But we all know the one and only authentic indicator autumn is upon us the heartening appearance of pumpkins big and small suddenly punctuating every facet of city life. Here's where you can find the best pumpkin patches near NYC to usher in the new season.
While the sites featured here open to the public every fall—(several are open year-round for other seasonal activities!)—opening dates vary annually. We encourage readers to browse each location's website for relevant information each year.
Pumpkin patches near NYC typically open in late August to mid-September and extend through late October, but exact dates depend on when Mother Nature decides the pumpkins are ready for a'pickin'!
So get ready to grab some gorgeous pumpkins to throw on your brownstone stoop, carve for the Halloween festivities, or decorate your home with! Here are some of the best pumpkin picking near NYC. And while you're at it, visit our guide to the best things to do in NYC in the fall as well as where to find the best fall foliage in NYC.
Pumpkin Farms Near NYC
Queens County Farm Museum
Location: 73-50 Little Neck Pkwy, Queens, NY 
Distance from NYC by Car: from Midtown 17 miles, 50 minutes
Distance from NYC by Train: Take the QM5 bus from 6th Ave/42 St to 260 St/Little Neck Pkwy + a 6 minute walk or LIRR to Little Neck with a 10 minute rideshare app ride
This is one of the few pumpkin picking options in NYC located in Queens which is also known simply as Queens Farm. This is the perfect option for fall fun from picking out the perfect pumpkin, or just posing with them is okay too, to getting lost in the corn maze, hayrides, and checking out the animals on the farm!
This historic NYC farm also is an historic landmark with a farmhouse dating back to 1750 on site! However, this land has been used for farming since the late 17th century.
While you're at Queens County Farm Museum don't miss the farm store to pick up some great local products like farm fresh eggs and locally made honey.
Better yet, it's completely free to visit the farm but you do have to pay a small fee for attractions like the maize maze and hayrides.
If you're looking for extra photo options, check out the Floral Escape which is also located here for a colorful, curated experience that was built for Instagram. This is wildly popular though so be sure to buy your tickets in advance!
Hank's Pumpkin Town
Location: 240 Montauk Hwy., Water Mill, NY 
Distance from NYC by Car: 95 miles, 1 hour 49 minutes
Distance from NYC by Train: LIRR to Southampton, 4-minute drive from here with rideshare
Sprawling across over 30 acres, Hank's offers more than your typical pumpkin patch experience. You'll need a few hours to explore all of Hank's amenities and attractions.
With everything from wagon rides through tall cornfields and apple picking, there's something every member of your party can thoroughly enjoy.
This is one of the few pumpkin patches near NYC offering tractor train rides, and an assortment of smaller activities like stimulated cattle milking and sandboxes make this an ideal choice for young children.
For $30.00, a party of 4 can explore the apple orchids and handpick whichever perfectly formed fruits capture their eye. (This equates to approximately 10 pounds of direct farm-to-kitchen apples, an incredible deal considering Hank's Pumpkintown offers over a dozen highly sought-after varieties.) 
And of course, there are hundreds of pumpkins available for straight-from-the-vine picking. Take home a pink pumpkin for a unique twist. A sizable portion of profits from these sales is donated to breast cancer research.
See our guide for how to get from NYC to the Hamptons for easy to follow instructions and just grab an Uber or Lyft once you get to Southampton train station!
Stakey's Pumpkin Farm
Location: 270 West Ln, Aquebogue, NY 
Distance from NYC by Car: 85 miles, 1 hour 39 minutes
Distance from NYC by Train: LIRR to Riverhead, 12 min drive from here with rideshare
Travel to the far east end of Long Island to experience pumpkin patches near NYC, one of the best being Stakey's Pumpkin Farm, right in the heart of Aquebogue, NY.
This family-run operation has come a long way since its 1976 beginnings, growing from 1 acre to an impressive 26-acre facility. Visitors are free to wander throughout the land and harvest fresh pumpkins directly from the vines. 
After everyone in your group has selected the perfect pumpkin to bring home and decorate, keep the fun going with an adventure through the 3-acre corn maze and relaxing journey on a tranquil hayride.
Cabbage, kale, and other greens are also available for purchase if you'd like to catch up a bit on some grocery shopping while supporting local agriculture. 
Outhouse Orchards
Location: 139 Hardscrabble Rd, North Salem, NY 
Distance from NYC by Car: 56 miles, 1 hour 6 minutes
Distance from NYC by Train: N/A
In northeast Westchester lies the scenic town of North Salem where families and friends flock to experience nostalgic fall activities. Typically beginning Labor Day weekend, fruit pickers have the opportunity to pluck peaches, pears, and crisp apples at an affordable rate.  
A vast selection of pumpkins sold by the pound are available as well, all of which are vine-free for easy and quick portability. And for an additional fee, visitors can participate in Outhouse Orchard's popular corn maze. If you're down for a spoiler or two, review their corn maze map for a headstart. 
Harvest Moon Farm
Location: 130 Hardscrabble Rd, North Salem, NY
Distance from NYC by Car: 56 miles, 1 hour 6 minutes
Distance from NYC by Train: N/A
This quaint family-owned apple orchard in North Salem is a full traditional farm, yielding fresh fruit, eggs, and meat for the local community. Their onsite kitchen serves scrumptious breakfast dishes using fresh eggs, cheese, and meats straight from the farm, as well as hard cider. 
Like many pumpkin patches near NYC, this darling farm is basically a fine goods grocer as well. You can also grab an assortment of local goods like fresh honey and maple syrup during your visit to the farm store, but definitely don't leave without stopping by the bakery for warm apple pie and apple cider donuts!!!
Apples are the primary offering at Harvest Moon Farm & Orchard, but this facility offers a hand-picked peaches experience as well. 
Secor Farms
Location: 85 Airmont Ave, Mahwah, NJ 
Distance from NYC by Car: 34 miles, 46 minutes
Distance from NYC by Train: NJ Transit to Mahwah Station, 4-minute drive using rideshare app
There are farms, and then there are farms. Secor Farms falls effortlessly into the latter category with massive, beautiful greenhouses showcasing gorgeous fresh flowers—many of which are for sale.
It's a unique additional experience alongside their typical autumn activities like hayrides through the farmlands to their pumpkin patch and corn maze. 
During these tranquil hayrides running from September through October, riders will pass scenic views of willow trees draping over ponds and lush fields. Keep your camera at the ready; this is one for the 'gram.
While Secor Farms does not offer fresh apple picking, they support other farms with pumpkin patches near NYC by carrying fresh apples and associated products like ciders and pastries. 
Brightwaters Farms
Location: 1624 Manatuck Blvd., Bay Shore NY 
Distance from NYC by car: 46 miles, ~1 hour 20 minute 
Distance from NYC by Train: LIRR to Bayshore Station, 8 minute drive using rideshare app
A historical NY state gem, this beautiful farm has thrived as an agricultural enterprise since the late 1600s when a local family purchased it from the English monarchy. It comprises 3 locations: Bay Shore, Masonville, and Utica. 
Today, it stands at over 100 acres, most of which is devoted to sophisticated greenhouses and other agricultural enterprises and during the fall harvest season you can enjoy pumpkin picking, the animals on the farm, hayrides, fall flowers like mums, apples from the orchard, and more at their Bayshore location on Long Island.
Elwood Pumpkin Farm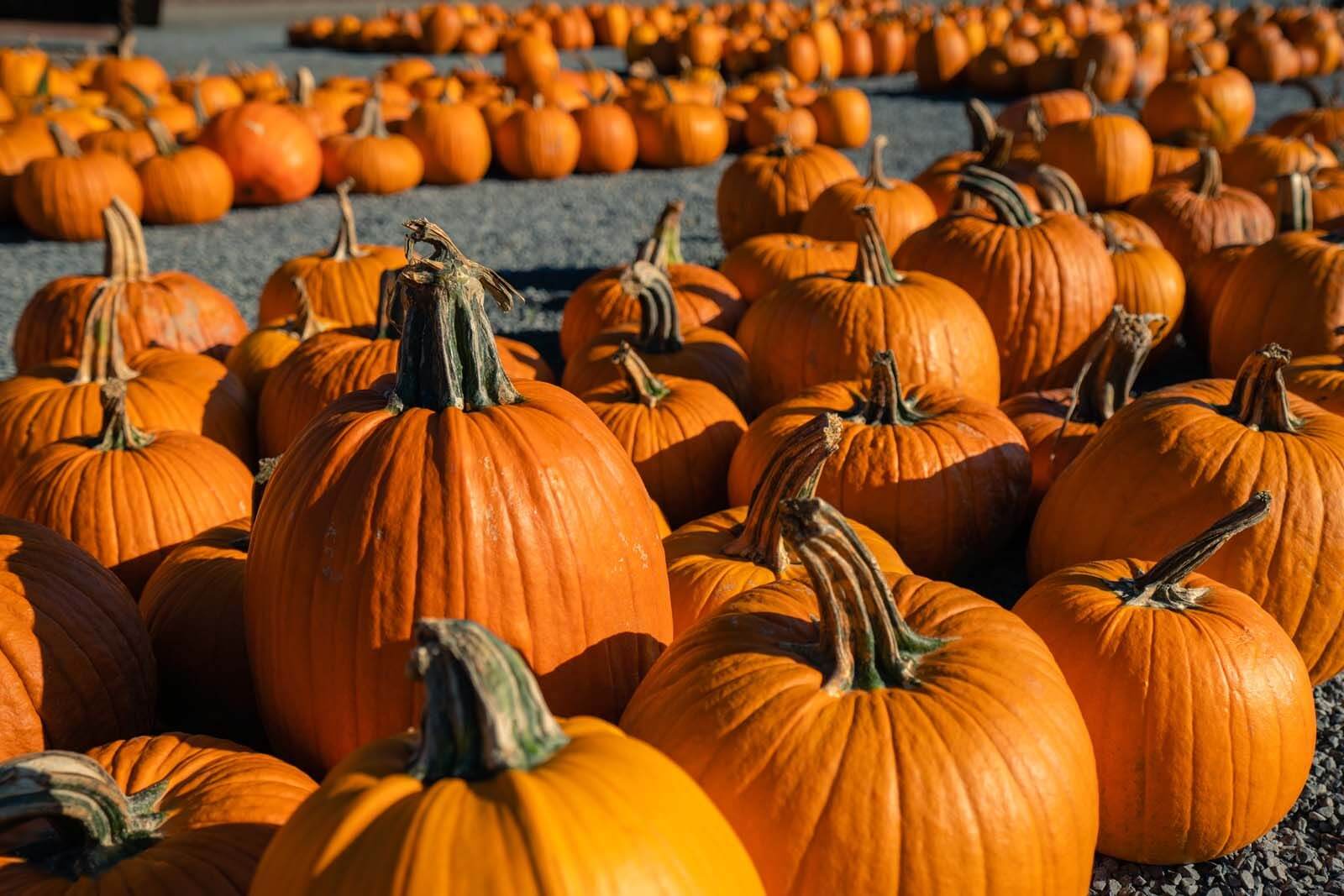 Location: 1500 E Jericho Turnpike, Huntington, NY
Distance from NYC by Car: 42 miles, 57 minutes
Distance from NYC by Train: LIRR to Huntington Station, Greenlawn Station, or Northport Station plus a 10-15 minute drive using rideshare app
Situated in the westernmost region on Long Island, Elwood is one of those pumpkin farms near NYC serving up the perfect location for a photo op.
Because Elwood Pumpkin Farm grows its own gourds, you'll have the opportunity to extract them directly from the vine for the freshest experience possible. Their pumpkins are sold by weight and are available in a multitude of shapes and sizes to fit your every decorative or artistic need. 
Though this facility doesn't have an extensive corn maze suitable for older children and adults seeking a thrilling challenge, a small labyrinth appropriate for smaller tots and toddlers is available.
After Halloween and Thanksgiving roll on by, return to cut down your own Christmas tree just in time for the winter holiday season. 
Dykeman Farm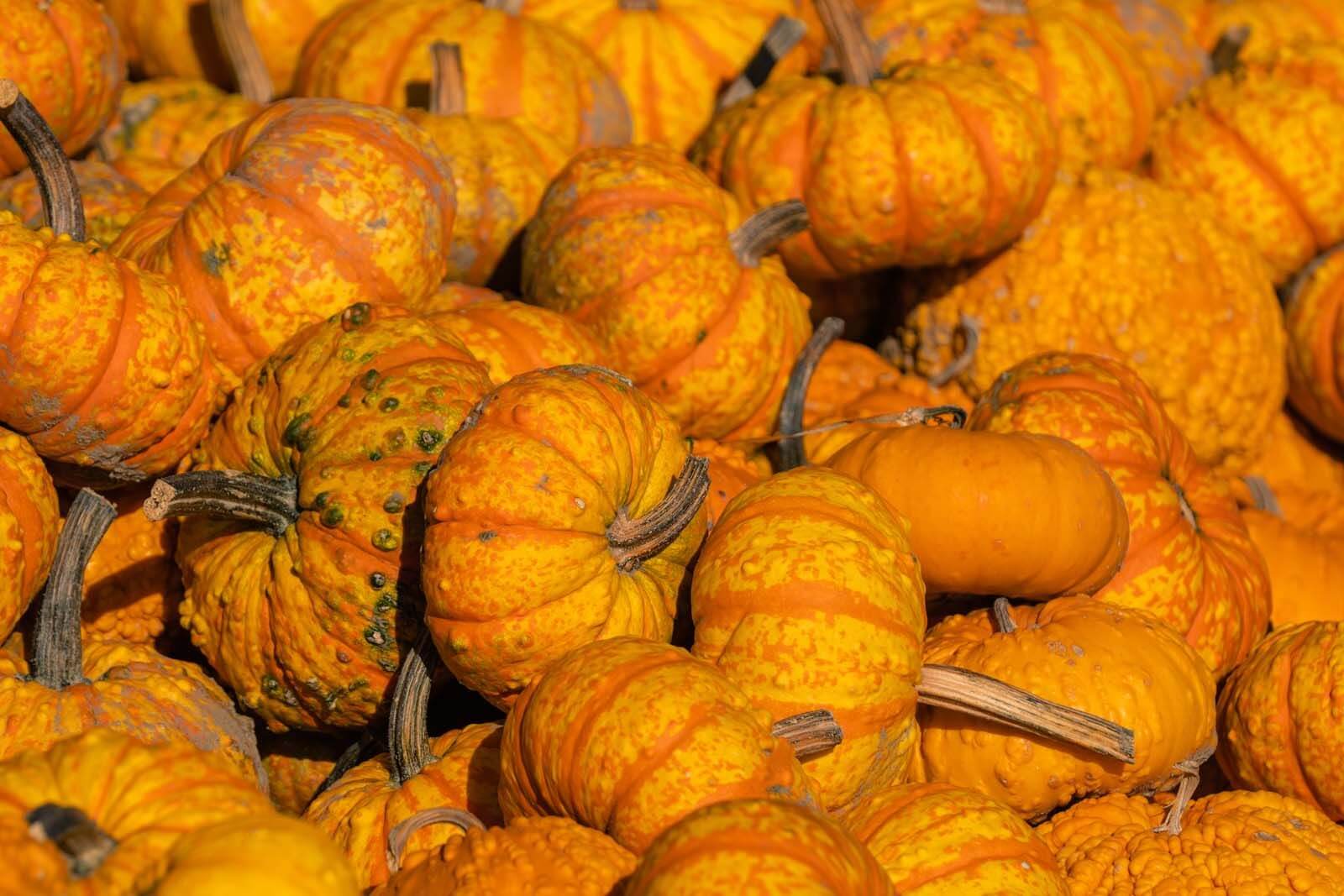 Location: 31 Dykeman Ln, Pawling, NY
Distance from NYC by Car:  77 miles, 1 hour, 40 minutes
Distance from NYC by Train: N/A
This fourth-generation pumpkin farm near NYC brings fresh produce year-round, but during the fall they serve up apple picking and pumpkin picking near NYC excursions for children and adults of all ages. A trip to Dykeman Farm makes for an affordable outing, as they offer both free parking and hayrides. 
Visitors rave about the daily picked fresh corn and sweet tomatoes, so remove those items from your weekly grocery list and fetch them here instead. See here for an extensive list of fresh vegetables, fruits, and herbs you can purchase at their farm stand.
Soons Orchard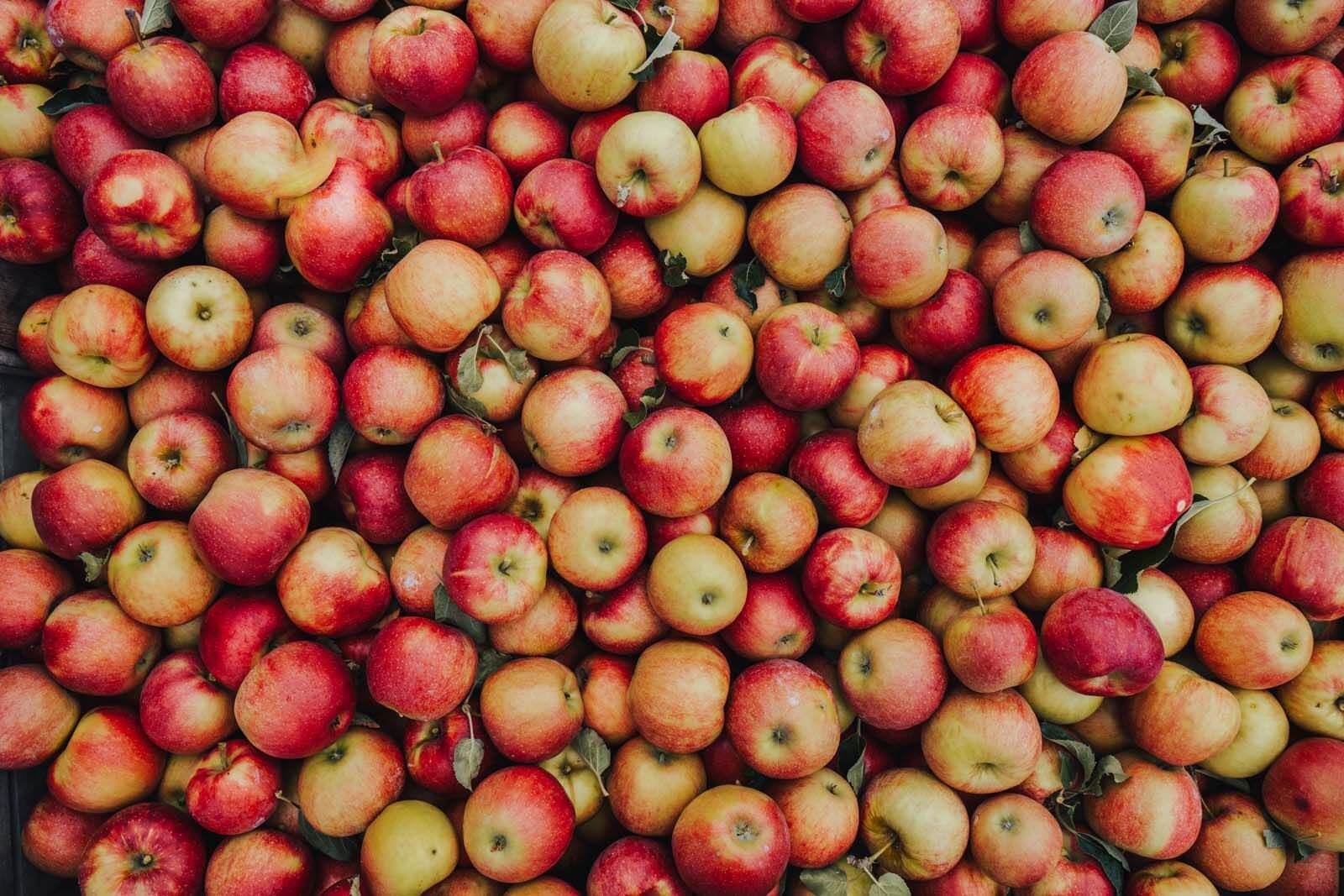 Location: 23 Soons Cir, New Hampton, NY 
Distance from NYC by Car: 66 miles, 1 hour 20 minutes
Distance from NYC by Train: N/A
Quick, take a guess: How many apple varieties are there? Over 7,000. And Soons Orchard is one of the numbered pumpkin farms near NYC growing 55 of them, all of which are available for purchase at their country store.
In addition to abundant apples, homemade fudge, nut butters, apple cider donuts, and scrumptious syrups are available to take home.
Spend a brilliant afternoon pumpkin picking near NYC with loved ones. To enhance an already beautiful experience, enjoy a hay wagon ride to the pumpkin patch for a small added fee.
If you're hungry or itching for a cool, refreshing beer or cider, pay a visit to the Orchard Hill cider Tap Room to experience the pleasure of an apple orchard in a glass. Their flavorful ciders lean on the stronger, dryer side—the type of ciders these cider manufacturers claim are their favorite sort. (We'll trust their expert judgment on this one.) And of course, a modest but flavorful dinner menu complements their thoughtful list of ciders.
Wilkens Fruit & Fir Farm
Location: 1335 White Hill Rd, Yorktown Heights
Distance from NYC by Car: 64 miles, 1 hour, 20 minutes
Distance from NYC by Train: N/A
Apples, pumpkins, peaches, and APPLE CIDER DONUTS—oh my! Grab all of these and more at this quintessential pumpkin patch near NYC experience. Each handpicked fruit adventure starts at a different time during the autumn season, so be sure to review the harvest calendar to obtain a precise idea of when your preferred activity is in full swing. 
Welcome to one of the oldest pumpkin farms near NYC. In honor of their 100th anniversary, this nearly 200-year-old farmland built a challenging corn maze for autumn lovers of all ages to wander through.
See if you can make it through, then explore the farm's 3 shops: The Bakery, The Apple Farm Market, and The Country Market. While you can find fresh 100% cider and all of its dessert derivatives at the first two, the last is a premier location for themed gifts, crafts, and Christmas decor.
Demarest Farms
Location: 244 Werimus Rd, Hillsdale, NJ
Distance from NYC by Car: 25 minutes, 244 Werimus Rd, Hillsdale, NJ 07642, 35 minutes
Distance from NYC by Train: Take the Rockland Coaches Bus Route. Get off at Pascack Rd & Hillsdale Av and walk about 20 minutes 1 hour, 20 minutes
Lots of events occurred in 1886: the founding of Barnes & Nobles, the invention of Coca-Cola, and the dedication of the Statue of Liberty. And deep in Bergen County, Dermarest Farms first began serving New Jersey with fall fun and all sorts of agricultural delights.
For the low cost of $14.00, visitors receive a scenic hayride, a generous serving of fresh cider, an apple cider donut (seriously the BEST), access to their petting zoo, and a pumpkin from their massive pumpkin patch.
Similar experiences at similar price points are available for apple and peach picking as well! This delightful locale makes pumpkin picking near NYC a convenient trip you'll crave all year long until next fall comes around. 
Capping off Autumn with a spooky climax, Dermarest Farms also hosts New Jersey's largest fall light show. Enjoy a guided light experience through the farm's 32 acres of colorful exhibitions, rounding the day out with sweets from the market.
Alstede Farms
Location: 1 Alstede Farms Ln, Chester, NJ 
Distance from NYC by Car: 53 miles, 55 minutes
Distance from NYC by Train: N/A
Alstede Farm's chief claim to fame among pumpkin farms near NYC is their Pick Your Own Adventure, where visitors purchase containers for their harvest at set prices and fill them with fruits and vegetables of their choosing. Come fall, the most popular and exciting offering is the pumpkin experience.
Celebrate the beauty of fall with your selection of orange or white pumpkins and other types of gourds to add a decorative flair to your home or workspace.
Regardless of what crop you fill your container with, you'll be invited to roam through the elaborate corn maze. As visitors travel the maze, they'll encounter trivia on a rotating theme.
Daytime maze exploration is included with a Pick your Own ticket, but for a unique twist, visitors can pay an additional fee to access the corn maze at night during the Harvest Moon Hayride event. Bring your most powerful flashlight and find your way out! 
Nearby the corn maze stands the Beautiful Giants Sunflower Trial. This scenic venture is also included in admission.
F&W Schmitts Family Farm
Location: 26 Pinelawn Rd, Melville, NY 
Distance from NYC by Car: 34 miles, 50 minutes
Distance from NYC by Train: LIRR to Huntington Station, 18-minute drive with rideshare app 
For the past 60 years, The Original F&W Schmitts Family Farm has delighted the community with beautiful greenhouses and an annual farm festival—which began in the 1970s.
Pumpkin farms near NYC typically offer serene experiences featuring hundreds upon hundreds of pumpkins sprawled across a field for the taking. 
During the fall festival, there are typically fair-style rides and other thrilling attractions. Don't miss the haunted mansion throughout October! This experience isn't suitable for young children or those who frighten easily! With live actors prowling the corn trails with the sole objective of injecting fear into every bone in your body and numerous jump scares, Schmitt's haunted mansion is sure to keep you up at night! It's a totally spooky, yet absolutely delightful event to close out a day spent pumpkin picking near NYC.
Harbes Family Farm
Location: 15 Sound Ave, Mattituck, NY 
Distance from NYC by Car: 82 miles,  hour 40 minutes
Distance from NYC by Train: LIRR to Mattituck Station, 5-minute drive with rideshare app
Harbes Family Farm brings excited guests delicious food, shopping, crisp wine, and the ideal setting for lifetime memories. While there are a total of three locations featuring a restaurant and a vineyard and a tasting room, we'll focus on the Harbes Farms Jamesport location.
This location hosts the annual Honeycrisp apple picking experience and a 9-acre pumpkin patch to usher in the changing leaves and autumn breeze. Pumpkins and gourds in every shape and color are available for purchase starting mid-September for your sunny day pumpkin picking near NYC.
Take a hayride through the premise, relaxing as you absorb scenes of bonding families, vast fields, and beautiful fauna towering over the landscape. On the weekends and holidays, this beautiful farm opens its Robin Hood Corn Maze — a trivia-based challenge all can enjoy after indulging in pumpkin donuts and hot cider.
Stuart's Fruit Farm
Location: 62 Granite Springs Rd, Granite Springs, NY 
Distance from NYC by Car: 46 miles, 1 hour 30 minutes
Distance from NYC by Train: N/A
Once a cattle farm, Stuart's Fruit Farm is a gorgeous establishment offering pumpkin picking near NYC is now an agricultural enterprise open to the public. Guests enjoy peach and apple picking, as well as the classic experience of skipping through a sprawling pumpkin patch to discover the perfect gourd for decorating.
When you grow weary from frolicking through the estate with loved ones, take a break with a hayride adventure with a glass of warm cider and delicious sweets from the bakery. 
Guests recommend arriving earlier in the season, as there tend to be slim pickings remaining on the trees when the end of October rolls around—early bird gets the worm!
Riamede Farm
Location: 122 Oakdale Rd, Chester, NJ 
Distance from NYC by Car: 54 miles, 1 hour, 25 minutes
Distance from NYC by Train: N/A
Pumpkin Farms near NYC have never looked so good. With old charm and antique ambiance, this breathtaking estate is the gem of New Jersey's autumn activity scene. Step foot on at Riamede Farm and you'll be instantly transformed to a time before, feeling the warmth of the old apple trees that have been faithfully producing the land's fruit for decades upon decades.
This 68-acre farm was the first in New Jersey allowing the public to pick their own fruit back in the 1970s. While apple picking is the primary activity here—typically beginning in early September—a no-frills pumpkin patch is open for exploration as well. 
This venue partners with Provence Catering to serve excellent, simple food alongside classic autumn desserts. Review the menu here and stay for a serene picnic in their lush, green fields.
Conklin Farm U Pick​​
Location: 65 River Rd, Montville, NJ 
Distance from NYC by Car: 34 miles, 1 hour, 10 minutes
Distance from NYC by Train: NJ Transit to Montville Station, 3 minute drive using rideshare app
Trying to spruce up your home with a bit of fall flavor? This pumpkin patch in New York is the perfect destination for humble, rustic style. Conklin Farm U-Pick takes their decor offerings every bit as seriously as their vast pumpkin fields.
Take home a bundle of fall flowers like chrysanthemums for the foyer. Browse their artistically painted gourds worthy of a MoMA exhibit. If gourd-centric decor strikes you as a tad basic for your tastes, decorative bundles of corn stalks and hefty bales of hay are available for purchase as well.
When you're done browsing their retail corner for new domestic pieces, explore their pumpkin patch and pick a gourd of your own for an at-home carving session. Though Conklin Farm U Pick boasts a gorgeous apple orchard, guests aren't allowed to pick them. They are,  however,  invited to indulge in the scrumptious goods they yield: apple cider and hot cider donuts fluffier than a cloud.
Conklin Farm U Pick also conducts a haunted hayride for a small extra cost Friday-Sunday. Gentle warning: this pumpkin patch in NYC dishes out scares the faint of heart, but if a heart-stopping experience giving Hitchcock a run for his money sounds like a good time, add this locale to your list.
---
Did we miss your favorite pumpkin farms near NYC? Let us know in the comments below!