Post Overview: how to spend New Year's in NYC. Feature image editorial credit: Kevin RC Wilson / Shutterstock
Is celebrating New Year's Eve in NYC worth it? We think so! While the most famous way to celebrate New Year's Eve in New York City is by witnessing the ball drop in Times Square with the ONE MILLION other people there (literally), there are many other ways to celebrate the New Year in NYC from parties on NYE, special events, and fun things happening on New Years Day!
What's great is that there are ways to celebrate New Year's Eve in New York City for just about anyone, ranging from low-key to going out big! And for those who are not night owls and don't like staying up until midnight, there are a few options in here for you too!
Keep in mind, most of the best things to do during New Year's in New York City require advance reservations or for parties, you'll likely have to buy a ticket in advance with cover charges. You'll also want to check each individual activity's dress code too.
New Year's in NYC Tips
Book hotels in advance! NYC at Christmas and the holidays is without a doubt the busiest time of year to visit and the highest-demand time of year to visit. The earlier you plan this trip, the better hotel rates and availability you'll have. The closer, well the exact opposite.
Hotel rooms around Times Square with views of the ball drop not only book out early, but some have a whopping price tag of $20,000 for the night!! It's not a penthouse either…just some food for thought if that's something you're aching to do.
It's going to be cold. Even colder near the waterfront, or standing around if you're going to Times Square for the whole commitment of seeing the ball drop. Have proper winter clothing and dress in layers so it's easy to peel a few off when you enjoy a meal or go inside for anything!
On the coldest of winter days, hand warmers are your friend!
You'll do a lot of walking whether you like it or not, wear comfortable shoes. If the weather is going to be slushy, you'll want to make sure you have comfortable, winter boots that are waterproof!
Keep in mind this is the BUSIEST time of year for tourism in the city. Have patience, and make your reservations in advance. While doing this trip on a whim and spontaneously is possible, you might not get to do everything on your wish list or dream NYC itinerary if you don't plan ahead for this time of year.
Best NYC New Year's Activities
Times Square Ball Drop
The most famous way to celebrate New Year's Eve in New York City and a tradition for over the past century, broadcasted worldwide and watched by 1,000,000,000 people on their screens at home and an estimated one million people in person crowded in the streets of Times Square is see the famous ball drop in the world at midnight – the Times Square Ball Drop on New Year's Eve!
One Million People In Times Square On New Year's Eve.
Ok, so the first thing to do is decide if you REALLY want to witness this in person or not. This experience is not for everyone, especially those who do not like being in large crowds or standing around in the cold. It's a dream that quickly turns into a nightmare.
That being said, this is an experience of a lifetime (if you can handle it).
Keep in mind that you'll have to:
arrive early (think after lunch) to Times Square on New Year's Eve
once you get to your "spot" you won't be able to leave for food, drinks, or the bathroom (this is not because you will only lose your spot, they won't let you 'back in' as the streets close and are blocked off when the crowds start building). 
Go to the bathroom first. Port Authority Bus Terminal is a popular (and busy) spot for this, but it will be worth it to empty the tank before its too late. People have literally gone the bathroom in bottles or in their own pants…plan ahead by buying one of these devices if you're extremely worried. Some even wear adult diapers. Seeing the Times Square New Years Ball drop in NYC is a commitment. 
Eat a LARGE lunch that can hold you over until midnight before you get to your spot.
Bring your own snacks and drinks, keep in mind no alcoholic drinks are allowed.
Backpacks and large bags are NOT allowed. So wear a jacket with big pockets so you can put all your goodies inside there. 
The BEST viewing spot in person as where Broadway and 7th Avenue intersect, known as "the bowtie"
Dress WARM. You'll be doing alot of standing around and not much moving. Check the weather (it's much easier on a mild or warmer day) and prepare with your layers, coat, gloves, hat, warm socks, boots, hand warmers, etc.
One of the best parts of celebrating New Years Eve in Times Square is that they have a celebration for many different time zones every hour! So it won't be boring waiting for midnight Eastern Standard Time!
New Year's Eve Drinking & History Tour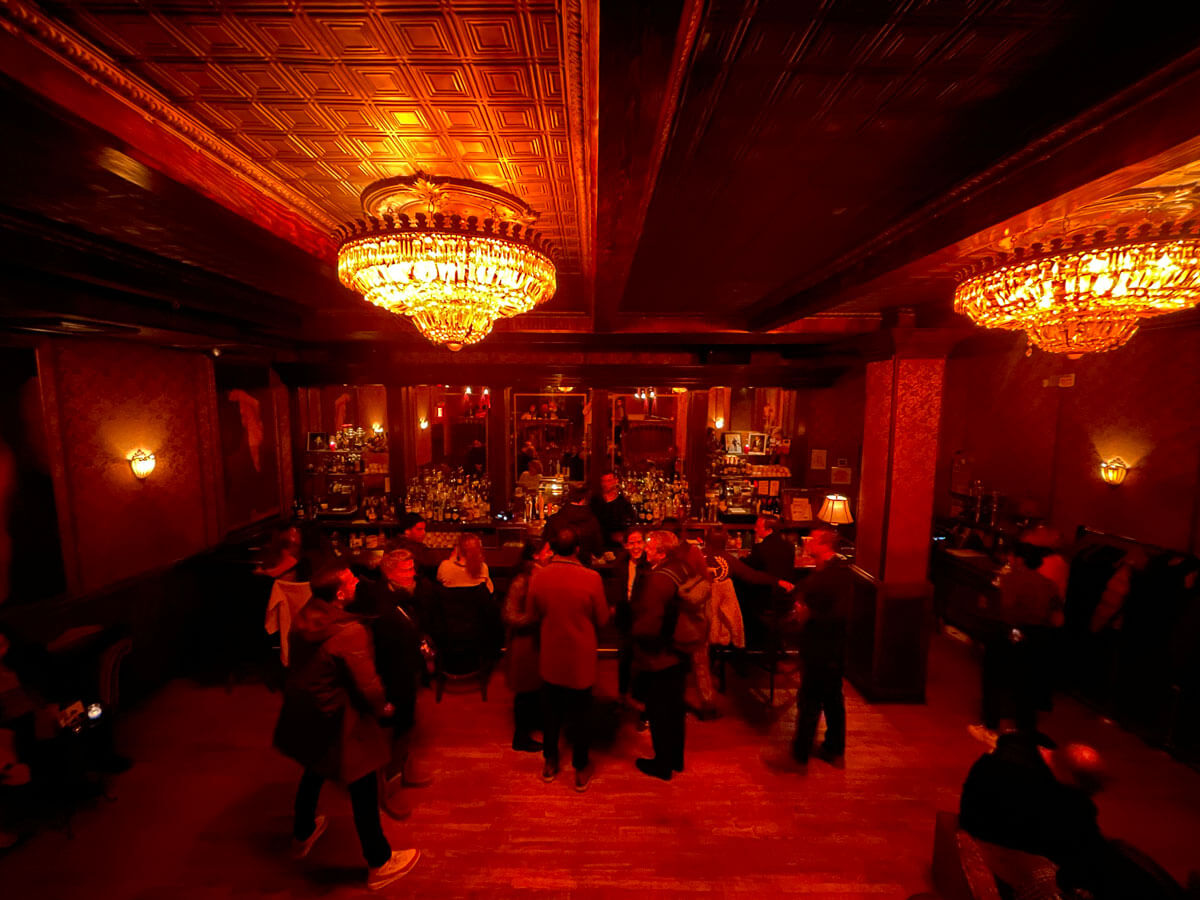 Looking for a unique way to celebrate New Year's Eve in New York? This New Year's Eve Drinking and History tour is a guided journey through the city's past, stops at cool bars, a way to meet new people, and celebrate the new year with a local!
This experience is 6 hours long ( from 6:30 PM to 12:30 AM) and includes an open bar, appetizers, stops at three historic bars/speakeasies with drinks with VIP seating, and even exclusive viewing of the Times Square Ball Drop!!! What a way to see the ball drop without having to do the whole day standing around! Plus, you're with a licensed NYC tour guide who will show you a good time.
You'll start by learning the early 20th-century history of one of the city's best speakeasies with a drink, learn more about prohibition in the city, learn about the city's Gilded Age, and even about some of the most notorious mobsters of the prohibition-era all while having all the appetizers and drinks you want.
The Times Square Ball Drop view is completely exclusive to this group and is located around 12 blocks away – so it will be small, but you'll still get to see it and everyone celebrating! Book this tour here.
New Year's Eve Jazz Show
One of the best way to ring in the New Year in New York City is from one of the city's jazz clubs! New York City is one of the best jazz destinations in the country, while its roots go back to the early 1900s in New Orleans by the mid to late 1920s popular jazz musicians relocated from Chicago to here to New York City where jazz has flourished since. So if you're looking for the perfect type of show to enjoy in New York City on New Years, consider one of these fine jazz clubs and venues that offer special events and regular showings on December 31st.
Swing 46 (349 W 46th St) Jazz and Supper Club offers a New Years Eve special including food and drink options, a dance lesson, a swing DJ, and of course live music to ring in the New Year!
The Django Jazz Club at the Roxy Hotel (2 6th Ave) is a swanky, underground Parisian-style jazz club that hosts an annual New Years Eve in NYC celebration. Your ticket includes dinner and a show including a three-course dinner and a glass of champagne at midnight.
Blue Note Jazz Club (131 W 3rd St) is an intimate jazz club in the Village that has two regular shows on New Years Eve along with a menu of dinner ad drinks to choose from ($20/pp min spend).
The Iridium (1650 Broadway) offers a fun New Years festivities each year! Your ticket includes dinner, disco, and dancing! All the best ways to ring in the new year along with live music of course!
For a more laid-back jazz show on New Years Eve in NYC, head to Harlem where the heart of jazz in the city is and has been. Bill's Place (148 W 133rd St) has its regular showings, except you'll be here celebrating and ringing in the New Year as you listen to live music at this legendary local haunt.
Birdland Jazz Club (315 W 44th St) offers musical performances on New Year's Eve in New York City's Theatre District just in time to head to late-night cocktails or a late dinner to ring in the new year post-show! (min spend $20/pp on top of ticket price).
Smoke Jazz & Supper Club (2751 Broadway) is a classic supper club and jazz venue who always has a special event going on for New Year's Eve in New York City on the Upper West Side.
New Year's Dinner 
If you're visiting NYC on New Year's you're going to need to eat. While you can go as low-key as grabbing pizza by the slice to hitting up the final days of the Christmas-themed restaurants and bars in NYC, you can plan your New Years Eve in New York City around one of the restaurants offering special menus for the evening and in some cases special events like galas and parties to ring in the New Year!
Keep in mind, if you plan to go this route, you need to book your reservation in advance and commit to dinner and or your ticketed time, since these spaces are limited and in demand, you have to pay upfront typically.
One of the best restaurants in NYC to spend New Year's Eve is at Tavern on the Green (W 67th Street in Central Park) a classic, Old-New York joint famous for housing gatherings of prominent New Yorkers for decades in Central Park! Each year they offer a few options like classic brunch, an early dinner (4:45 PM – 6:45 PM) 3-course prix fixe meal, and for those over 21 years old, their annual Gala Dinner and New Year's Eve Party (until 2 AM) complete with a 5-course prix fixe meal and some bubbly to ring in the New Year! Not to mention some late night snacks at around 1 AM too! Not to mention you can see the fireworks from here too.
The legendary Gramercy Tavern (42 E 20th St) also offers something special to ring in the New Year in NYC. They offer an early seating as well as a late seating for dinner.
Carmine's (200 W 44th St) is one of the most famous Italian restaurants in the city that offers a family-style New Year's dinner whether you want to dine in or take out. 
If you plan well enough in advance and are good at snagging hard-to-get reservations, keep your eyes peeled for The Polo Bar (1 E 55th Ave) to open up their New Year's Eve reservation which includes early seating with a la carte menu and for those doing the later seating, you'll have a prix fixe menu, champagne when the clock strikes midnight, caviar, and live music in one of the most handsome venues in the city by none other than Ralph Lauren.
New Year's Eve Cruise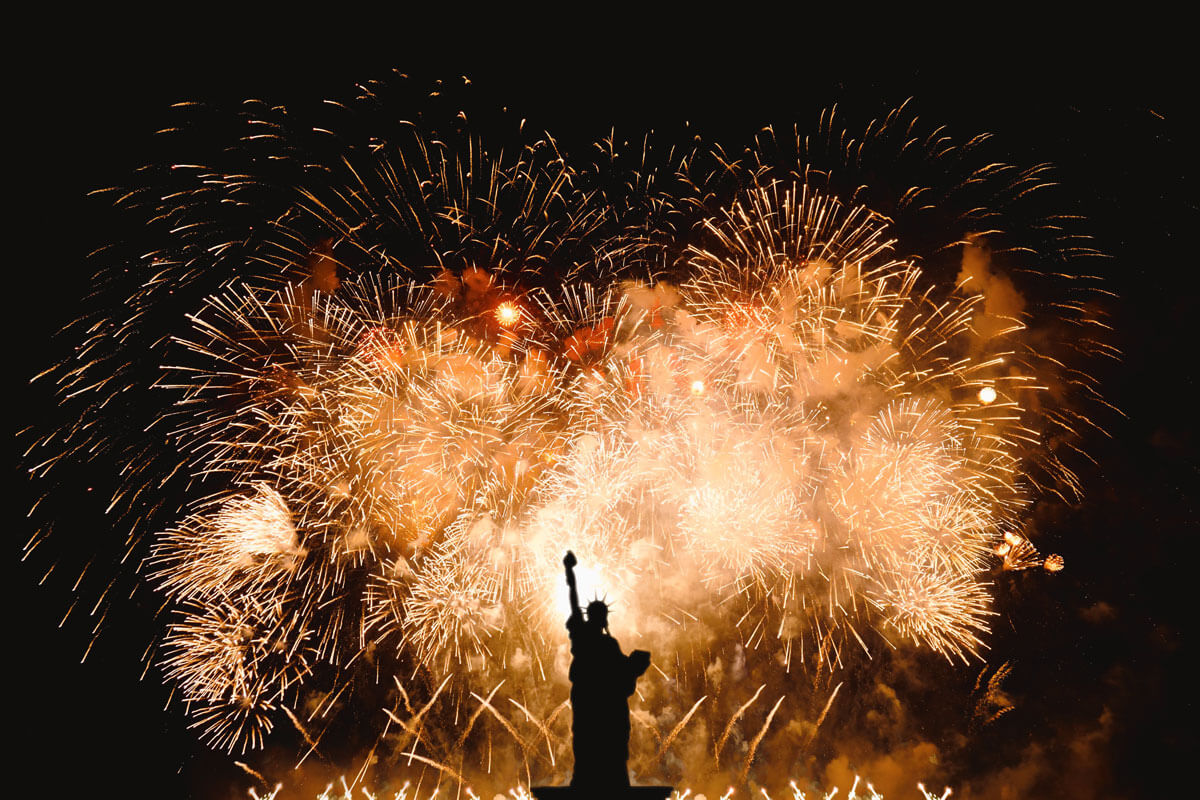 Another one of the best ways to celebrate New Year's Eve in NYC is from the water on one of the fun New Year's Eve cruises available!
Circle Line Cruises offers a New Year's Eve cruise (3 hours, 10 PM to 1 AM) to ring in the new year with the city skyline as your backdrop. Your ticket includes food, an open bar (did someone say booze cruise!?), a view of the fireworks at the Statue of Liberty, and live music. 
Or enjoy the 4-hour (9:30 PM – 1:30 AM) New York New Year's Eve Fireworks Party Cruise onboard one of the largest luxury yachts in the city, Infinity. You'll celebrate the end of the year around New York Harbor from all four decks of this luxe yacht sipping on bubbly or drinks from the open bar, dancing to the live DJ sets, and enjoy the food onboard.
Not a night owl? Don't worry, there's an NYC New Year's Eve lunch cruise too! This 2-hour lunch cruise offers a three-course meal, a sparkling wine toast, live music by a pianist aboard the boat, and of course stunning views of the city. This is also one of the few family-friendly ways to celebrate New Year's Eve in New York City too! There's also a brunch and dinner option for this exact cruise too.
Observation Decks on New Year's Eve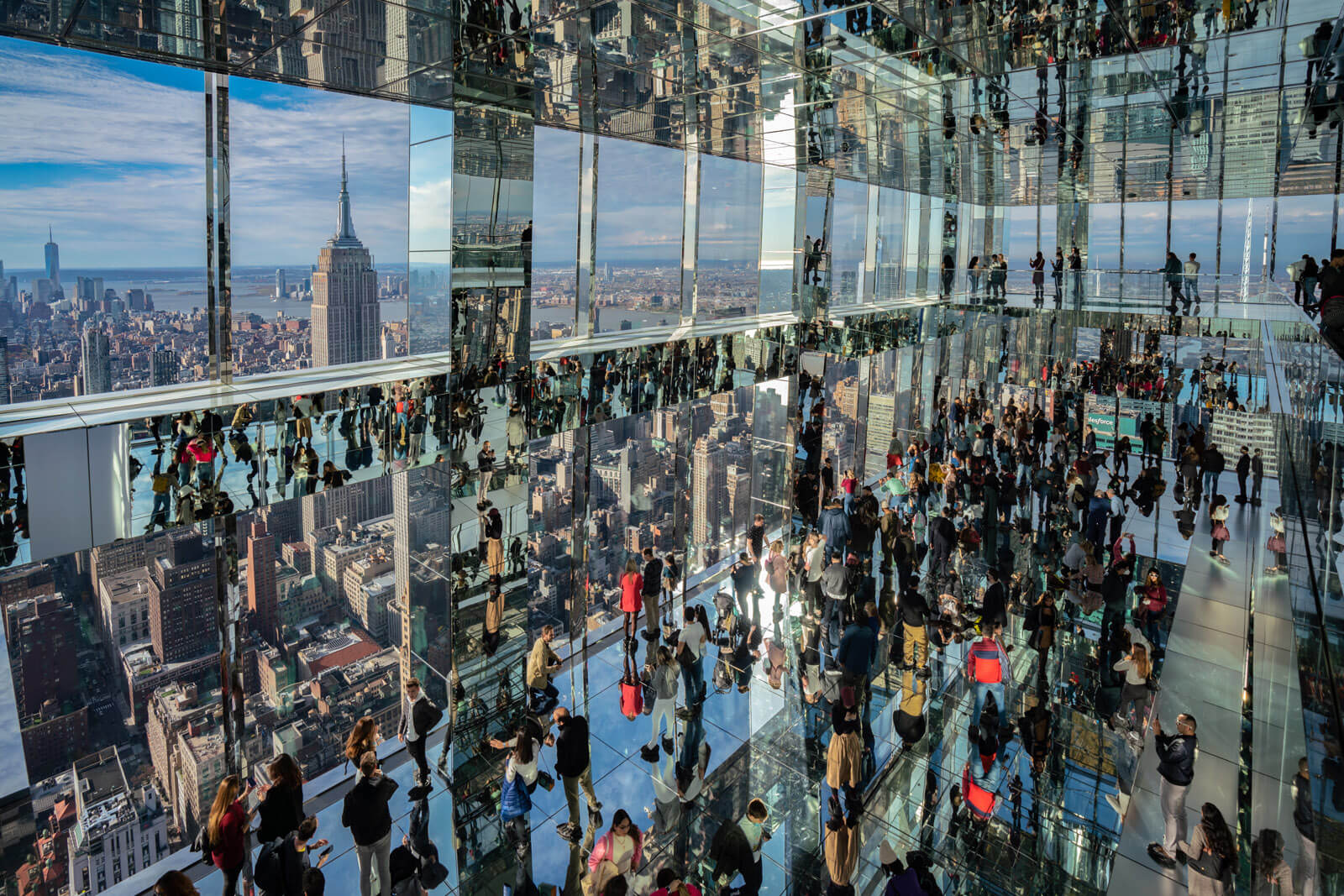 Did you know some of the best observation decks in NYC offer a New Year's celebration?! That's right!! Imagine yourself on New Year's Eve in New York City at one of the highest points you can be looking over the twinkling, celebrating skyline as the clock strikes midnight!
Summit One Vanderbilt is without a doubt my favorite observation deck in the city, not only does it offer stunning views (including my favorite views of the top of the Empire State Building and Chrysler Building), but the entire experience is like walking through multiple rooms of art installations why staring at the skyline. Not to mention the cool reflective views from the mirrored floors, walls, and ceilings!
Your ticket to this unforgettable NYC New Year's party includes live performances from Tony-Award winning guests, unlimited access to all 3 floors of the observatory until 2 AM, cocktails, a midnight toast, and a special countdown light show!! 
The Edge in Hudson Yards also offers an entry from between 8:30 – 9:30 PM until 12:30 AM with full access to the indoor and outdoor skydeck with awesome views of the city. Your ticket also includes two glasses of bubbly and live music too!
Clubs & Parties to Check Out on New Year's Eve in NYC
Ok, so if you're a partier, you'll want to get a ticket or plan to head to any one of these awesome clubs or New Year's Eve parties in New York City! Keep in mind that many of these require your tickets to be purchased in advance, may have a dress code, or a cover charge. 
The McKittrick Hotel (530 W 27th St) is no stranger to eclectic performances in their pseudo 5-story hotel venue, you absolutely should check out one of their interactive performances even if it's not New Year's Eve in NYC. But this guide is all about NYE in NYC and they have a special experience with a table at an exclusive bar with unlimited drinks as well as standard tickets that get you inside (no table) with drinks. The night includes special performances, dancing, and a midnight countdown (on top of the open bar). 
Time Out Market New York (55 Water St, Brooklyn) not only has one of the most coveted real estate on the East River waterfront in DUMBO complete with a roof deck that has a stunning view of the Brooklyn Bridge and skyline, but they also offer a special New Year's Eve in NYC event which includes credit towards the eateries in their food hall as well as drinks at the bar as well as live music and a midnight toast!
House of Yes (2 Wyckoff Ave, Brooklyn) is not only one of the best clubs in the world, but they know how to throw it down on New Year's in NYC! They always announce a themed party and it's usually a big one you won't want to miss out on.
One of the most EPIC places to enjoy your New Years part at is one of the best rooftop bars in the city, Westlight (111 N 12th St, Brooklyn) is located on the 22nd floor of the William Vale Hotel in Williamsburg, Brooklyn with sweeping views of the city skyline from across the East River. Their event includes an open bar, live music, dancing and partying above the city, and a toast at midnight.
The Empire Rooftop (44 W 63rd St) offers an annual NYC New Year's Eve party on the rooftop of the Empire Hotel complete with an open bar, Hors d'Oeuvres, a midnight toast, and live music!
The Refinery Rooftop (63 W 38th St) in Midtown has one of the best rooftop views of the Empire State Building. On New Year's Eve they have surprise appearances by special guests, live music, an open bar, and Hors d'Oeuvres to ring in the New Year. Better yet, if you play your cards right and book ahead you can even stay the night at The Refinery Hotel too for a great location for sightseeing in the city plus an easy commute back to your bed once the party is over.
Fotografiska New York (281 Park Ave S) is a gorgeous museum (housed the same building that Anna Delvey wanted) that hosts a one-of-a-kind New Year event and soiree. Dance to live music, enjoy a theatrical masquerade, plus small bites and drinks.
The PHD Terrace at Dream Midtown (210 W 55th St) is not only one of the best rooftops but also one of the best places to party in New York on New Year's Eve! Their rooftop venue is multi-level with both indoor and outdoor spaces, with views of Times Square and Midtown! Your ticket includes small bites, an open bar, live DJ set, and even party favors! Don't forget the champagne toast at midnight either. There are regular tickets available as well as VIP packages if you want something a little more premium.
230 Fifth (230 5th Ave) not only has one of the best rooftop bars in the city with stunning views of the Empire State Building and dreamy winter igloo dining, but they also throw one of the coolest NYC New Year's Eve parties! They have two DJs, an open bar, light bites, a champagne toast, and incredible views.
One of the most epic places to celebrate New Year's Eve in New York is Rockefeller Center! This NYE Celebration at Rockefeller Center offers stunning views of the largest and most famous of Christmas trees in NYC, plus an open bar, buffet dinner, live jazz music and a DJ set, along with viewing the ball drop in Times Square on a big screen! They also have a professional photographer going around to take photos if you want to have something to remember the night by!
NYRR Midnight Run
Looking for a non-boozy way to celebrate New Year's Eve in New York City? Each year the New York Road Runners, aka NYRR, host a midnight 4-mile run starting at midnight in Central Park!
Once it's midnight, you'll set off on your run with your crew with a backdrop sounds of the celebrating city and fireworks in the sky. Before the run, there will be music and celebrations!
You do have to register to join, be sure to visit their site for more information and how to join. But if you place in the race, you can get prize money!
See Phish Perform at Madison Square Garden
Seeing a show at Madison Square Garden is definitely a bucket list item, but did you know each year at MSG that Phish does four nights of concerts including NYE? One of the best ways to spend New Year's Eve in NYC is to enjoy one of the annual traditions and 'jam sessions' (shows) that take place at the "World's Most Famous Arena."
And if you're a super fan, you can spring for a 4 Day Pass where you can get in every performance!
You can your 4 Day Pass on Seat Geek or just your New Year's Eve ticket on Seat Geek and when you add our promo code BROOKLYNGUIDE to your SeatGeek account, you receive $20 off your first ticket purchase. (We receive a small commission at no extra cost to you)
NYC's New Year's Eve Fireworks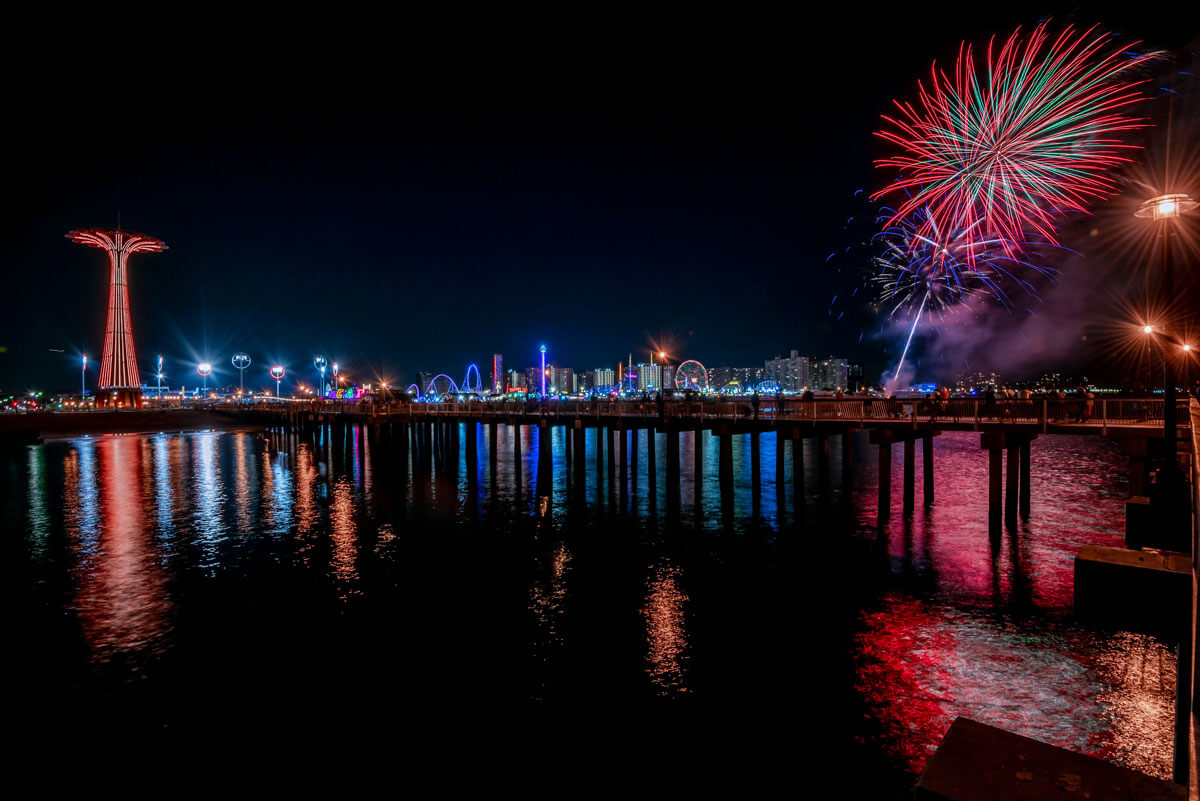 There are a few spots around New York City on New Year's Eve to spot the fireworks that go off to celebrate the new year at midnight!
If you're planning on going to the Ball Drop at Times Square on New Year's Eve, then you'll get to witness those fireworks at Times Square in person! So yay! You deserve that after the brutally long waiting time (and possibly peeing your pants).
If you're in Brooklyn, head to the Prospect Park New Year's Eve fireworks from Grand Army Plaza as well as along Prospect Park West. 
Or head down to Coney Island for their annual NYC New Year's Eve firework display! Bring blankets and bundle up for a spot on the beach or walk along the historic Riegelmann Boardwalk. Plus Coney Island will have fun sideshow performances, music, and even free rides on Deno's Wonder Wheel! How magical is that? And you can always come back for the annual Polar Plunge on New Year's Day too!
The Statue of Liberty also has an annual firework show which you can view from one of the New Year's Eve cruises mentioned above or you can check out a few of our favorite Statue of Liberty viewpoints like the Brooklyn Bridge, Battery Park, or the Red Hook waterfront in Brooklyn for a great view of these fireworks!
Enjoy the Holiday Lights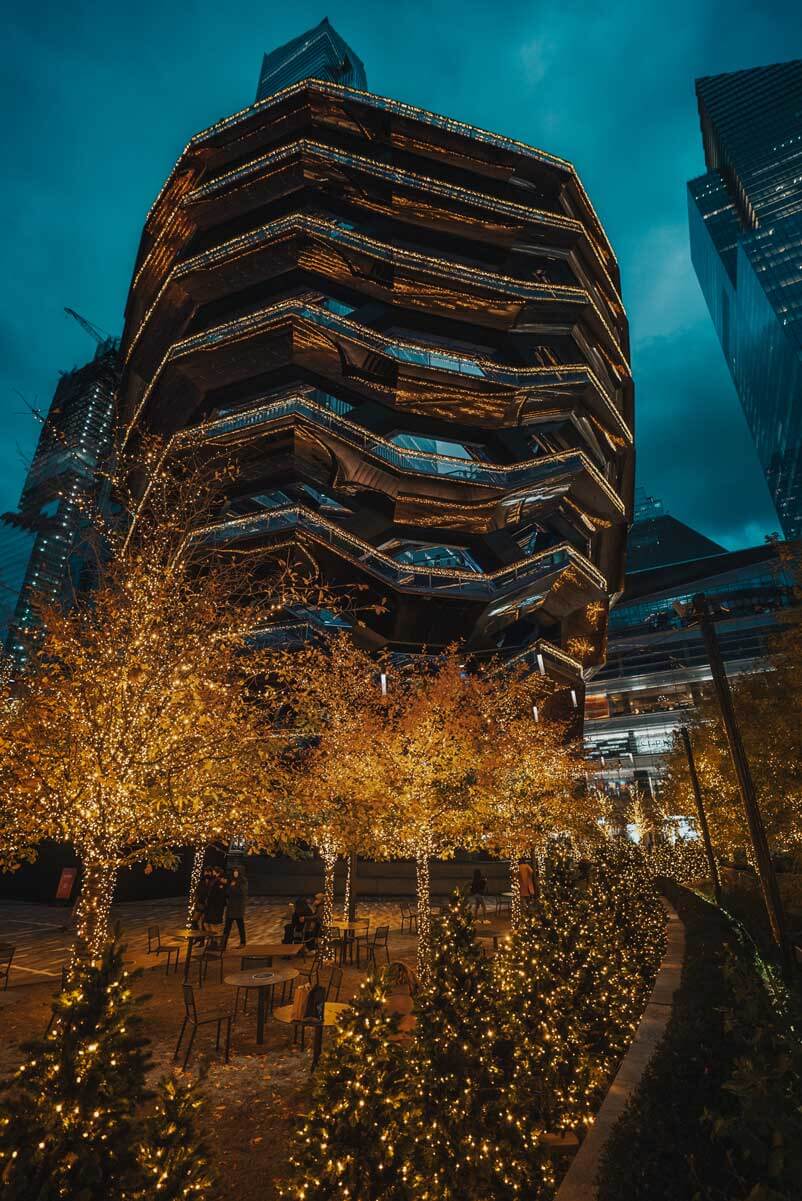 New Year's Eve in New York means an end to the holiday festivities in the city meaning you'll only have a few more days to see the best holiday department window displays in NYC, the enormous decorated Christmas trees, and the best places to see Christmas lights in the city.
If you're not wanting to party or want a pre-party activity, then you might want to grab a hot chocolate and take a walk. For the classic holiday lights and department store peeping tour, start at Rockefeller Plaza to check out the tree and starting at 4:35 PM you can watch the Saks Fifth Avenue Holiday Light Show. (lasts a few minutes and they have a show every 10 minutes until 11:35 PM.
From here, walk up 5th Avenue towards Central Park passing the impressive windows and displays at Bloomingdale's, Cartier, Tiffany's, and Bergdorf Goodman.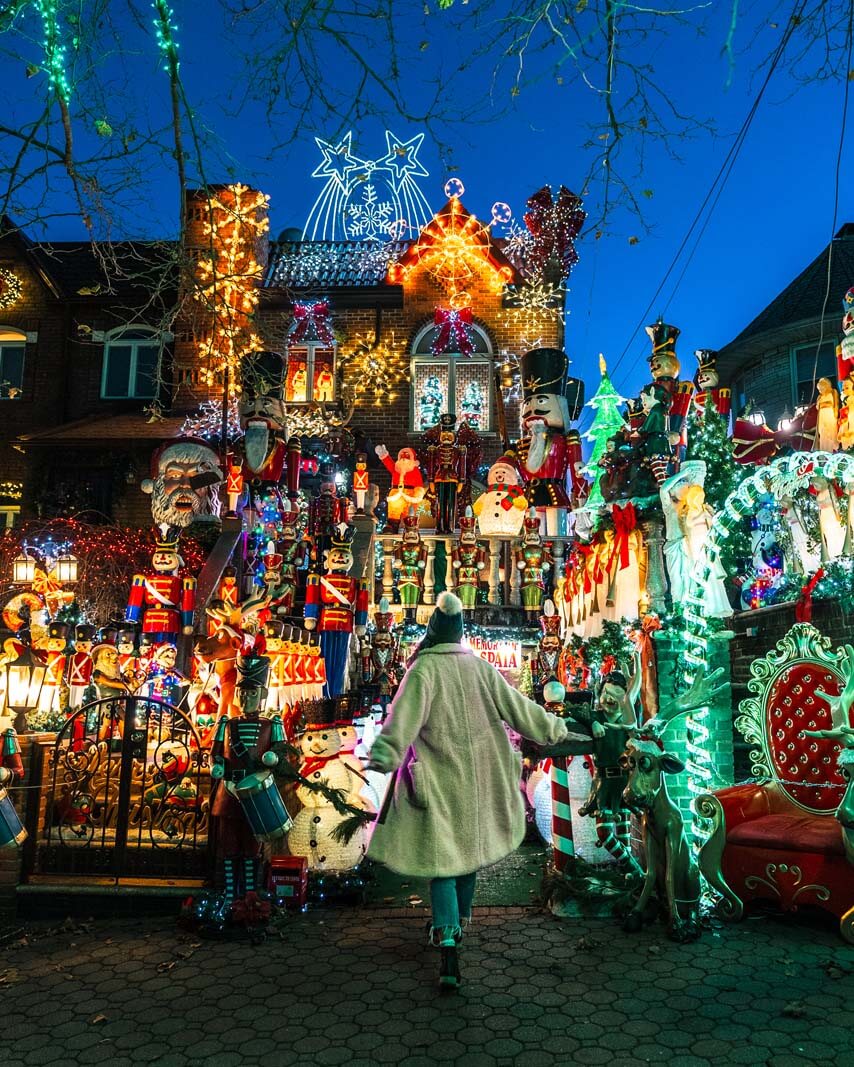 If you're up for an adventure, you don't want to miss the best neighborhood for holiday lights in the city (dare I say country?!, IDK I'm biased) in the Brooklyn neighborhood of Dyker Heights. The Dyker Heights Christmas Lights are famous! They require a little time to get to, but once you're there you're transformed into the magic of the holidays. In fact, you feel like you're straight out of a Christmas movie where festive neighbors compete with each other for the best holiday decorations!
Also, the holiday lights at Hudson Yards are fantastic. And check out downtown in Lower Manhattan at the New York Stock Exchange where it's lit up in red and green lights, there's a huge tree, and if you need a break from the cold head to Brookfield Place for their glowing luminaries light show.
And if you're a fan of Christmas movies set in NYC, you can use New Year's Eve as an opportunity not only to check out the final days of holiday displays but also to hunt down Elf filming locations in NYC and Home Alone 2: Lost In New York filming locations in NYC too!
Radio City Christmas Spectacular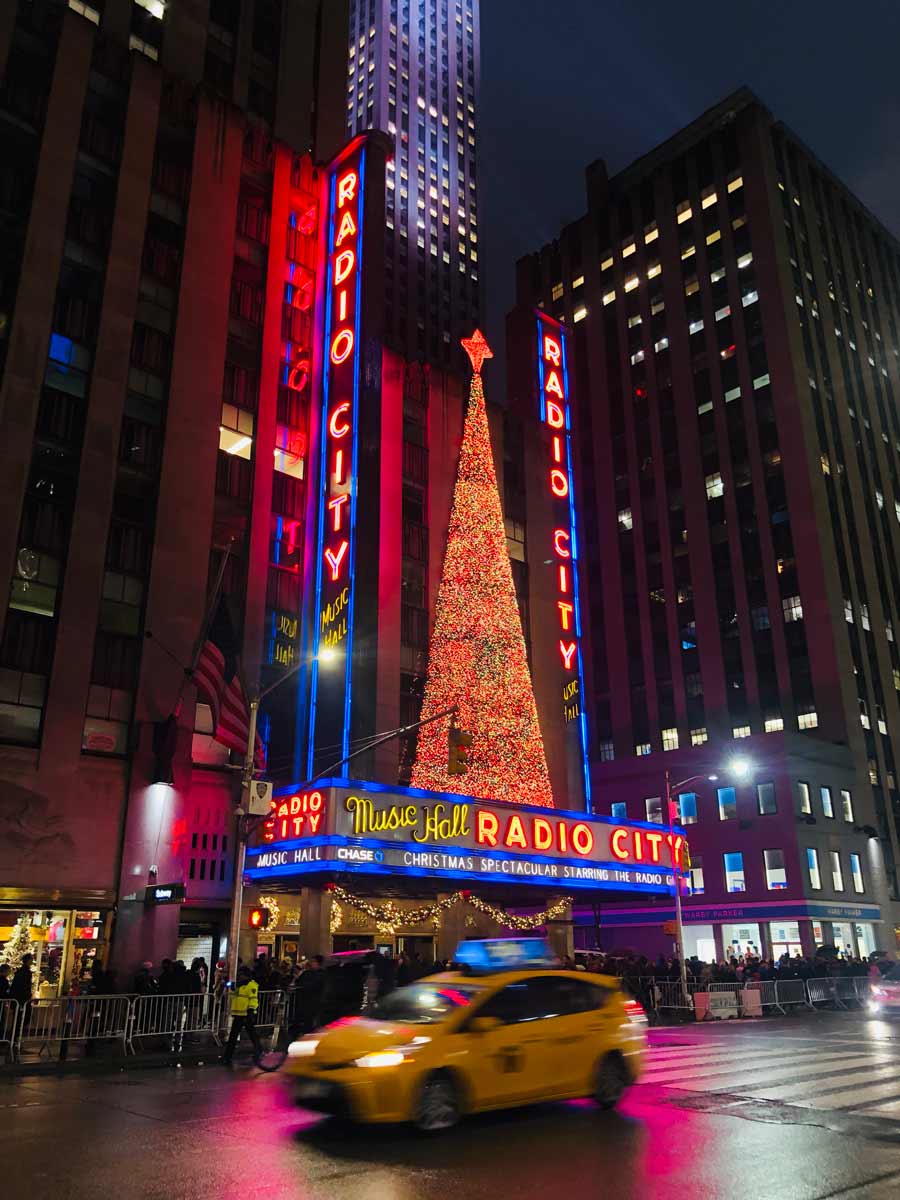 If you missed out on seeing the Rockettes perform throughout the holiday season in the city, don't sweat it! Catch their final performances for the season on New Year's Even in NYC through January 2nd.
The Radio City Christmas Spectacular has been a tradition since 1933 at none other than the famous Radio City Music Hall, which also gets decked out for the holidays too! And you'll get to witness some of the most popular numbers in person including "The Parade of the Wooden Soldiers", the Living Nativity, and don't forget Santa!
On New Year's Eve they have performances at 11 AM and 2 PM, New Year's Day they have 3 performances at 2:00 PM, 5:00 PM, and 8:00 PM, and on their final day (Januar 2nd) they have 4 performances at 11 AM, 2 PM, 5 PM, and 8 PM.
You can get tickets for the Radio City Christmas Spectacular on SeatGeek, and when you add our promo code BROOKLYNGUIDE to your SeatGeek account, you receive $20 off your first ticket purchase.
(We receive a small commission at no extra cost to you)
QCNY Spa at Governors Island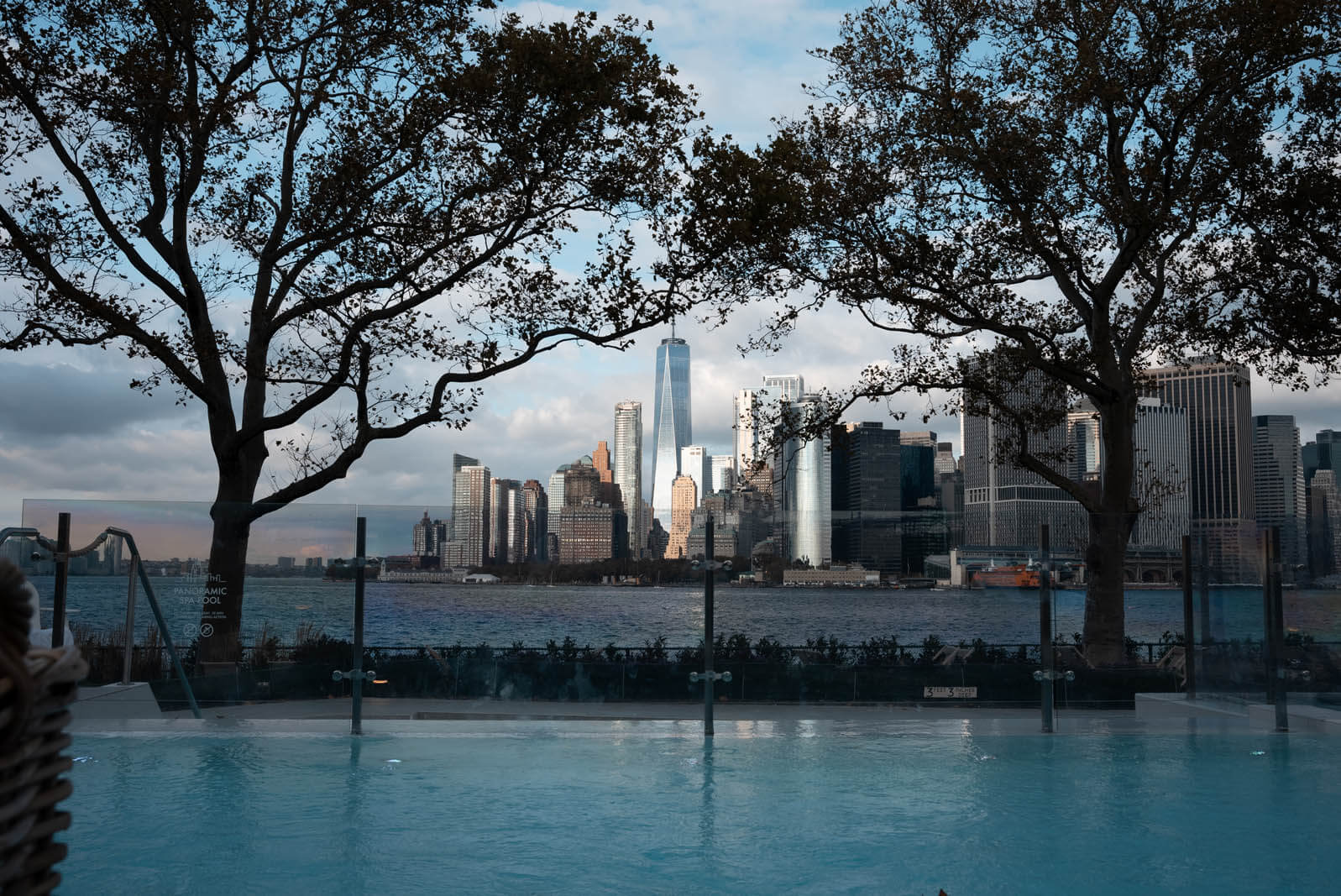 Maybe you want to do something a little more relaxing for New Year's Eve or New Year's Day in New York City. Plus the holidays can be stressful. For the ultimate relaxing experience to enjoy, head to Governor's Island for a day at the spa. 
QCNY Spa is in my humble opinion, the best spa in the city. With a year-round heated outdoor pool (with features like relaxation chairs with jets or underwater music) with a view of the Lower Manhattan skyline, multiple themed relaxation rooms, steam rooms, saunas, Vichy showers, and more.
And better yet, they are open on all holidays with slightly adjusted hours closing at 6 PM on holidays vs their normal closing hours at 10 PM (weekdays) and 11 PM (weekends). Plus the ferry does later service to accommodate these folks (just ask when you leave where and when the next ferry is so you go to the right spot).
QCNY Spa is open on both New Year's Eve and New Year's Day with their holiday hours (10 AM to 6 PM) so you can decide if you want to end or start the new year completely relaxed!
You'll want to book your reservation in advance because let's be real, the holidays are a stressful time so I imagine others may have the same idea!
---
Happy New Year's in New York City! Let us know if we missed your favorite way to celebrate New Year's Eve in New York in the comments below! If you found this guide helpful consider bookmarking it for later.