Looking for the best things to do in Times Square? We got you. Love it or hate it, Times Square is one of the must-see attractions in the city. Even locals who detest walking through the crowds Times Square have at least been there. I mean, once you visit you might understand why it's not a place you'd want to walk through on your daily commute – it's crowded with an average of 330,000 to 460,000 visitors daily and over 130 million visitors annually, this is one of the busiest tourist attractions in the world!
Ok, so what's so special about the places to visit in Times Square? For starters, it's the Broadway Theatre District hub and a worldwide entertainment hub. Not to mention, all the ads and screens. In fact, the NASDAQ sign at Times Square is the largest continuous sign here with a whopping 9,000 square feet of display space, the largest LED light in the world! And one of the most quintessential things to do in Times Square at night is to look up at the chaos of LED screens displaying ads, with lights so bright they can be seen from outer space.
Not to mention the 'people watching; you'll encounter here from the Naked Cowboy to Elmo, street performers, and even the occasional scammer trying to take advantage of an unknowing visitor, there's no other place in the city, let alone country, like Times Square.
But, you'll be surprised to learn there are actually quite a few cool things to do in Times Square that even the locals can't resist. Whether you're visiting during the day or looking for things to do in Times Square at night – this guide has got you covered.
Tips for Visiting Times Square
Due to the popularity and large crowds of tourists Times Square draws, this is a place where you can easily fall victim to common scams in NYC, and even less common ones. Don't worry and don't let that deter you though, with a little bit of knowledge beforehand and general awareness during your visit, you'll most likely be fine. And worst case, most of these scams are pretty harmless and in the end of the day only cost you a few bucks.
That being said, this is a place where you will not want to be lackadaisical with setting valuables down (you shouldn't do that in any big city in the world) and just be a little more alert of your surroundings to avoid pickpockets or thieves looking for an easy opportunity.
First thing is first, don't take things from strangers trying to hand them out to you.
Watch out for the CD scammers. Yes, there are people still trying to sell CDs in Times Square. I can't remember the last time I had a CD player, but sometimes an 'emerging artist' will try to gift you their CD, they will sign it, and gas you up a bit. If you accept the CD and don't offer money, then things will take a turn and things can get ugly as they try to intimidate you. 
There's also a fake monk that walks around and tries to hand you a bracelet. Don't accept it, it's not for free, they will ask for donations which are also 'fake'. There are many forms of this common scam, so just avoid it and don't ever hold or accept anything anyone is trying to give you.
Fake comedy shows are another one. Anyone 'selling tickets on the street' in Times Square should be met with skepticism. Just buy your tickets online or at the actual venue. There will be people trying to sell you tickets to a huge A-list comedian show for $50 bucks. Often the tickets are for a comedy show, but you'll discover they were $10 tickets and you'll be sitting in a shady venue at a card table and discover that the tickets were actually $10 and the promise of that famous comedian performing will fall short. 
This will be covered more later, but those characters you see in Times Square? If you want a photo, be ready to cough up a few bucks for the characters. They can get quite aggressive if you don't pay up. Avoid photos or carry a few dollars on you. And don't even dare try to say you don't have change on you, some carry credit card machines and accept electronic forms of payment. 
And if you're really worried about pickpockets or the safety of your belongings, you can always invest in anti-theft gear to give you ease of mind and an extra layer of safety.
This Pacsafe Shoulder Bag slings over your body and is the perfect size to carry your day essentials while exploring Brooklyn. This lightweight bag has anti-theft features so you can enjoy NYC with ease of mind with Pacsafe's anti-theft patent products whether you're in a crowded area or on the subway.
This Pacsafe Anti-theft Backpack is another essential for New York City or any city trip. This backpack has a patented anti-theft design with lockable zippers and slash-proof material in this sleek and comfortable designed backpack.
Cool Places to Visit in Times Square
Take in the Lights of Times Square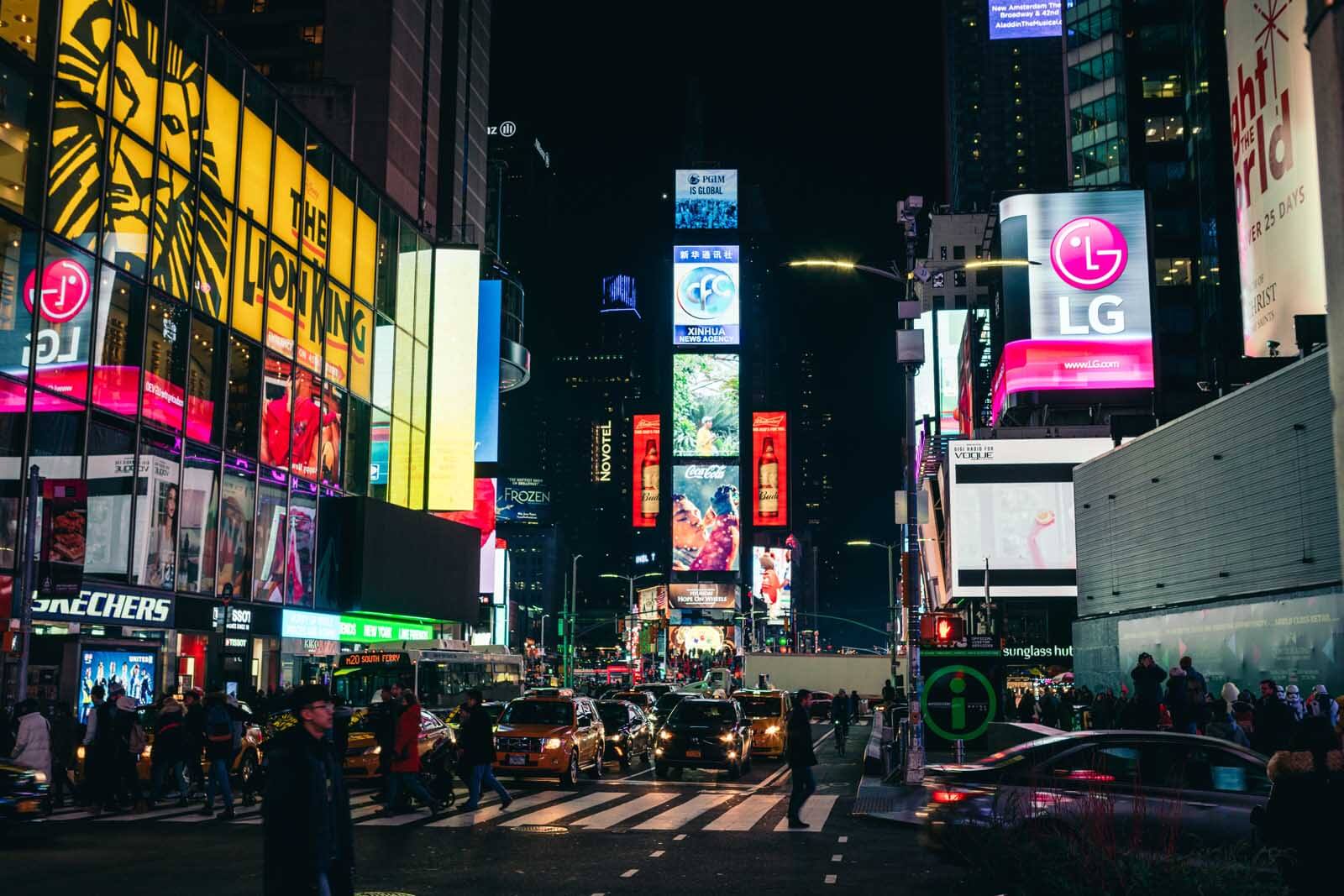 (Located at 7th Avenue and Broadway, from 46th Street to 47th Street)
There's no better evidence showing that New York is the city that "never sleeps" than the iconic sea of illuminated billboards of Times Square. Times Square's continuously illuminated lighting is one of the area's biggest draws for tourists and for good reason. Seeing these high-powered digital screens is truly mesmerizing and absolutely one of the best things to do in Times Square at night!
With all the expensive and large display of illuminated ads, this is an experience you'll find nowhere else in the country and will surely leave a lasting impact on any first-time visitor. In fact, those companies you see up here pay top dollar to be a part of one of the world's largest tourist attractions, it can cost anywhere from $5,000 – $25,000 for an ad to be displayed for 1-3 days!
One of the coolest ads to watch out for is the 3D billboard screen about the Edition Hotel (47th Street & Seventh Avenue). This 14,000-square-foot display takes advertising to a new immersive level.
Also, even if you're not celebrating New Year's in Times Square, you can see the famous Waterford Crystal ball (that's illuminated on NYE with 32,256 LED lights) on the top of One Times Square year-round.
(Located throughout Times Square area in the Theatre District)
Out of all the best things to do in Times Square—seeing a Broadway show should definitely be near the top of that list! With over forty theaters in the area known as the Theatre District, you'll have plenty of opportunity to catch some of the city's most popular long-running shows including Wicked, Phantom of the Opera, Chicago the Musical, and Lion King.
TKTS, a ticket booth in Times Square, serves as one of the best ways to get affordable tickets to one of these famed shows. Be sure to swing by this booth for a deal for the highly entertaining world of musical theater!
However, if you have your heart set on what show you want to see, it's best to secure your tickets in advance. See our full guide on money-saving tips and everything you need to know about seeing a show on Broadway to help you plan your visit whether you're seeing a matinee or an evening show!
---
Also, you can get Broadway tickets for the many shows on SeatGeek, and when you add our promo code BROOKLYNGUIDE to your SeatGeek account, you receive $20 off your first ticket purchase. (we receive a small commission at no extra cost to you)
Times Square Characters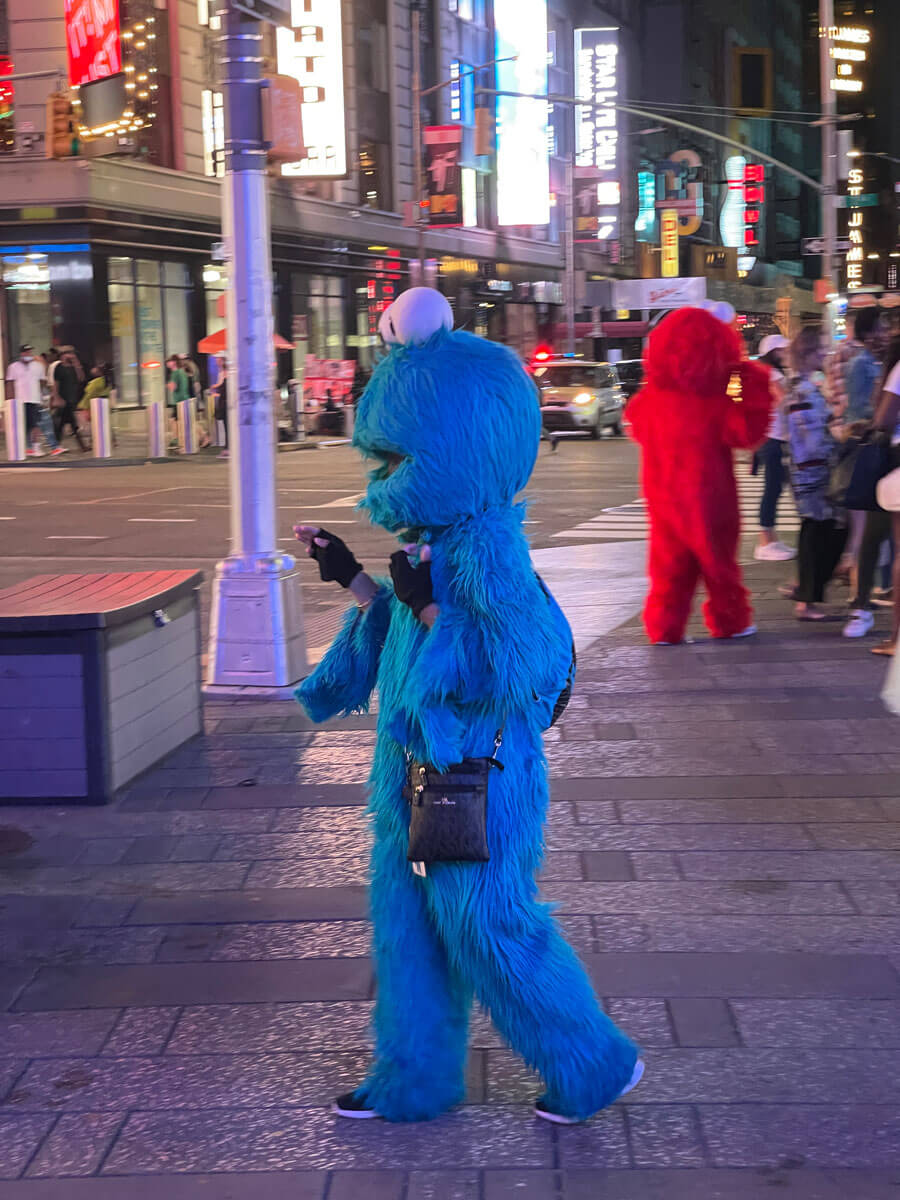 (Located at the intersection of 7th Ave and Broadway)
Probably one of the most "touristy" things to do in Times Square (but still worth mentioning)—taking photos with some of the most famous characters in popular media. Whether or not you're getting a photo or watching others get their photo, this is a quintessential Times Square experience.
There's nothing more 'Times Square' then taking photos with one of your favorite animated characters like Captain America, Incredible Hulk, Elmo, Cookie Monster, Mickey, or Batman. Some costumed characters in Times Square are better than others, some look like they were pulled out of a dumpster and you might catch a beloved figure popping their head off to take a vape break.
You may also come across the Naked Cowboy, the city's favorite (almost) nude guitarist whose been entertaining the masses in his painted underwear since the late nineties! Rain (snow) or shine, he's out there in his skivvies making people smile.
It's also worth noting that most of these characters don't take photos for free and they do indeed expect a tip in return. I mean hey—The Incredible Hulk's got to eat, too!
While there have been issues with these characters in the past (Most notably a 2015 street brawl between Spider-Man and an unfortunate pedestrian), there's been less problems between visitors and characters in recent years thanks to stricter guidelines defined by local authority. Such guidelines include:
1.) Only interacting with characters within two green marked areas (green lines are visible on the ground) and
2.) Tipping is not a requirement for taking pictures according to the official Times Square site, but it is expected and you won't gain much sympathy from authorities if you encounter any problems.
Midnight Moment
 (Located at 7th Avenue and Broadway, from 46th Street to 47th Street)
If you're in the Times Square area right around midnight, you're in for one heck of a treat. And by treat I mean the world-famous Midnight Moment. Midnight Moment is a synchronized digital art display that occurs every night between 11:57 pm to midnight. It's a very short window of time, but it serves as a marvelous showcase of what contemporary artists have to offer and one of the best things to do in Times Square at night!
There's no better way to cap off an evening in Times Square than joining millions of people in admiring the famed light show. This is one of the best digital art exhibitions in the world, and better yet it's free!
Dine at The View Restaurant
1535 Broadway
One of the most memorable places to visit in Times Square, The View is a revolving restaurant and bar (located in the Marriott Marquis on the 48th floor) is the only of its kind in New York.
Calling The View a "unique experience" is an understatement as the restaurant provides a mobile meal while also managing to avoid making patrons dizzy. The restaurant's fine dining and beautiful views of the skyline also make it one of the most romantic things to do in Times Square at night (with your better half). 
This venue also hosts pop-up events like their "Le Petit Chef", and you can check out their main web page for more details. But whether you're there for one of their immersive pop-ups or their impressive cuisine, The View is one of the best places to visit in Times Square and an absolute must for couples visiting the big apple!
St Cloud Rooftop Bar
6 Times Square, 17th Floor
Located at the top of Knickerbocker Hotel, one of the best hotels in Midtown, St Could Rooftop is one of the best rooftop bars in the city and one of the coolest things to do in Times Square at night.
Made up of three sky pods, St Cloud overlooks Times Square and offers some of the best views thanks to its unbeatable location. This rooftop lounge and bar will have you feeling as though you're on top of the city and similar to The View—is a great spot for a date night!
This is one of the best places to visit in Times Square as you'll get a better view of the square while enjoying St Cloud's great selection of cocktails (Like their Volcano Ash Cocktail) or snacks. This bar is first come first serve, so be sure to stop by before seats fill up!
Attend Good Morning America Live!
Broadway & West 44th Street
Ever wanted to be part of a live broadcast? At Good Morning America's Times Square studio, you'll get the opportunity to join the lucky few who get to enjoy the wildly popular daily talk show up close and personal.
Currently, you can only experience the outdoor of the studio where people line up early in the morning to see the highly anticipated guests and sometimes guest performances from the biggest names in show biz. Taking place Mondays through Fridays at Broadway and 44th from 7 AM to 9 AM. Although, you'll need to get here much earlier to secure one of the few spots up front!
While standing in line for a few hours may sound like a hassle, joining Good Morning America live is one of the most popular things to do in Times Square on weekday mornings! Especially for visitors who are used to tuning in from home daily!
Visit a Speakeasy
There are so many cool speakeasies in New York City, while many of the best are around the Lower East Side, there are quite a few in Midtown and one of the best things to do in Times Square at night is check out the ones located around here!
Disguised as a sex shop, Woo Woo Room (266 W 4th St) is a vibrant cocktail bar with a funky retro atmosphere and great drinks to match. This is a nice spot to visit and dance to some vintage old-school tunes. Reserving a table ahead of time is recommended, and you can do so by visiting their website!
Another great gem, Bar Centrale (324 W 46th St) is tucked away inside of an unassuming brownstone and is one of the most unique things to do in Times Square at night. This place feels very exclusive and intimate even for a speakeasy and with plenty of good food and cocktails—it can serve as a great setting for a date night. While it can be seen as touristy, Centrale is definitely a worthwhile venture! 
Last but certainly not least there's The Secret Room (707 8th Ave), an event venue that hosts many different forms of entertainment from stand-up comedy to belly dancing. This diverse spot is one of the best places to visit in Times Square if you want to enjoy some of the best music and live performances the city has to offer! Purchasing a ticket ahead of time or reserving a table is a must at this exclusive space, so be sure to visit their website to get that started.
See a Live Taping
Ever wanted to see a live taping of the Late Show with Stephen Colbert? Fallon? Daily Show? Being present at a live taping for one of these shows is one of the best things to do in Times Square as many of these popular programs are shot within the area!
Experience Colbert's signature brand of political satire as well as his diverse selection of guests at the Ed Sullivan Theater (1697 Broadway). Just make sure you bring a sweater as this particular theater can get a little chilly. Check out their website for more details!
The Tonight Show Starring Jimmy Fallon offers not only the famed late-night host's high-energy interview style, but a variety of different improvisational impersonations and skits. This show also stands out for its willingness to let the audience in on the fun, as some activities warrant audience participation. Join the magic at 30 Rockefeller Center by grabbing a ticket on their main site today!
Another show that takes place in 30 Rockefeller Center—Late Night with Seth Myers features some of the top-ranking guest stars in Hollywood today. And thanks to his SNL background, Meyer's show really comes through with the reliable monologue jokes you'd come to expect from a veteran in the comedy game. For the most reliable and up-to-date ticket availability, be sure to check out 1iota!
Taped in Hell's Kitchen (733 11th Ave), The Daily Show with Trevor Noah is known for its funny satire, but the host also knows how to transition from comedy to thought-provoking conversation without missing a beat. And thanks to the fact that it has one of the most diverse teams of writers and performers in the biz, The Daily Show brings a very unique perspective to late night. You can check out this site for more details on securing a ticket.
M&M's World
1600 Broadway
M&M lovers rejoice! With this giant candy shop in the middle of the Times Square area—candy enthusiasts, both young and old, get to enjoy three floors of chocolaty wonder! 
M&M's world offers a wide variety of flavors for the iconic candy that will keep you busy for hours on end. Also, patrons will find plenty of gifts, and merchandise to take back home with them. This spot also offers customers the unique opportunity to design their very own M&M.
While this candy store is popular among children, all candy lovers are welcome at this sweet establishment. This one of most fun places to visit in Times Square if you're really into candy or you have kids along. Just bring your wallet and your sweet tooth and you're sure to have a blast!
Rise NY
160 W 45th St
Rise NY is part museum, part expedition with three main acts! Rise NY pre-games visitors with an enthralling film (narrated by none other than Jeff Goldblum) from documentary specialist Ric Burns, then takes you on a journey through New York's pop culture history through a series of galleries—and then finally caps things off with an unforgettable ride 30 feet from the ground over the city's famous skyline!
This is one of the most fun things to do in Times Square and serves as one of the most exhilarating ways to learn more about the city's history! Be sure to book your tickets in advance.
Paradise Club
701 7th Ave
Located at the Edition Hotel—Paradise Club is one of the most popular things to do in Times Square at night thanks to its reputation for being a great dance club! Hosting everything from dance parties to comedy shows, this club is a great place for New York visitors looking to experience the city's vibrant night life and even more perfect for those looking for a birthday bash.
It's also worth noting that the dress code for Paradise Club is business casual. You may be turned away at the door if you don't fit their standards, so be sure to arrive at Paradise with your best dress attire!
Russian Samovar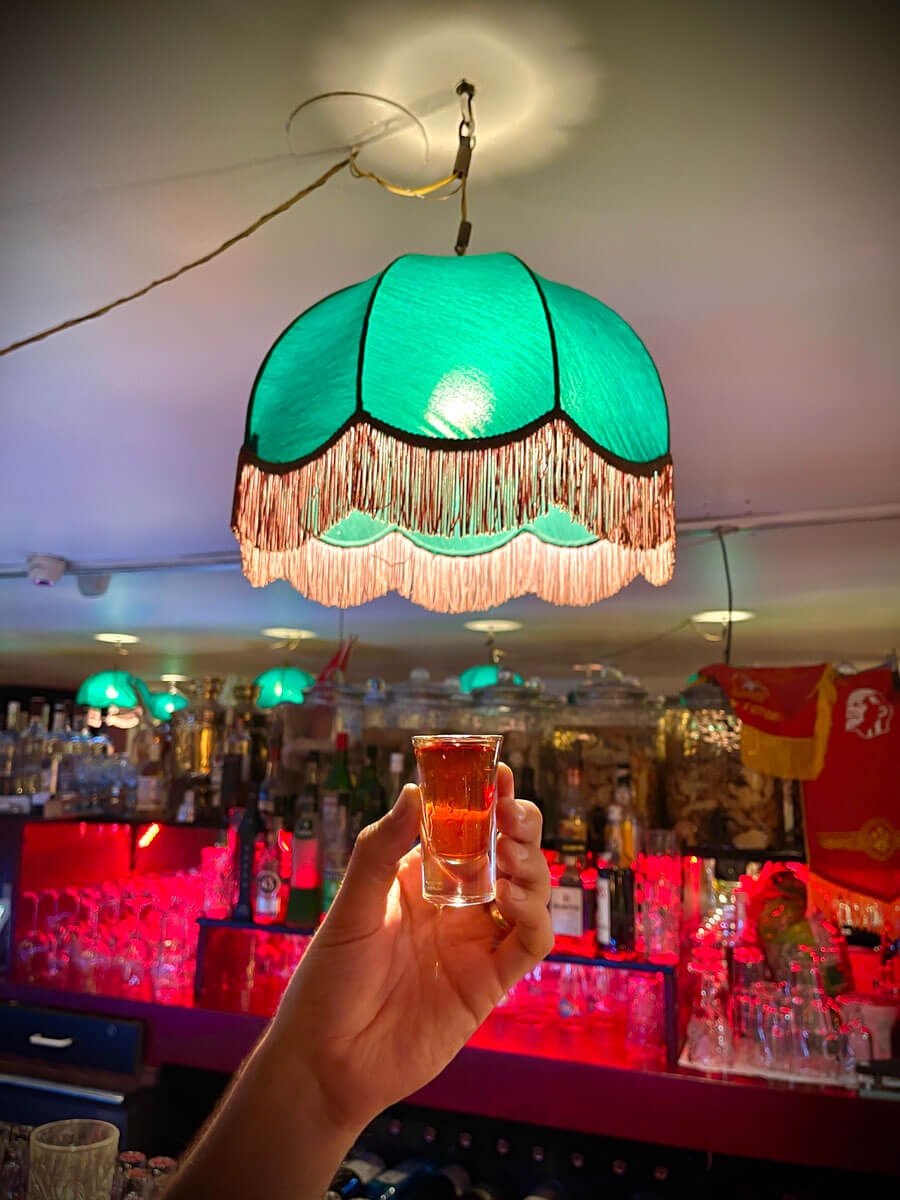 256 W 52nd St
New York is known for having a lot of diversity when it comes to the culinary delights and Russian Samovar is a great testament to that! Right in the middle of Times Square, Samovar is an authentic Russian eatery/bar and one of the best places to visit in Times Square to wet your whistle thanks to their flavor-infused vodkas!
This dimly lit old-world venue also hosts events, features live music, and acts as a perfect spot for dancing on Saturday nights.
Spots for this restaurant fill up pretty quickly, so making a reservation ahead of time is highly advised! Visit their website in order to reserve a table.
But if I'm being honest, you should really just come for a spot at the bar and try your pick at one of their house-infused flavored vodkas including flavors like horseradish, dill, pomegranate, cucumber, apple cinnamon, and more! They also can combine flavors to make your own mix too. They sell them by the single shot, tasting flights, or go big for a carafe.
Living Room Bar at W Hotel Times Square
1567 Broadway
A cocktail lounge located on the 7th floor of the W Hotel New York, Living Room Bar is one of the funkiest places to visit in Times Square! This bar offers guests comfortable seating pods allowing you a little privacy and space to breathe as you enjoy one of their classy cocktails. This lounge takes a "less is more" approach with its décor, but don't let its design fool you—Living Room is one of the most vibrant spots in the area dripped with. neon signs.
Thanks to its fun vibe and ambiance, Living Room Bar serves as one of best things to do in Times Square if you're looking for a break from the action (for a moment). While it may be on the expensive side, the peace of mind you'll get in return is priceless!
Hop on Hop Off Bus Tour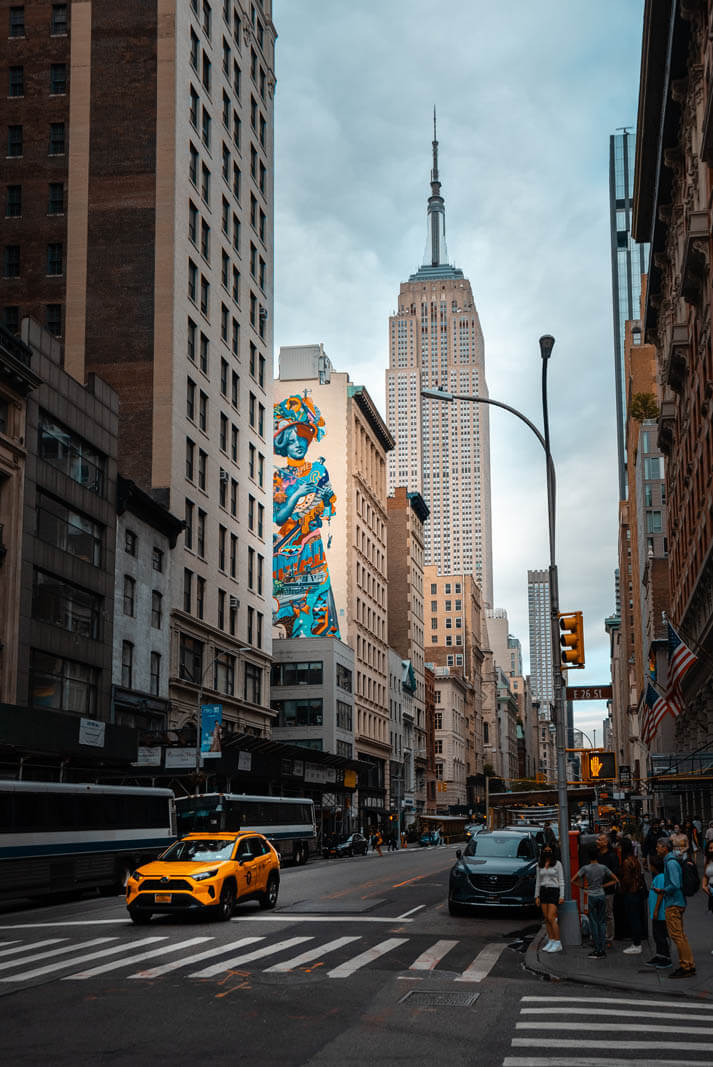 If you're interested in seeing what else Manhattan has to offer, there's no better place to go than Hop on Hop Off Bus Tour! Let's be real, you'll be walking ALOT during your NYC trip, so why not take advantage of a bus tour to take you around. It's through this bus tour you'll get to visit famous landmarks such as the Brooklyn Bridge, Empire State Building, and you guessed it—Times Square.
You'll also be treated to interesting facts and history about the city during the tour. And sweeten the deal even more, Hop on Hop Off also includes a 1-hour bike rental for good measure!
Hop on Hop Off is a great way to explore not just Times Square, but other parts of Manhattan as well, stretching from downtown all the way to Midtown. For exploring Times Square and beyond, this bus tour is your best bet!
Visit Rockefeller Center
30 Rockefeller Plaza
A landmark filled with other landmarks, Rockefeller Center is full of things New York visitors need to see. Within Fifth and Sixth Ave, you'll pass by many different commercial buildings as well as the famous Radio City Music Hall.
Visiting Rockefeller Center is one of the best things to do near Times Square at night—and especially during the holiday season as this is one of the most festive places to visit in NYC at Christmas. With the holiday lights, Christmas tree, and the Rink at Rockefeller Center, you'll get to experience a real New York Christmas!
And located at the top of Rockefeller Center is Top of the Rock Observatory, one of the city's most famous landmarks and the best observation decks in NYC. It's here you'll get a panoramic view of New York City in all its glory—and if that wasn't enough, the brilliantly designed deck itself is honestly worth the visit alone, book your tickets in advance here.
Dine at Carmine's
200 W 44th St
Carmine's is a widely popular family-style Italian restaurant, located in the heart of the famous commercial area. This restaurant offers Italian classics like pizza, pasta, bread, and desserts like tiramisu.
You can also find other dishes as well from steak to seafood all in big, family-style portions. And for those looking to take the edge, enjoy wine or a cocktail from the bar.
This is one of the most popular restaurants in the city let alone one of the best things to do in Times Square—especially after walking through the area all day as you'll need to refuel. Due to its popularity, this restaurant can get extremely busy, so making reservations is highly recommended. You can do so by going here.
Go to Ellen's Stardust Diner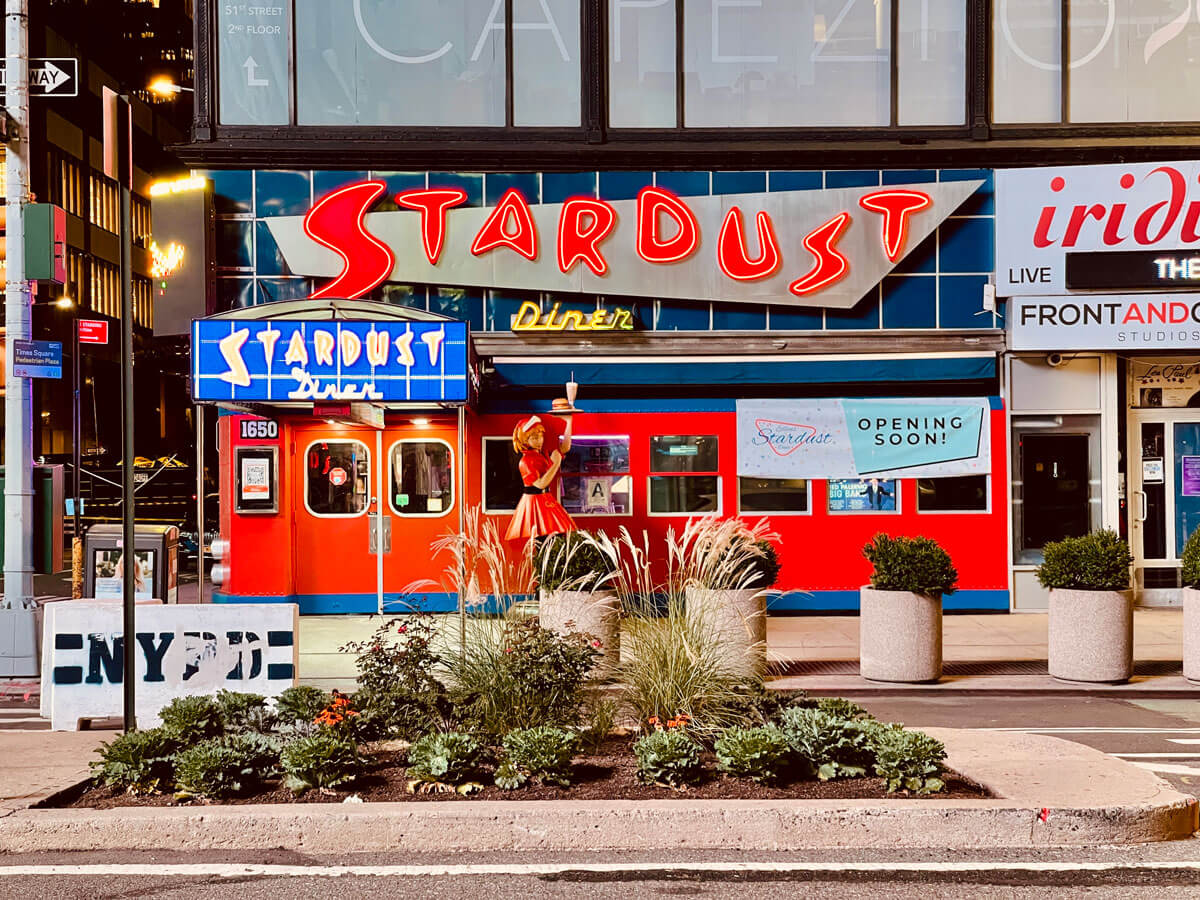 1650 Broadway
A well-renowned diner in New York City, Ellen's Stardust Diner is known mostly for its 1950s theme and its super-talented singing wait staff (The Stardusters). At this interactive diner, you'll be both entertained and well-fed thanks to their large portion sizes of diner classics (Rueben sandwiches, Philly cheesesteaks, burgers, and meatball hero).
There's probably going to be a line to get inside once you've arrived here, but don't let that intimidate you. Ellen's lines tend to move pretty quickly!
Madame Tussauds New York
234 W 42nd St
Touristy but fun, known as the "World's greatest wax museum"—Madame Tussauds New York is a popular attraction and one of the most highly recommended things to do in Times Square if you're looking to do something kitschy.
Walk through their exhibits and find some of the most astonishingly realistic wax figures you'll likely ever see. And if wax sculptures of famous celebrities don't scratch your fancy, you may also enjoy their 4D Marvel movie experience or go through their thrill inducing Carnival Carnage 7D sensory game.
Their wax museum is one of the best places to visit in Times Square for picture taking if you want to fool your friends at home that you met a famous celebrity or have fun posing in recreations of popular movie scenes, so be sure to keep your camera handy when entering this indoor attraction!
Super Hero Tour
(Meeting location in front of the New York Police Department by West 43rd Street between 7th Ave and Broadway)
Another touristy attraction (but goodie), NYC: Bus Tour to Superhero Film Locations is a great way for superhero fans to get a closer look at where some of their favorite movies and TV series were shot! Starting and departing from Times Square, you'll see many filming locations of famous Marvel properties such as Spider-Man, Captain America, The Avengers, The Amazing Spider-Man 2, and The Incredible Hulk TV series.
This is definitely a worthwhile experience whether you're a superhero buff or not because it's a fun and entertaining guide through many of the city's famous landmarks (Empire State Building, Madison Square Park) and neighborhoods like Chinatown and the Lower East Side! Book your tour here.
See A Comedy Show
If you didn't already know—New York City is the mecca of standup comedy and you can't really consider it a proper visit if you leave before catching a show at one of the city's famous comedy clubs. And thankfully there are a few in or near Times Square!
Located in an underground venue, Caroline's Comedy Club (1626 Broadway) is one of the city's most quintessential clubs, and pairs performances of big name comedians (and even offer signature drinks named after some of them) with good food and drinks to match.
Broadway Comedy Club (318 W 53rd St) is another spot to stop by while exploring Times Square. Broadway always delivers a great lineup of famous comedians—both foreign and domestic. Purchasing your ticket ahead of time is the easiest (and also the cheapest way) to guarantee seat at this popular club!
Finally, there's LoL Times Square Comedy Club (336 W 46th St)—one of the few comedy clubs that allows minors and serves as a great option if you're looking for more family-friendly laughs!
NYE Ball Drop!
1 Times Square
A tradition dating back to 1907, every year on New Year's Eve the Times Square Ball Drop occurs—celebrating the start of the New Year. While it is broadcasted on national television for all to see, New York visitors are gifted with the opportunity to witness the ball drop firsthand!
It's worth noting that hotel rooms with views can cost around $20K. Also, you'll have to come in person and expect a day-long wait (without a bathroom) in the cold. If this is something you've always wanted to do and you're willing to wait in the cold, come join thousands of New Yorkers as we usher in the New Year with the famous NYE Ball Drop!
Where to Stay in Times Square
If you're wondering where to stay near all the best things to do in Times Square, be sure to consider the Moxy NYC Times Square! Also home to the Magic Hour Rooftop Bar and Lounge, a pink-themed rooftop with views of the Empire State Building. The rooms are also amazing and you can book one with a view of the city! Book The Moxy Times Square here.
The W New York in Times Square has an amazing location overlooking Times Square and has rooms with unbeatable views of the city not to mention the extensive amenities available at this hotel. Plus, they're pet friendly and steps away from the best Times Square attractions. Book W New York Times Square here.
For budget-friendly hotels in NYC, check out Voco Times Square! Rooms at the Voco Times Square have views of the city, Apotheke toiletries, which is a local Brooklyn brand, and is pet-friendly! Book Voco Times Square here.
The Times Square EDITION is one of the best hotels near Times Square not to mention this is a luxurious 5-star property with floor-to-ceiling windows so that you can enjoy the views of the city. Also, you have one of the coolest clubs in the city here at Paradise Club, one of the best things to do in Times Square at night. Book The Times Square EDITION here.
---
About the Author
Eric Garner is a Brooklyn-based writer who was raised down South who loves talking about film, TV, hip-hop, and fashion.
---
Enjoy all these amazing things to do in Times Square! If you found this guide helpful bookmark it for later or share with a friend.