Looking for the best brunch in DUMBO? We got you. Without a doubt, this is one of the most famous and popular neighborhoods in Brooklyn to visit as everyone comes here for the views and it's just an overall gorgeous place to be. Better yet, the food scene here isn't lacking either.
While there are several great Brooklyn brunch spots worth checking out and coming to the borough for, chances are you might already be coming to the area, it's always the first place in Brooklyn that friends from out of town want to visit and a great meeting point. Just keep in mind, you may need to make a reservation so plan ahead!
Best DUMBO Brunch Spots
1. Time Out Market New York
55 Water Street 
DUMBO already has some of the best views of the Manhattan and Brooklyn Bridge but then you add in the rooftop at Time Out Market New York and a combination of some of the best New York restaurants all under one roof and you have the perfect match. 
There are several options for brunch in DUMBO at Time Out Market but one of the most outstanding choices is Ess-a-Bagel, for the obvious reasons that they have some of the best bagels in New York, clearly making this a top choice for DUMBO brunch. 
Clinton St. Baking Company has some of the best pancakes in all of New York (and probably ever) so it only makes sense that this is included as a top choice for brunch in DUMBO. Whatever you do, don't leave without trying the perfectly fluffy blueberry pancakes. 
For some of the best pastries around, check out Dough. The donuts are some best in the city and when they had their shop in Bed-Stuy, I frequented it way too often. It closed and moved to Manhattan, and while another incredible shop opened (shout out to Fan Fan Donuts), there isn't a time I head to Time Out Market and I don't stop for a lemon poppyseed. 
Last but not least, Jacob's Pickles hits all the Southern classics with homestyle cooking of the best kind of comfort food. Don't leave without trying the pickle flight (obviously), Nashville hot chicken, mac and cheese and some of the best biscuits in town. 
Ess-a-Bagel is open every day from 8 am to 4 pm. Clinton St. Baking Company is open every day for coffee and brunch Monday through Friday from 9 am to 3 pm and Saturday and Sunday from 8 am to 4 pm. Every other spot is open from 8 am to 10 pm during the week and 8 am to 11 pm on the weekends. 
The best part about Time Out Market is that you can try a little bit of everything so come with friends and come hungry for some of the best DUMBO brunch. Time Out Market has both indoor and outdoor dining. Reservations are not accepted as all of these places are walk in only.
Read Next: Best Parks in Brooklyn
2. Archway Cafe
57 Pearl Street
This DUMBO brunch spot is the place to go for some amazing avocado toast, baked eggs, or a Mediterranean platter! They offer everything from healthy super smoothies, to an extensive list of specialty coffee drinks, and even small sides or pastries.
You can't miss the cute yellow awning, go on in! Take a seat on a barstool or at any of their adorable tables, set up intimately for great conversation over a great meal.
Archway Cafe opens at 11 am daily until 11 pm. Reservations are not available but they have both indoor and outdoor seating options.
Read Next: Best Instagram spots in DUMBO
3. Butler
40 Water Street
If you're looking for brunch in DUMBO with great aesthetics, look no further than Butler. This is also a great spot to just grab and go as well and walk over to Brooklyn Bridge Park.
Their best breakfast and brunch offerings include their avocado toast and açaí bowls. But their baked goods are also stand-out. If you're looking for more lunchy items they have grain bowls, sandwiches, and salads making their selection one of the healthier places to enjoy brunch in DUMBO.
And even if you're not in it for the pictures, enjoy the adorable aesthetic of this DUMBO brunch stop! Sit in a vintage-looking leather booth soaking in the beauty of this spot. 
Maybe even ask for a coffee to go since they have the cutest cups! This is also one of our picks for best cafes in DUMBO too!
 Open Monday-Friday 7 AM-6 PM and Saturday-Sunday 8 AM-6 PM. No reservations are required.
4. Bluestone Lane
55 Prospect Street
Get yourself to Bluestone Lane to try their Brekkie All Day. Order an avocado smash, breakfast burritos, breakfast bowls, or their red or green baked eggs filled with all the yummy veggies we love at breakfast.
While you're there don't forget to order one of their signature cocktails made with their own espresso, a perfect partner to your delicious brunch. Take advantage of their fully licensed bar.
Gluten Free! This brunch spot offers a few gluten-free entree options. Try the banana bread with ricotta, fresh strawberries and pecans, and their good grains granola, which is gluten-free granola, cow's milk yogurt, lemon curd, and fresh berries. Even add a side of gluten-free toast!
This DUMBO brunch spot has a sophisticated feel, which makes it perfect to meet up with your fellow professionals. But you can also grab a drink with your friends at Bluestone Lane.
Open Monday-Friday 7:30 AM-4 PM and Saturday-Sunday 8 AM-4 PM. Reservations are not accepted but both indoor and outdoor seating are available. 
5. Superfine
125 Front Street
Serving DUMBO for over two decades, Superfine is a DUMBO brunch stop lives up to its name. Try their buttermilk pancakes, roasted chicken breast enchiladas, or their huevos rancheros – YUM!
Don't forget to add one of their classic brunch beverages to your meal! They serve a regular size and a large bloody mary as well as mimosas! They have a pretty great ambiance here with dim lighting, art scattered across the walls, and even have a few larger tables to seat groups.
Open for brunch on Sundays from 11 am to 4 pm. Reservations are accepted and both indoor and outdoor dining options are available. Also, Superfine is one of our picks for best bars in DUMBO!
6. AlMar
111 Front Street
If you're looking for a more sophisticated brunch outing, AlMar is the place for you. AlMar is a fine Italian restaurant that utilizes imported Italian and even fine local ingredients.
Some of their stand out dishes include their Bomba egg sandwich, arrabbiata baked eggs, and of course you can't go wrong with any of their pasta and mains that are featured on the brunch menu.
Pair any of these exquisite plates with a beer, wine, bloody mary, mimosa, or a happyccino, which is a house-made cappuccino with Di Saronno.
You won't want to miss the aesthetic atmosphere of AlMar. The natural sunlight filling the room through their big windows, the perfect seating arrangements, and beautiful plants scattered throughout the restaurant. 
Almar accepts reservations and offers both indoor and outdoor dining options. Almar opens at 11:30 am daily and is closed on Sundays.
7. Vinegar Hill House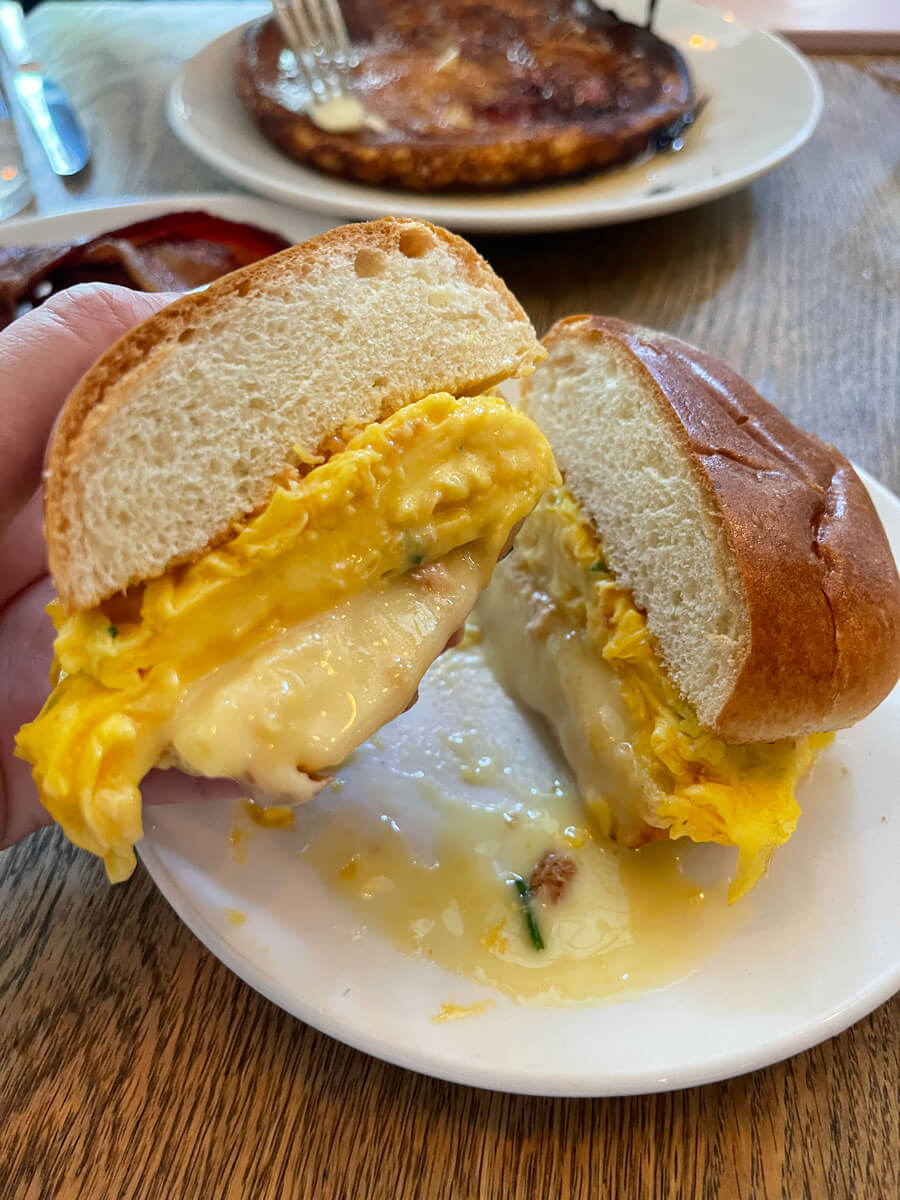 72 Hudson Avenue
Technically in the neighborhood of Vinegar Hill, but worthing of including on the round up of best brunch in DUMBO due to its proximity is Vinegar Hill House, also one of the best spots for brunch in NYC! Let's start with the ambiance of this place, it's perfect for weekend date or catching up with a friend. Not to mention, they have one of the most charming back gardens on a beautiful day to enjoy your brunch.
Kick your day off with their famous sourdough pancake served with pear and maple syrup, shrimp and grits, or a mouth-watering grilled cheese. Their breakfast sandwich is also nothing to sleep on.
Their side options are not to be overlooked. Don't forget to add some roasted potatoes or cheddar jalapeño grits to your entree. Add an amaro & tonic to your order, it's amaro meletti, coffee, and tonic water.
Vinegar Hill House is open for brunch on Saturday and Sunday and offer both indoor and outdoor dining. Reservations are accepted. Hours for brunch are 10 am -3 am.
8. The Osprey
60 Furman Street
Located at 1 Hotel Brooklyn Bridge, this DUMBO brunch spot is not to be missed if you're looking for something special. This Osprey is elegant yet the perfect hang out spot whether you're looking for a weekend date spot or brunching with some friends. Soak in the sun from the large surrounding windows and hanging greenery. This is easily one of the best restaurants in DUMBO with a view!
This restaurant and brunch spot is on the more upscale side but excellent food and a beautiful location is guaranteed. They have alot of great options whether you're looking for sweet or savory and even have a kids brunch menu.
Visit their website and check out their menu for the long list of gourmet meals and vegetarian, vegan, and gluten-free options! Add any of their amazing sides or cold-pressed juices to your meal! And don't forget about their special menu of brunch cocktails!
Brunch is served at The Osprey from 10 am – 3 pm on Saturdays and Sundays and they serve breakfast every day from 7 am – 11 am during the week. 
9. Celestine
1 John Street
If you're looking for a beautiful view with your brunch this is your place. This Mediterranean restaurant has a prime location along the Brooklyn waterfront with sweeping views of the skyline and Manhattan Bridge.
Celestine has a real energetic and elegant vibe. On a beautiful day you'll want to snag a table outside as you really can't beat the views.
Be sure to come with a few people so you can split options off the Mezze section of their menu, followed by entree options off the savory or sweet section of the menu. 
Celestine is open for brunch on Saturday and Sunday and offers both indoor and outdoor dining. Reservations are accepted. Brunch hours are from 11 am – 3 pm.
10. Westville DUMBO
81 Washington Street
While there are a few locations in the city, Westville is definitely one of the best places for brunch in DUMBO. Serving casual American fare where you can find brunch staples like brunch bowls, challah french toast, avocado toast, and scrambles.
They also have weekly brunch specials you won't want to miss either and healthy vegetable-based shareable sides to add as well. If you're not feeling the breakfast items you also have a range of fresh market salads and burgers to choose from.
Enjoy the cozy yet modern atmosphere, a perfect place to kick off your weekend with your pals.
Westville accepts reservations and offers both indoor and outdoor dining options. They are open at 11:30 am during the week and open at 10:30 am on the weekends
11. Randolph Beer
82 Prospect Street
A surprisingly awesome spot for brunch in DUMBO is at Randolph Beer. Not only do you get to pair their brunchy items with their beer but they also have a full bar featuring a great cocktail selection and wines.
Their brunch menu ranges from challah french toast, breakfast tacos, breakfast nachos, chicken sandwiches, grain bowls, and a great selection of brunch appetizers to choose from. What's awesome about this spot too is that they have some great options for those who are looking for healthier brunch items too.
And if you're planning a visit during the warmer months, you won't want to miss their rooftop that's open seasonally which offers exceptional views of the Manhattan Bridge and is also one of our top picks for best DUMBO rooftop restaurants.
They also have a fun game area and this is a great spot to meet with friends if you're looking to brunch and also have a good spot to hang out and have some casual weekend drinks together.
Randolph Beer is pretty much a walk in spot only, but they do accept reservations for parties of 7 or more on the weekends. Randolph Beer is open daily for brunch but closed on Mondays. Hours vary so make sure to check the website before visiting! They open on weekdays at noon and at 11 AM on weekends.
Read Next: Iconic Places to Eat in Brooklyn
12. Cecconi's DUMBO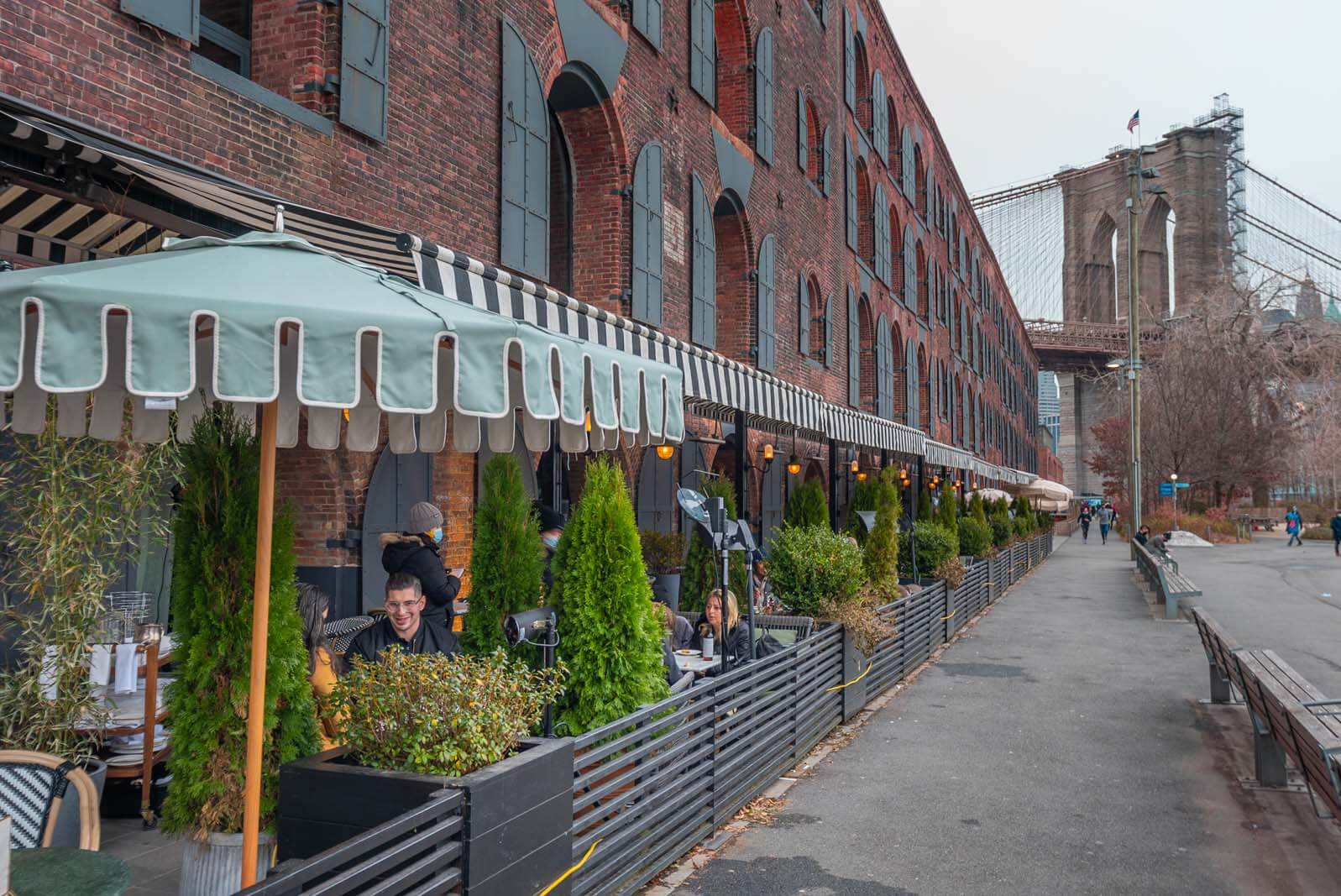 55 Water Street 
Cecconi's is one of the most beautiful restaurants in New York, let alone one of the most beautiful and best spots for brunch in DUMBO. 
I initially came for the outdoor patio because it truly has the greatest view of the Brooklyn Bridge. During the warm months, it is the perfect spot to enjoy pizza and a glass of wine. The best part though is that the inside of Cecconi's is also something to be desired and they have one of the best bars in town. 
As far as food goes, you can't go wrong with any pizza on the menu. The prosciutto, arugula and burrata is one of my favorite picks int he city.
For more standard brunch choices, try the chocolate croissant (to start), ricotta pancakes, avocado toast, or the eggs arrabbiata with sourdough toast.
Cecconi's accepts reservations and offers both indoor and outdoor dining. 
13. Bread & Spread
151 Front Street 
For one of the best sandwiches in all of Brooklyn, look no further than Bread & Spread. It is a market-style, counter-ordering sandwich shop making this an easy choice for brunch on the go or a great go-to if you forgot to make a reservation anywhere else and are in a pinch. 
Like mentioned above, the breakfast sandwich at Bread & Spread is one of the best you'll find for DUMBO brunch. The best part is that they are completely customizable. If breakfast sandwiches aren't your style, they also have incredible bahn mis and a beef short rib. 
Bread & Spread is open daily for breakfast and brunch. They offer both indoor and outdoor dining and should not be missed for some of the best brunch in DUMBO. 
---
DUMBO Brunch Spots Summary
Timeout Market New York (Clinton St Baking Company, Jacob's Pickles, Ess-a-bagel, Dough)
Archway Cafe
Butler
Bluestone Lane
Superfine
AlMar
Vinegar Hill House
The Osprey
Celestine
Westville
Randolph Beer
Cecconi's
Bread & Spread
---
Found this guide to the best brunch in DUMBO helpful? Bookmark for later or share the love below on Pinterest!