Ahh, spring is in the air in the city which means the cherry blossoms in NYC are about to bloom kicking off the season of warmer weather and sunny days! After a long winter, cherry blossom season in NYC is something that not only visitors enjoy, but locals!
To see the city blooming with pink blossoms from these gorgeous trees is just an exciting start for all the other blooms to come from the season. Most people have heard of the cherry blossom festivals in NYC at the botanic gardens, but there are several other places to witness cherry blossoms in New York!
Our guide covers all you need to know about these 10 amazing places to see cherry blossoms in NYC this spring!
When can you see cherry blossoms in NYC?
Cherry blossoms bloom in New York City based on each season and that year's weather. They can start blooming as early as late March through mid-April typically and can even bloom in May.
The main kind of cherry blossoms in NYC are the Yoshino and Kwanzan cherry trees and they bloom at different times meaning that the cherry blossom season can last up to a month. Yoshino Cherry Trees tend to bloom first followed by the Kwanzan Cherry Trees.
Where can I find cherry blossoms in NYC?
You can find cherry blossom trees in many parks throughout the city including popular parks like Central Park and Prospect Park as well as the various New York City botanical gardens to name a few popular spots.
Does Central Park have cherry blossom trees?
Central Park has many areas of the park that have cherry blossom trees including Cherry Hill (middle of the park at 72nd St), Pilgrim Hill (72nd St on the east side of park), Kennedy Onassis Reservoir (85th – 96th Streets), Conservatory Garden (104th – 106th Streets on the east side of the park), and Shakespeare Garden (79th St near the middle of the park).
Where to go to See Cherry Blossoms in New York
1. Brooklyn Botanic Garden
Address: 990 Washington Avenue, Brooklyn
The best place to view and learn about cherry blossoms in NYC would be none other than the Brooklyn Botanic Garden. Not only is a plethora of information available to learn more about the cherry trees, but the BBG also has several different viewing experiences within the park and hosts the most well-known cherry blossom festival in NYC.
The Cherry Esplanade includes a picnicking lawn, one of the only available spaces within the garden to spread out on the grassy plains, offering an ideal location for an afternoon with the blooming cherry trees.
Notable features of the Japanese Hill and Pond Garden include its winding walkways, wooden bridges, Shinto shrine, and homage to Japanese gardens.
Here, you'll find a variety of cherry flowers both white and pink, blooming at different times throughout the spring. Other sections of the Brooklyn Botanic Garden to view cherry blossoms include the Cherry Cultivars Area and the Osborne Garden, and it's recommended to check their cherry watch for official updates to see what the current status of their blooms during cherry blossom season.
From our personal experience, typically the cherry blossoms around the Japanese Hill and Pond Garden bloom first followed by the Cherry Esplanade area. The past few years it's been about a week apart.
While cherry blossom trees will only bloom one week in the year and seeing them in full bloom at Brooklyn Botanic Garden is truly one of the best places in New York to see them, there are also many other gardens worth checking out, and the conservatory.
And if your timing is right, you might be able to catch the actual Cherry Blossom Festival in Brooklyn Botanic Garden, also known as Sakura Matsuri. This is a highly anticipated annual cherry blossom festival in NYC with live performances and cultural experiences that make it a really exciting weekend celebration.
Since you have to pay admission to go see these cherry blossoms, you might as well plan a few hours to explore the gardens, and conservatories, or even enjoy a light snack from the cafe.
2. New York Botanical Garden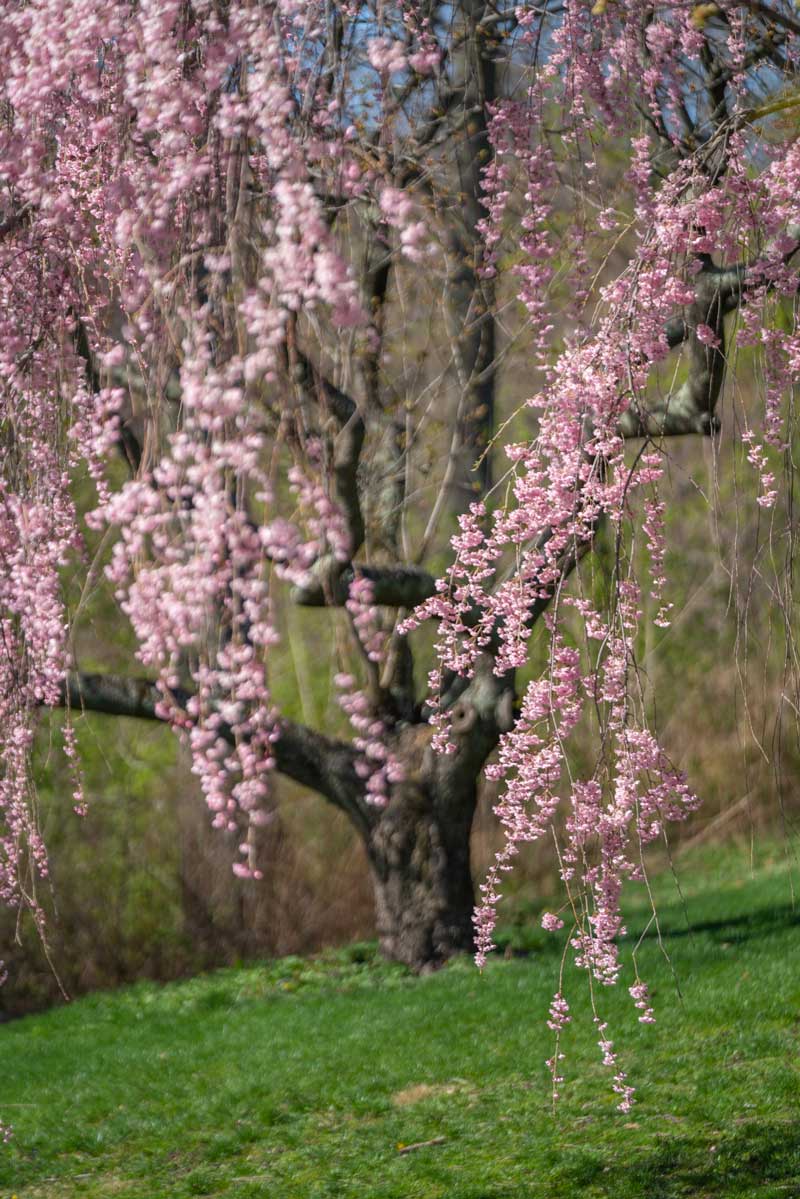 Address: 2900 Southern Boulevard, Bronx
Another one of the best places to see cherry blossoms in NYC can be found at the other, larger Botanical Gardens in the city in the Bronx. The New York Botanical Garden has over 200 blossoming trees throughout its grounds in the spring, including a romantic stroll along the winding pathway in Cherry Valley.
Pack some lunch and head over to the garden's Picnic Pavillion to wrap up your day after spending an a morning or afternoon with the cherry blossoms in New York.
To make the most of your visit to New York Botanical Garden, be sure to plan a few hours so you can explore the 250-acres of gardens, winding pathways, and even waterfalls around the Bronx River.
You'll want to purchase the All Gardens Pass for admission to the gardens, the Enid A. Haupt Conservatory, and tram tour. And before planning your visit be sure to check their spring bloom tracker to let you know what's in bloom and to see the status of the cherry blossoms.
3. Central Park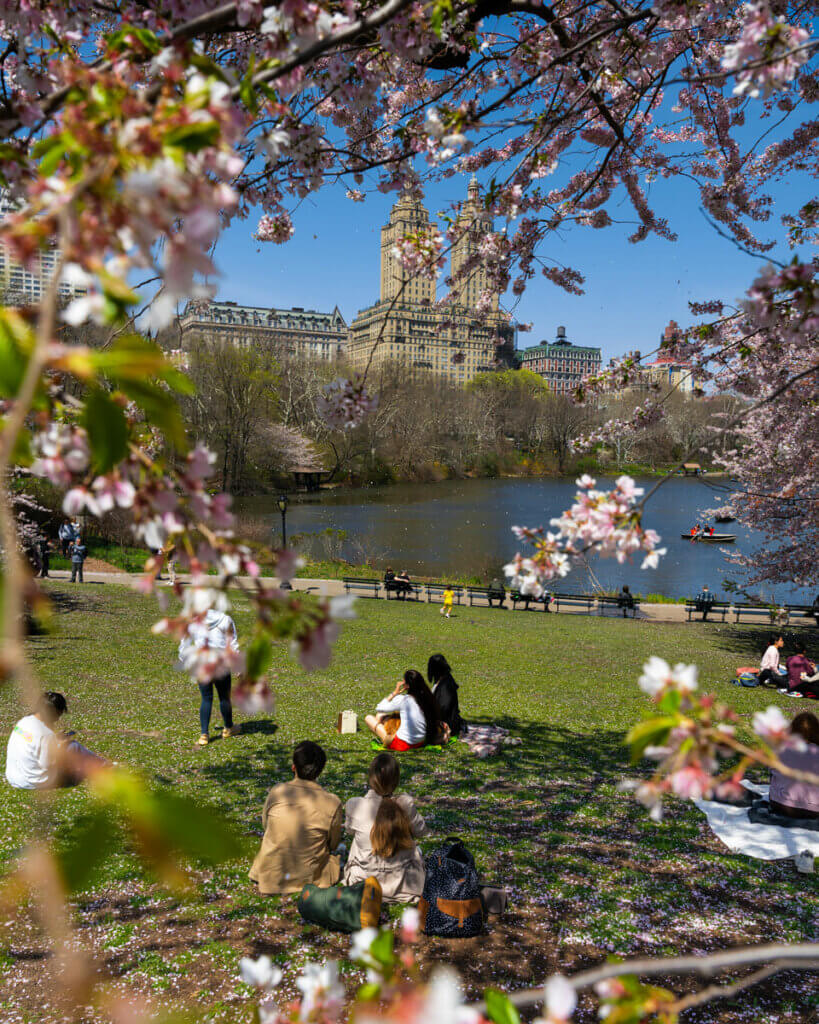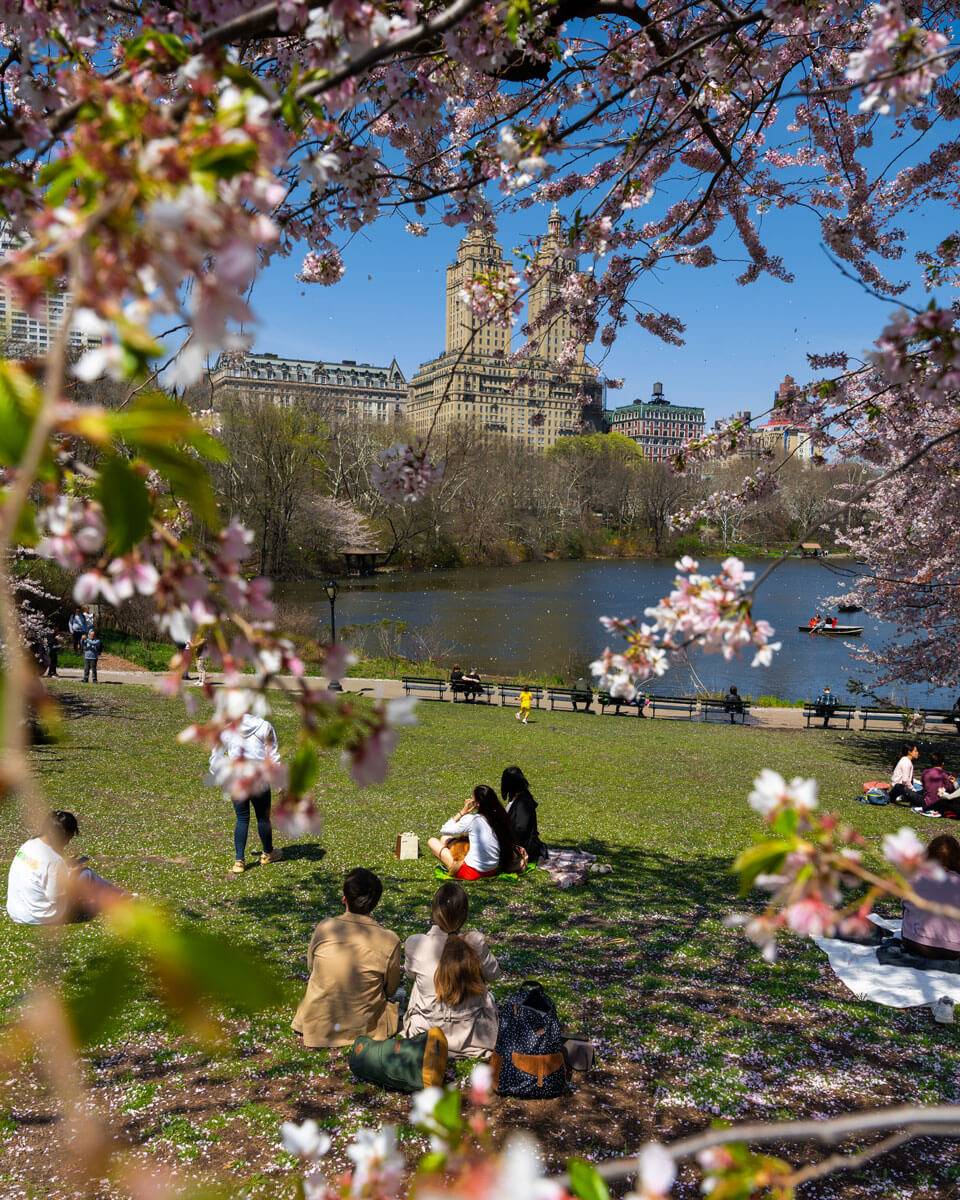 Address: 59th Street – 110th Street, Manhattan
Central Park has no shortage of great scenic areas for viewing cherry blossoms in NYC. Cherry trees are scattered throughout several locations, making it convenient to get to, and sure to be a great viewing experience no matter where you choose to go (or a full morning or afternoon of fun if you want to see all the best spots).
The array of pink Kwanzan and white Yoshino blossoming cherry trees can be found mostly between 72nd and 96th street. The best spots for cherry blossoms include Cherry Hill (middle of the park at 72nd St), Pilgrim Hill (72nd St on the east side of park), Kennedy Onassis Reservoir (85th – 96th Streets), Conservatory Garden (104th – 106th Streets on the east side of the park), and Shakespeare Garden (79th St near the middle of the park).
If you're unfamiliar with the park, Central Park has a map of where the cherry blossom spots are.
This is one of our favorite picnic spots in NYC too, so grab a blanket and some snacks and enjoy the cherry blossoms in NYC. When you're done you can always search for some of the best Central Park hidden gems too!
4. Roosevelt Island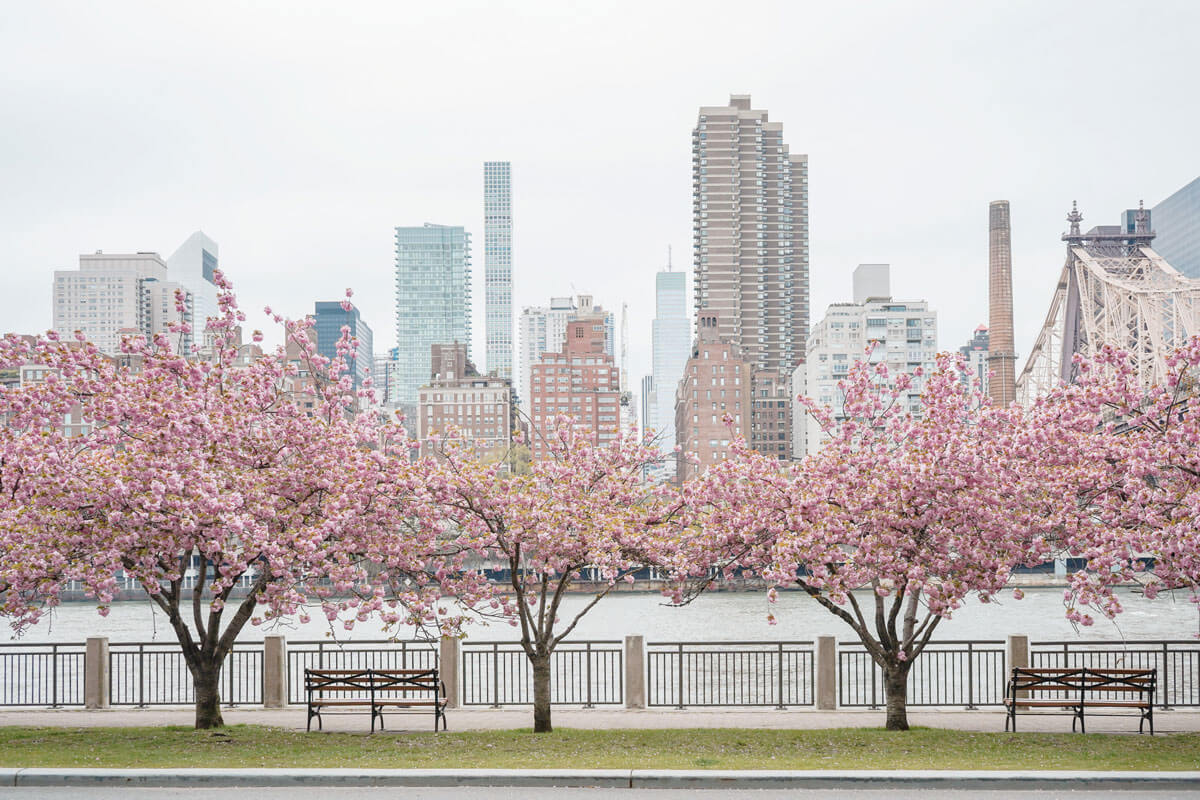 Address: East River between Manhattan and Queens (Roosevelt Island tram is at E 60th Street & 2nd Avenue)
Make your way to Roosevelt Island, nestled between Queens and Manhattan in the East River for a day well spent viewing the cherry blossoms in New York, with great views of the city along the way.
During the blooming season, the cherry trees on Roosevelt Island are almost inescapable, as they're planted all around the walkways, and perfect to grab a bench anywhere on the island and sit in the shade of the blossoming cherry trees as you watch the Manhattan skyline across the water.
You can take the Roosevelt Island Tram, take the NYC Ferry, Subway (F train), or the bus.
5. Sakura Park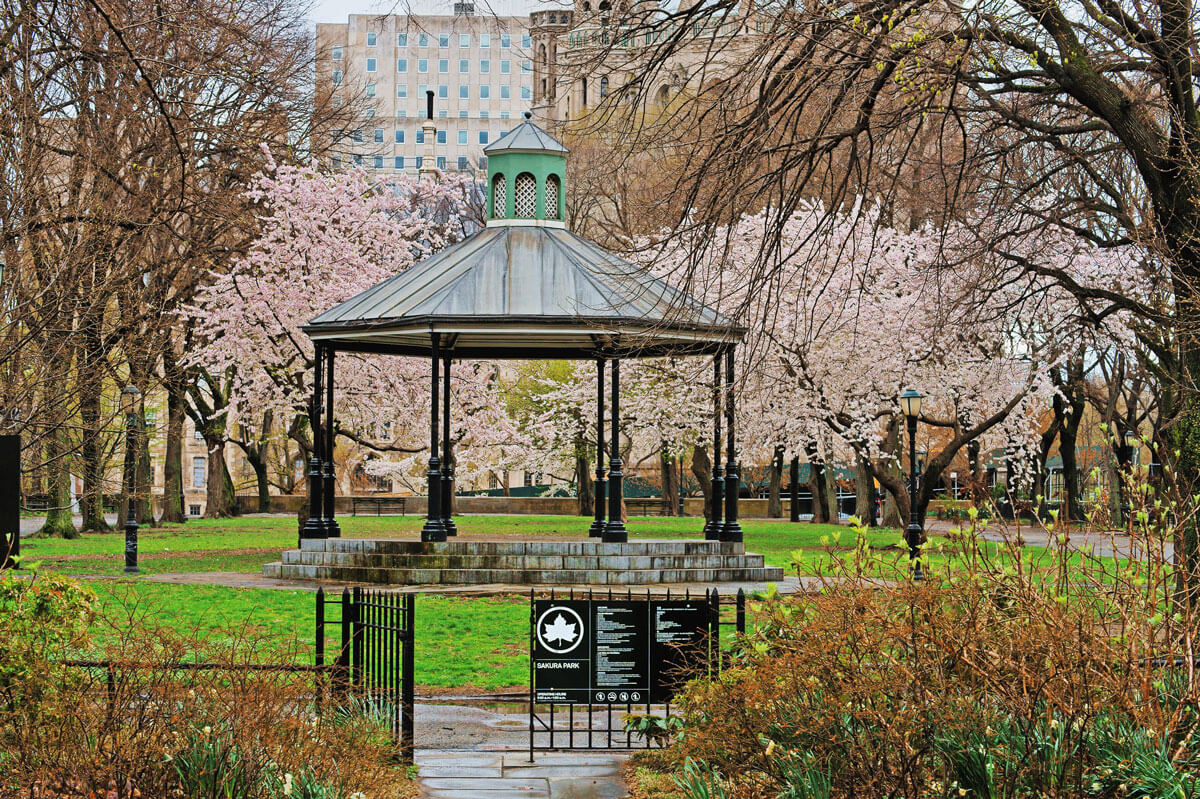 Address: 3916, 500 Riverside Drive, Manhattan
There's no better place to visit for cherry blossom season in NYC than the park named after the cherry tree itself, Sakura Park located in Morningside Heights in Manhattan. The park is home to 700 out of 2500 of the original cherry trees gifted to NYC by the Committee of Japanese Residents of New York in 1912.
The gift marked the Hudson-Fulton Celebration, marking the discovery of the Hudson River, as well as the pioneering voyage of the steamboat on the Hudson. Sakura Park's historical significance can be traced back to 1960 when Tokyo and New York City formally became sister cities.
The Japanese Emperor and his wife gave the gift of a traditional Japanese structure, known as a Toro to the city of New York, and the stone toro can now be found today in Sakura Park.
An afternoon spent in Sakura Park to see the Cherry Blossoms in NYC can easily be wrapped up walking around Riverside Park to further enjoy the season and surrounding cherry trees along the water.
While you're in Morningside Heights looking for the best NYC cherry blossoms, also visit Riverside Park's Cherry Walk here!
6. Prospect Park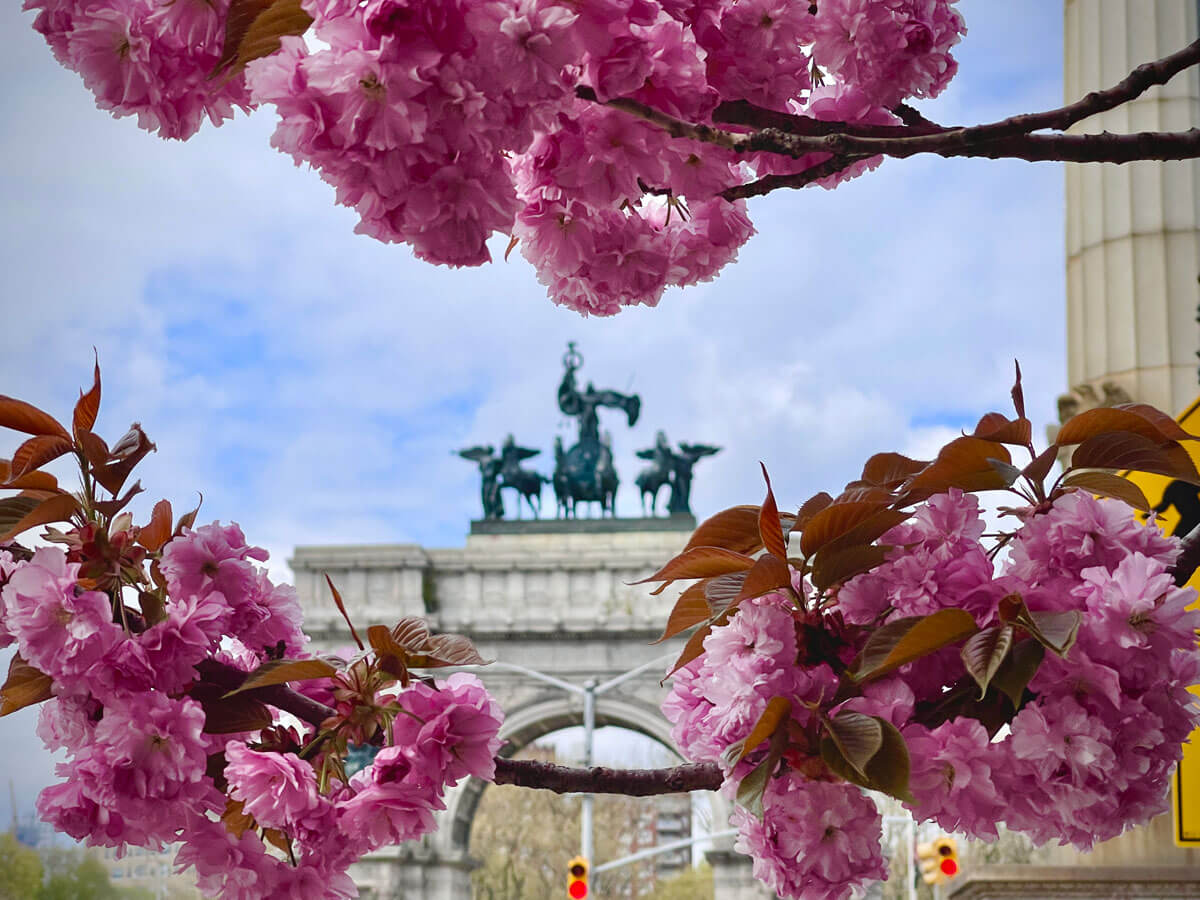 Address: multiple entrances to Prospect Park, Grand Army entrance is at Flatbush Avenue & Eastern Parkway, Brooklyn
Before or after visiting the Brooklyn Botanic Garden's cherry blossoms it's worth making the short walk to Grand Army Plaza and this entrance to Prospect Park for more of the beautiful blooming spring flowers and cherry trees.
Around Grand Army Plaza you can find some cherry trees and then you can make your way to Long Meadow.
These really are the only two areas you can find cherry blossoms, but this beautiful park, the sister park to Manhattan's Central Park also designed by Frederick Law Olmsted and Calvert-Vaux, is worthy of bringing a picnic blanket and relaxing around all the spring blooms.
Plus there are tons of cool things to see in Prospect Park and you can always end your day by having drinks or dining at some of the best restaurants near Prospect Park.
7. Green-Wood Cemetery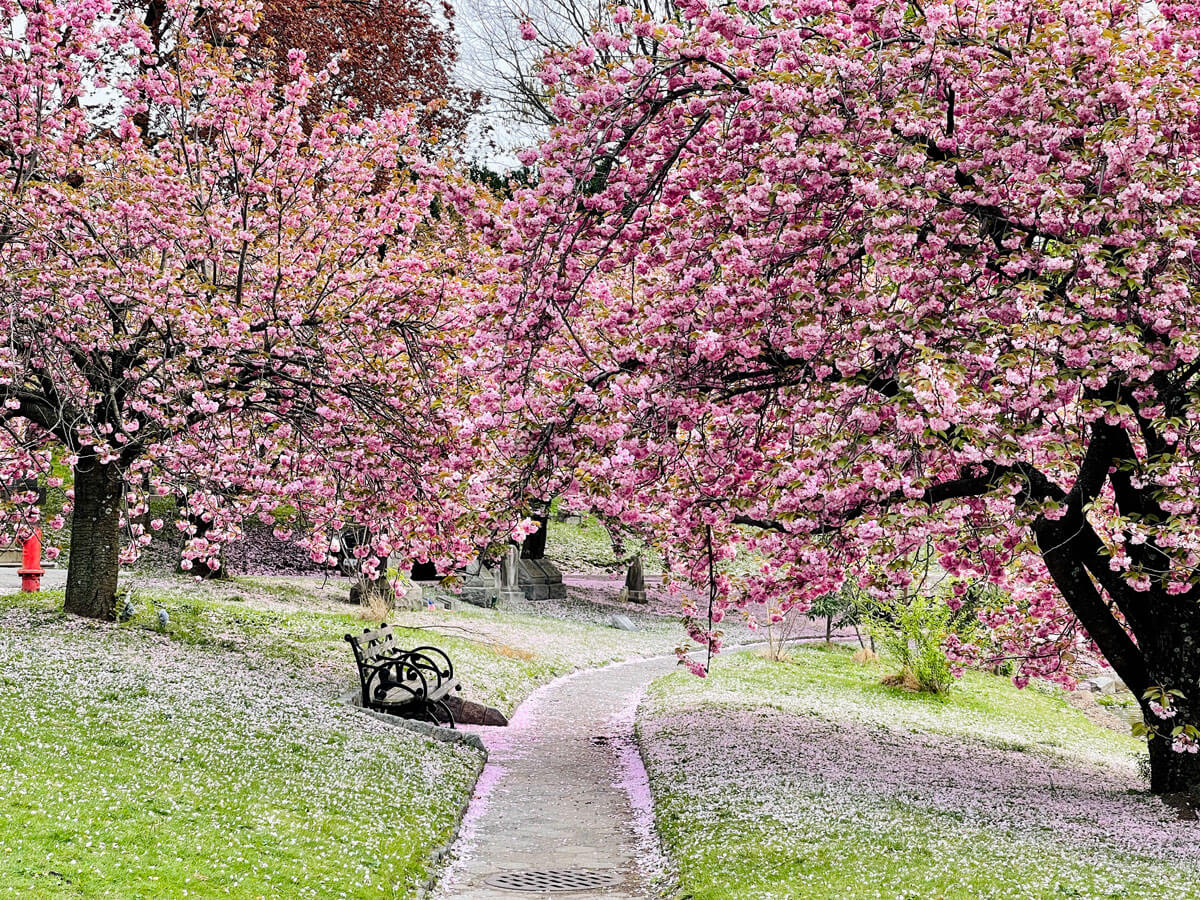 Address: Main Entrance at 5th Avenue & 25th Street, Brooklyn
One of the best places to see cherry blossoms in New York City brings you to a cemetery, that's right a cemetery (of all places!). Green-Wood Cemetery in Brooklyn isn't just any cemetery though. Green-Wood Cemetery pre-dates Central Park, it was actually the inspiration behind the competition to design Central Park.
There are 478 acres and over 7,000 trees in Green-Wood Cemetery and it has an official Level III arboretum recognition. With over 170 cherry trees you can bet that this is one of the best places to be during cherry blossom season in NYC.
Wear comfortable shoes though and prepare to just aimlessly wander the winding labyrinth of pathways where some of New York's most notable figures permanently reside. Not sure where else to explore while you're here? Don't worry we have an entire guide to exploring Green-Wood Cemetery you won't want to miss.
8. Riverside Park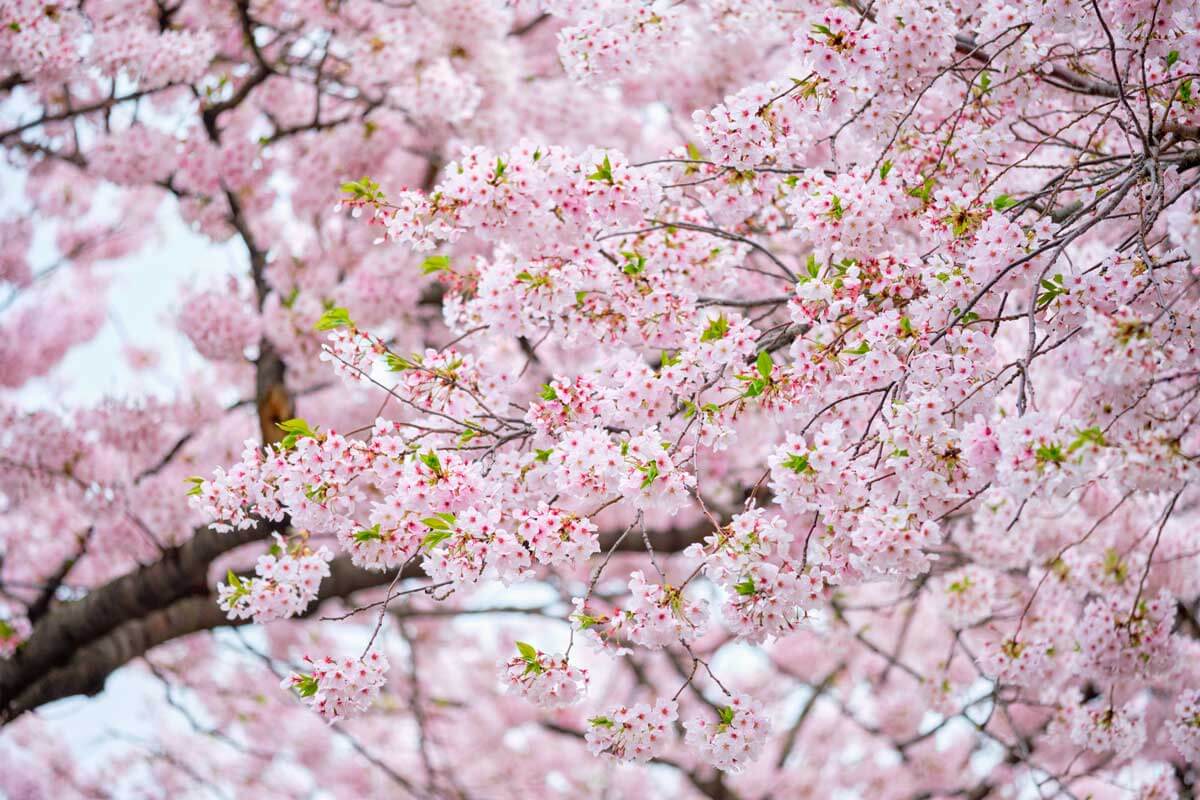 Address: along the waterfront in Morningside Heights between 100-135th Streets, Manhattan
The scenic waterfront of Riverside Park, spanning along the waterfront (from 72nd to 158th street) is perfect for a day spent admiring the cherry blossoms in New York in a section of the park known as Cherry Walk.
This stretch of greenery has a portion of the original 2,500 cherry trees gifted to the city in 1912 from the Committee of Japanese Residents of NY can be found between 100-125th street along the river.
For a seasonally themed afternoon enjoying the cherry blossoms in New York, begin the stroll from the south and walk up the pathway to make your way to Sakura Park (also mentioned on this list).
There are plenty of benches and open spaces to take a walking break and enjoy the spring weather. Plus there are great views of the Hudson along the pathway, making for lots of lovely picnic locations to view the cherry blossoms in NYC.
9. Flushing Meadows Corona Park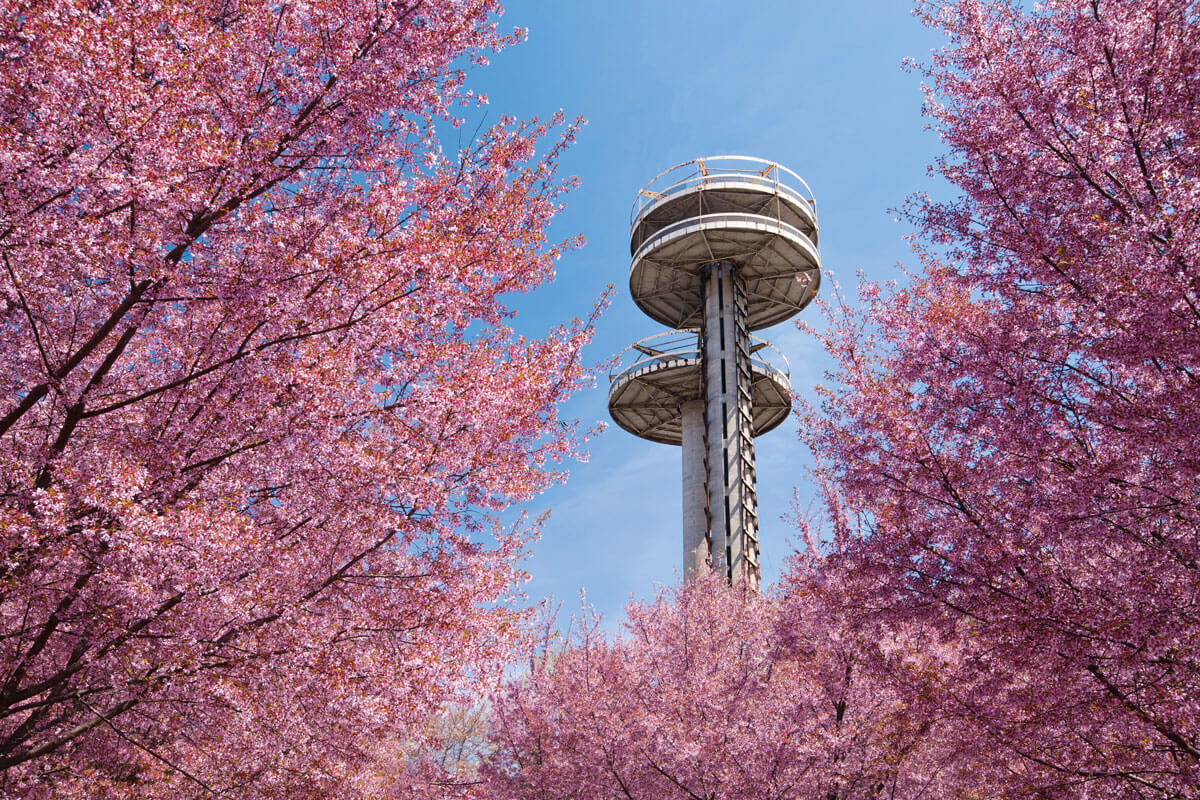 Address: Between Grand Central Parkway and Van Wyck Expressway, Queens
One of the many reasons to make the trip out to Flushing Meadows Corona Park includes its seasonal display of cherry blossoms in New York each spring. 168 cherry trees are scattered around the park, a donation from the Cherry Association of Japan, and the Japanese American Association on Arbor Day 1992.
Today, the dark pink and pale white cherry blossoms can be found all throughout the largest park in Queens. The views of the cherry trees along the walkways are best found around the iconic Unisphere in the middle of the park.
It's always a pleasure to visit anytime during the season, but in addition, the park hosts the opportunity to experience an authentic cherry blossom festival in NYC each year. The Sakura Matsuri Festival held annually at Flushing Meadows is a lively event filled with cultural spectacles for the season.
While you're here it's also easy to visit Kissena Park and Queens Botanical Garden's cherry blossom trees too!
10. Queens Botanical Garden
Address: 3-50 Main Street, Queens
Another great spot in Queens for NYC cherry blossoms can be found at Queens Botanical Garden. This 39 acre garden originally started out as a 5-acre "Gardens on Parade" during the 1939 – 1940 World's Fair. It's since expanded and has a collection of cherry trees known as Cherry Circle near the entrance at Main Street.
This is also right next to Kissena Park and near Flushing Meadows Corona Park so you can knock out a few cherry blossom viewing spots in one visit.
11. Kissena Park
Address: Kissena Boulevard & Booth Memorial Avenue, Queens
Super close to Queens Botanical Garden is Kissena Park, another great spot to see cherry blossoms in NYC in Flushing, Queens and easy to combine on a visit to see cherry blossoms at Flushing Meadows Corona Park too.
Pick a bench under a cherry tree and enjoy the tranquility of spring in this pretty little park.
12. Snug Harbor Cultural Center & Botanical Garden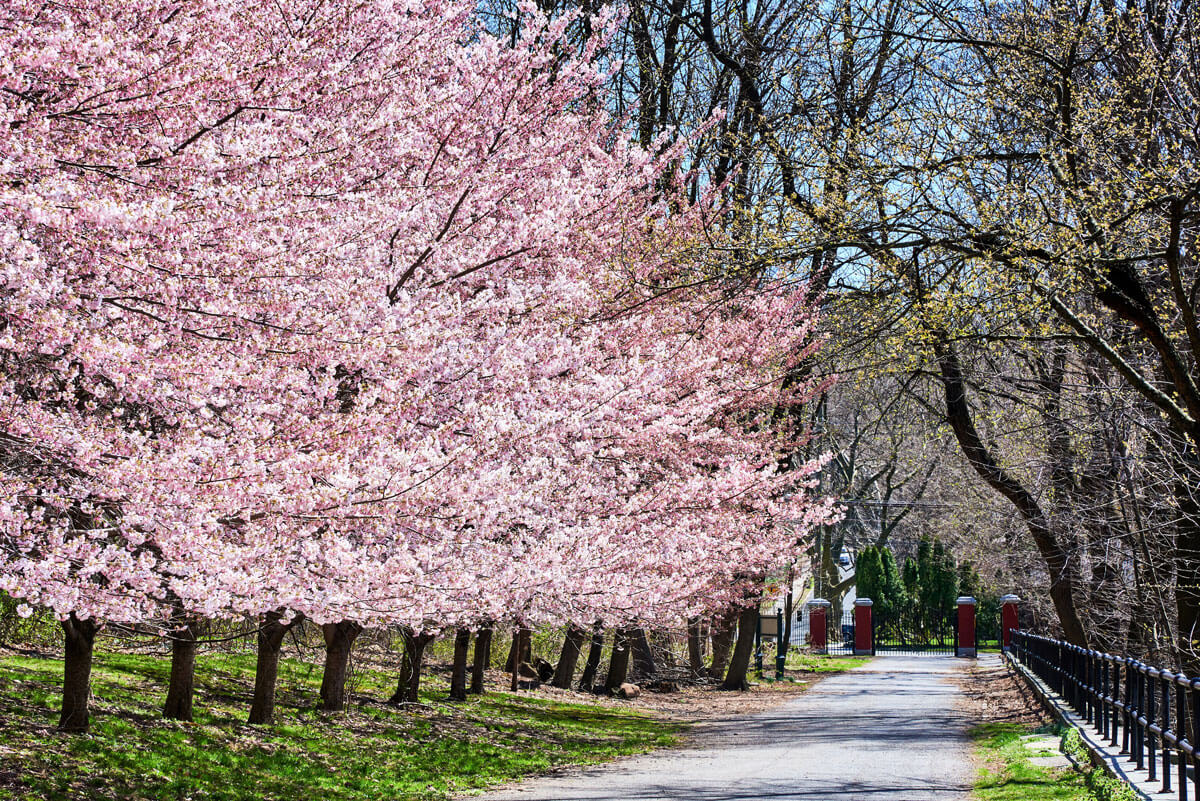 Address: 1000 Richmond Terrace, Staten Island
For those looking for a more private and secluded location to view cherry blossoms in NYC, the Snug Harbor Cultural Center located in the Staten Island Botanical Gardens provides the perfect ambiance and picturesque views at every turn.
Make your way along Cottage Row and the NY Scholar's Garden inside Snug Harbor to transport yourself to East Asia to enjoy the cherry blossom season in NYC.
The park boasts traditional Chinese architecture inspired by the Ming Dynasty, with numerous elements of classical Chinese artistry found here. The park hosts a variety of native Asian flora such as magnolia and jasmine trees and a bamboo forest.
Picnic pavilions are located in several locations throughout Snug Harbor as well, making it a perfect day trip to celebrate the Spring blooming season! Entrance to Snug Harbor's main campus is free, while the garden costs $5, or $4 for students and seniors, and free for children under 5 and active military members.
13. Randall's Island
Address: 20 Randalls Island Park
Randall's Island is an absolute hidden gem of the city and offers a quiet retreat from the business of New York all year round, and especially worth the trip out there to catch the cherry blossoms in New York.
To get a good glimpse of the cherry blossoms with a fantastic view of the surrounding areas, head over to the Urban Farm (Fields 62 & 63) located on the southeast end of the island between the Robert F Kennedy Bridge and Hell's Gate Bridge, two famous NYC bridges.
If you're looking to attend a cherry blossom festival in NYC, the island's park alliance throws an extravagant and educational festival each year honoring the blooming cherry trees found on the island. The festival is free to attend but with a suggested donation.
This family-friendly event is filled with activities such as kite making, origami, games, and other types of crafts. Live performances are held honoring Japanese culture in an effort to demonstrate traditional Japanese customs inspired by the blossoming cherry trees.
The island is also accessible via a footbridge from 103rd street, or a car and pedestrian-friendly bridge on 125th street. 
14. Lewis Latimer House
Address: 34-41 137th St, Queens
A quaint location in Queens to check out during cherry blossom season in NYC is found in downtown Flushing, at the Lewis Latimer House. This museum, once home to African American inventor Lewis Latimer, now hosts educational programs inside the charming two-story house built in the late 1800s.
The cherry blossoms at the Latimer House can be found in the garden, in a picturesque and well-pruned backyard with the house as a cozy backdrop.
This is an excellent option to view the blossoms and also engage children in creative outlets, as they have "tinker labs", a hands-on experience to learn about science and technology. The museum also frequently hosts art installations and workshops for all ages, found on its website.
The museum and garden are open Wednesday, Friday, and Sunday from 12-5 pm. The entrance fee is a suggested donation of $5 for the museum, but the garden remains free to enter.
---
Best Places to See NYC Cherry Blossoms Summary:
Brooklyn Botanic Garden
New York Botanical Garden
Central Park
Roosevelt Island
Sakura Park
Prospect Park
Green-Wood Cemetery
Riverside Park
Flushing Meadows Corona Park
Queens Botanical Garden
Kissena Park
Snug Harbor Cultural Center & Botanical Garden
Randall's Island
Lewis Latimer House
---
Enjoyed this guide to the best places to visit during cherry blossom season in New York City? Bookmark for later or share below on Pinterest!